The 10 Best Looking PC Cases of 2021
Come on now, don't lie.
When you're chassis shopping, sure you're reviewing what motherboard it can fit, how much ventilation it offers, how noisy it gets, etc…
But we all know you're looking for the most beautiful PC case too!
And that's fine! There are so many great looking towers (of all shapes and sizes) that still fit the bill in offering great utility for a gaming PC.
In other words, you don't have to choose between functionality and aesthetics, you can have both.
That's why we've created this feature on the best looking PC cases for gaming, streaming, video editing, and other general/production purposes.
Overall Best Looking PC Case: Lian Li PC-O11
Stock pictures of this case simply do not do it justice.
If you take a look at any completed build picture available of the PC-011, you'll see it offers an incredibly slick aesthetic (like the cover photo of our best PC case feature, which the PC-011 also ranks at the top of).
Built on a gorgeous, thick SECC steel exterior and aluminum front, the PC-011 looks and feels very high quality – more so than other cases in its price range.
Covering the front and left side of that well-built exterior is two high-quality tempered glass windows.
Of course, many cases have a tempered glass side panel these days.
But the addition of the one on the front gives your build beautiful visibility.
Essentially the PC-011 offers the best of both worlds between being a clear PC case, while not being completely exposed like the Thermaltake P3 (though if you like the look of that, it also comes highly recommended as we detail below).
The other reason this is such a good looking PC case is its dual-chamber layout.
A dual-chamber PC case is when you have a separate, dedicated, secluded chamber to hide some of your "less attractive parts".
Think PSUs, HDDs, and various cables.
Having a nice looking PC case is one thing, but having one that has dedicated utility to making your internal build shine really adds so much more to the aesthetic.
But there's something even better about the PC-011? It's not just a pretty face.
One of the most popular PC cases on the market, there is so much utility here for a powerhouse ATX build.
That includes:
8 expansion slots
GPU cards of up to 420mm
2 x 3.5″ / 4 x 2.5″ drive bays (no 5.25″)
Up to 9 x 120mm fans or 1 x 360mm, 1 x 280mm & 1 x 240mm radiators
Anything from gaming, streaming, video editing to other high-end production could easily reside in this tower.
Not only do you have the room for demanding hardware, but fantastic ventilation between the cooling capability and the dual-chamber layout ensuring cables/other hardware isn't blocking airflow.
We go through a lot of options on this list because beauty is subjective and there are other good choices.
But if you like the look of the PC-011, this is a no brainer.
This is easily the all-round best looking ATX case and one of the best cases for a powerful build too.
Runner-Up Best Looking PC Case: NZXT H510 Elite
If you're familiar with NZXT and their various cool PC cases, I'm sure it's no surprise to you that one of our top spots goes to this flagship model.
The build quality of this chassis is fantastic, with an SGCC steel exterior and thick tempered glass window front and side.
The exterior is given a matte finish – different from the Lian Li goes for more of a "metallic" finish.
Both look and feel great – it's really up to you which type you prefer.
While not a dual-chamber tower like our top pick, you are still getting decent utility to cover "uglier" parts with good cable management space and the bottom portion of the case being covered to hide the PSU.
The H510 Elite is also one of the best looking RGB PC cases, offering a lot of lighting features out of the box, with: 
2 x NZXT AER RGB 2 case fans
Included Smart Device 2 fan/RGB controller
1 x LED strip to shine in the exterior
Tied with its clear, visible glass presentation, you have an amazing basis for an RGB build in the H510 Elite.
And for non-aesthetic features, the case really shines (being one of the most popular chassis on the market in its price range). Including:
7 expansion slots + 2 vertical slots: great to show off your coolest GPU
VGA lengths up to 381mm (without front radiator installed, 320mm with)
2 x 2.5″ & 2 x 3. 5″ drive bays, with an option to expand to one more of each (likely not needed for a gaming tower)
Up to 2 x 140mm & 2 x 120mm fans or 2 x 140mm & 1 x 120mm radiators
While some of this space isn't super impressive for an ATX case, the H510 Elite is a "compact mid-tower".
Essentially meaning it's on the smaller side of mid towers. Really carefully balancing a nice compact look while still offering the space you'll need for nearly all builds.
And tied with the good internal ventilation/cable management utility, you've still got everything you need here for a powerful gaming machine.
If you want a slightly cheaper option you can check out our budget pick below, and we also breakdown the difference between the NZXT 510 models in another feature.
If you prefer the look of the H510 Elite over the PC-011, know that it is still an amazing option and easily one of the coolest, best looking ATX PC cases around.
High-End Best Looking PC Case: Corsair 680X RGB Edition
We simply love this case.
Featured more times on What in Tech than any other offering to date, the 680X has so much going for it in so many different ways.
But focussing on aesthetic: you've got a wonderfully built, unique PC case with a design that really shows off a good looking interior build.
With a thick, high-quality steel exterior, the 680X has the nicest, metallic finish we've encountered and looks as great as it feels.
Alongside that steel material, the exterior is surrounded by 3 x beautiful tempered glass windows.
Having an extra window over our above picks, its third window is on the top of the case, making room for even further visibility.
Now while you can get this case without fans, we specifically recommend the RGB edition as it comes included with 3 x LL120 RGB fans & a Corsair Lighting Node Pro Fan Controller.
We consider these to be the best RGB case fans available. The LL120's look beautiful shining through the glass front.
Like our Lian-Li top pick, this is a dual-chamber PC case.
But the 680X takes it one step further, with its second chamber being one of the largest around.
If you look at example pictures of a finished build with it, you'll see you can get an incredibly clean looking interior that only displays your most "attractive" parts.
Now we've put the aesthetic case in the article for its beautiful presentation.
But with that said, its been featured multiple times previously for its array of other features, including:
10 expansion slots (2 vertical)
GPUs up to 330mm
3 x 3.5″ & 4 x 2.5″ drive bays (hidden in the second chamber)
And then there's the cooling capability; with up to 8 120mm fans or 360mm front, 280mm top, 140mm rear & 280mm bottom radiator support.
When you consider the excellent ventilation that the dual chambers add, the fact that you can have so many fans/radiators too really makes this one of the best PC cases for airflow and cooling.
There's no denying it, this is an expensive chassis.
But if you want the best-looking computer case that also ticks the box for building one of the most powerful gaming or production PCs possible, then this is the option for you.
Best Looking Budget PC Case: NZXT H510
If you're looking for a cheap PC case that doesn't compromise on awesome aesthetics, you can't go wrong with the H510.
Topping our list of best NZXT towers due to its insane value for money, it's one of the coolest PC cases on the market for a reason.
You're getting the same high-quality SGCC steel+ matte finish as the NZXT elite.
This cheaper version only has a tempered glass window on the left, but the front of the case still looks very slick with the coverage.
If you're looking at a budget build too, you may not be as focused on high visibility on the inside anyway (with hardware arts not being as "aesthetically pleasing").
This more "covered" exterior tied with the sharp edges and coloring give it a fantastic, slick "monolith" look, really nice if you're looking for more of a minimalist PC case.
In terms of non-aesthetic features, this case is practically identical to the H510 Elite specs listed above.
The only exceptions are you're not getting the RGB fans/controllers/strips and 2 x vertical GPU expansion slots.
So really, for any budget build, these aren't things you're going to need.
And you can always pick up RGB upgrades later.
Simply put, if you're on a tight budget, this is the best looking mid-tower case available and still gives you plenty of utility for a great gaming PC.
Best Looking Unique PC Case: Antec Torque
We know that some of you coming to a feature based on good looking PC cases will be wanting something more….unique.
Well just look at this thing!
There are plenty of excellent innovative PC case options out there like the Thermaltake AH T600 and the Cougar Conquer.
But this incredible offering from Antec is on its own level.
Built with 14 aluminum panels and thick tempered glass on both sides, the case really does feel as good as it looks.
Consider too that all of these panels are uniquely curved/tilted, this is so far gone from a traditional "cuboid" PC.
The stock photos of the torque show it off well; but with its beautiful open-air presentation, it really shines once your build is fully installed/powered on (our cover photo is an example of the white build in action).
If you created a decent RGB build in here, it's hard to imagine coming across a more unique-looking rig!
There's also plenty of hardware room in the Torque too, with:
7 expansion slots
GPUs up to 450mm length
1 x 2.5″ & 1 x 3.5″ drive bays
Compatible with EATX motherboards up to 12″ x 11″
We think it's great that Antec has managed to create a PC case suitable for SLI/crossfire (if desired) despite the focus on design.
The disappointing spec here is, of course, the storage capacity.
We expect this is because the Torque is so aesthetic focussed (and HDDs/SSDs are often on the "uglier" side) so creating too many hidden bays would be unrealistic.
But with a large capacity SSD, HDD (and potentially some NVMe storage on the motherboard) you'll still have more than enough for gaming and most other build requirements.
The most impressive feature the Torque offers is its cooling.
The case can host up to 6 x 120mm fans or 2 x 360mm radiators.
While this may not seem too out of the ordinary for a mid-tower, this is an open-air PC case.
These types of chassis usually offer way less cooling utility as they instead rely on the high/open ventilation.
So with that said, while the selling point of the Torque is its design, it still offers so much and a is great PC case for overclocking and gaming.
One of the best luxury PC cases on the market. If you have the budget and want to stand out from the crowd, the Antec Torque is simply an incredible offering.
Best Looking Micro ATX Case: Corsair 280X RGB Edition
If you're looking for a most beautiful PC case in the mATX form factor, you really can't go wrong with the 680X's little brother.
This chassis has the same fantastic steel exterior and triple tempered glass presentation.
Its height/width gives it more of a cube PC case design, looking very unique for its form factor.
This case comes with 2 x Corsair LL120 RGB case fans and a Lighting Node controller.
This is some of the best RGB hardware around, and in its compact form factor/tempered glass set up, the RGB fans really beautifully illuminate such a high proportion of the case.
This is certainly another chassis aesthetic that you can only fully appreciate when you see a fully built rig powered on within it.
It's also another dual-chamber tower (and the best one for mATX builds) with great capability to hide your cables, PSUs, and drives; keeping the focus on the "prettier"v hardware.
The utility you're getting is great for mATX form factor, with:
4 x expansion slots
Graphics cards up to 300mm
2 x 3.5″ & 3 x 2.5″ drive bays (in the hidden chamber)
Up to 6 120mm fans or 1 x 280mm top & 2 x 240mm front/bottom radiators
The cooling, in particular, is great for the size, with space here to effectively overclock a dual-GPU build.
It's pricey, but bear in mind the inclusion of its top-tier RGB kit and build quality really set it above so many other towers.
Looking for a good looking budget Micro ATX case? If you can't stretch to the corsair offering, the darkFlash DLM21 is a great cheaper option with a range of different colors/designs.
That said, if you're after the best looking mATX case around that is also capable of running a powerful gaming/production machine, you can't get better than the 280X.
Best Looking Mini ITX Case: NZXT H1
2021 Update: The NZXT H1 production has been temporarily halted due to an issue with the GPU riser. Considering this is one of the most aesthetic PC cases on the list, we are still including the write-up for when it comes back into production. That said, if you go through to the Amazon page and its still not available at the time you're looking, check out our other ITX pick below (A1 Plus) or the SilverStone LD03B is a nicest looking computer case similar to the H1.
Finally, there are those looking for the smallest PC case form factor they can find.
The NZXT H1 is a new offering from the classic manufacturer, featured previously on What in Tech.
Aesthetically, the case boasts an incredibly unique "monolith" style, standing tall but also very small with an awesome SGCC steel exterior.
The tempered glass surrounding a lot of the case is tinted. Cases with window tinting really stand out amongst the crowd as they complement a bright internal build beautifully (by being able to see the illumination, but not so much that the lighting looks "tacky").
The case most excels at being so incredibly compact which adds so much to the style – this is easily the best looking portable PC case available.
The H1 achieves its size by a really intricate dual-chamber build layout, designed to accommodate a decent gaming/production build despite its small volume.
That means the case does excellently in features for its size too, with:
A PCIe riser card for vertical GPU install
2 expansion slots and GPUs up to 305mm in length
2 2.5″ drive bays – even some larger ITX cases only have 1
The GPU room means you'll have space for most of the mainstream graphics card choices (but remember to understand the dimensions before buying parts for such a small build).
The chassis may come across as a tad expensive, but bear in mind you are getting a pre-installed 650W 80+ Gold PSU.
Not only does this really add to the value factor, but the case was designed with this PSU in mind (meaning you're not losing out on the case having to accommodate different types of custom PSUs).
And to top off the value; you also have an integrated AIO 140mm Liquid Cooler for your CPU.
Due to the GPU and CPU residing in independent chambers, while you'll never get the airflow of an ATX case in a Mini ITX form factor, it still offers impressive cooling for the size.
For a high-end ITX build you'd, of course, need a compatible PSU and cooler anyway so it's not like you're paying a tall premium for just the case, there is a lot of value in the price tag.
We'd go as far as to say that the NZXT H1 isn't just the best-looking ITX case on the market, but one of the best value cases for a compact/portable gaming build too.
Best Looking Clear PC Case: Thermaltake Core P3
When considering the best-looking computer case, we've focused as much as possible on the design of the case itself.
However, sometimes, a minimalist PC case that focuses more on very high visibility for inner parts (over a more covered exterior) is what you may want in your next build.
Featured on What in Tech several times, the Core P3 is an absolute monster.
A perfect clear PC case for wall mounting, RGB builds, and much more, the Core P3 gives you so much potential for a unique, cool PC case.
Stock pictures don't do this chassis justice. If you're building your own PC, chances are the hardware you're buying will look awesome if given the visibility the P3 offers.
Your GPU, CPU, and Motherboard will be displayed through a thick, high-quality tempered glass and plenty of space for an ATX gaming build, including:
8 x expansion slots
Installation option for vertical GPU (perfect for showing off)
Graphics card lengths up to 450mm (with cooling reservoir removed)
2 x 2.5″ or 3.5″ hidden and  2 x 2.5″ or 3.5 visible drive bays
Not only is this the best looking ATX case for high visibility, but you'll see from the above that you have the room in here for a powerful multi-GPU build.
Cooling wise, the P3 has space for either 3 140mm fans or a 420mm radiator.
This may not seem like much for a mid-tower chassis, but remember that this is an open-air PC case (with 4 sides of open ventilation) the high visibility doesn't just make the case look better but offers great ventilation too.
Simply put, the P3 is the best-looking case for someone really wanting to show off their internal parts above all else.
Don't be deceived by this not getting a "best overall" pick. If you're after a good looking PC case to show off your internal parts, you won't be disappointed!
Quick-Fire Picks
The above 8 picks are our favorite recommendations for the best good looking PC cases around today.
That said, we wanted to show a few alternative options that are still worthy of consideration.
Best PC Case with Monitor Built-In: iBUYPOWER Snowblind S
That's right, you heard us correctly.
This iBUYPOWER PC case has a transparent monitor built-in to the window side panel!

A fantastic unique looking PC case, the Snowbling S also comes with great build quality and an internal layout for a decent gaming build.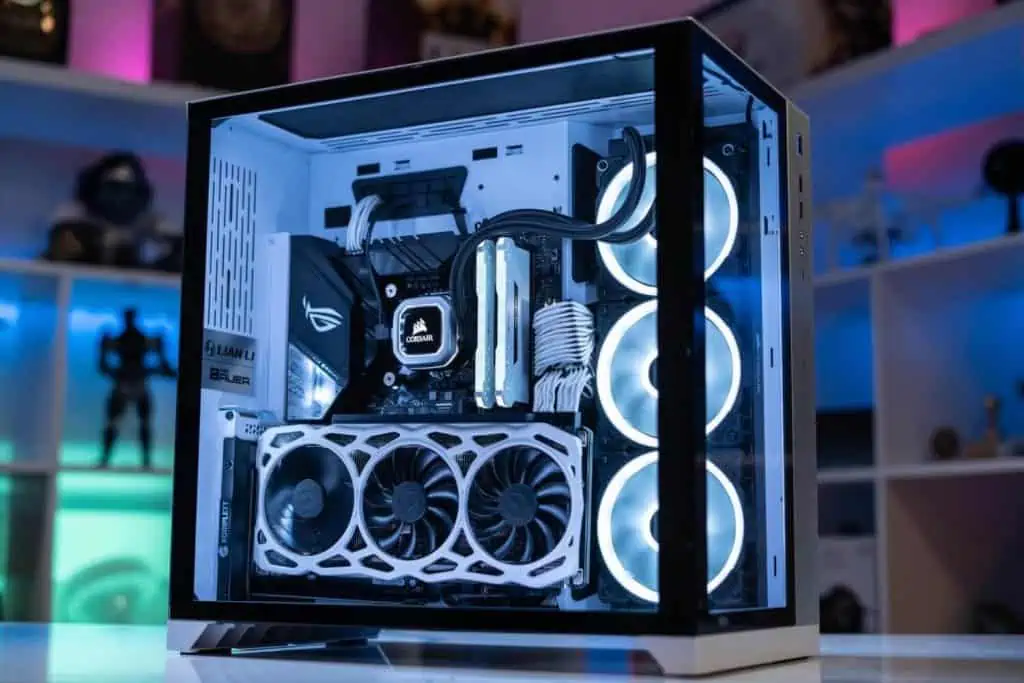 After hundreds of case reviews, here are the best
For those after something extra special
Finally install every Steam game in your library!
For the sharpest image possible