The 5 Best 1440p 240hz Monitors of 2021
1440p and 240hz? What a time to be alive!

Thankfully for those after the best gaming monitor possible, this combination is becoming a reality.

Today's feature is here to break down the best QHD 240hz monitors available (or upcoming) for your high-end gaming setup.
Top Picks
Best 240hz 1440p Monitor Alternative
Upcoming 240hz 1440p Monitor Alternative
Quick Word on Availability/Where to Buy 1440p 240hz Monitors
This technology is very new to the market. Therefore there are, unfortunately, some issues with availability and options.
Amazon has the best selection as it stands, but we will also be including some upcoming 240hz 1440p monitors that may be worth considering and will also be regularly updating this list as new products come out.
Finally, we've finished the list with some alternatives if you have no luck finding this spec of monitor available. Now, without further ado…
Best 240hz 1440p Monitor: Acer Nitro XV272U Xbmiipruzx
This Acer WQHD 240hz monitor is simply incredible.
We were already happy with the HP pick previously ranking as our top choice for the best 240hz 1440p display. But Acer has now taken the crown by building something even more cutting-edge at a fantastic price-point.
Built on an IPS display that uses agile-splendor technology to reach 0.5-1ms response times, the display manages to avoid the usual big disadvantage that a lot of gorgeous IPS screens have (i.e. higher latency than TN and VA panels). 0.5-1ms makes this extremely responsive and the best 1440p 240hz gaming monitor under $1,000.
The screen also boasts HDR400 & a great color gamut of 99% Adobe RGB. Tied with the IPS panel, you can expect gorgeous colors and sharp blacks/whites for gaming, watching media, and general use (if you're after a higher nits monitor, we have more expensive picks further below, but we think that 400-nits is already a perfect sweet spot between price and brightness).
With the ability to use AMD FreeSync Premium (or Nvidia G-Sync if desired) the monitor is able to effectively minimize stuttering and screen-tearing which can be a worry for some higher refresh rate displays.
Speaking of refresh rates; while this Acer screen stands tall at 1440p 240hz, there is the option to overclock your display up to 270hz if using DisplayPort or USB Type-C. We'd recommend this monitor as highly even if it didn't have this capability, so it's a nice bonus-add.
The XV272U also boasts a great build quality. With very thin bezels on the sides and top, the nice screen-to-body ratio makes the Nitro work well in a multi-monitor setup. It comes with decent tilt, swivel, and height adjustment capability too.
Is there anything we don't like about the XV272U Xbmiipruzx? Well, the model name is horrific, but we won't drop points for that!
We're floored by how this monitor manages to tick all the boxes for gaming, esports, and much more. It has a great build quality, gorgeous colors/brightness, a fantastic response time that is uncompromised by its beautiful IPS panel.
If you're looking for the best 1440p 240hz monitor available at a decent price-point for this new technology, this is easily our favorite choice.
Best TN 240hz 1440p Monitor: HP Omen X 27" 240 Hz 1ms Monitor
Previously our top pick, this 240hz 1440p HP monitor is still fantastic, and our favorite TN panel choice.
The Omen X's screen boasts a lot of what gamers will look for in such a high-spec display, including:
1ms response time: perfect for avoiding ghosting on hud-based games and blur on fast-motion titles
AMD Radeon Freesync 2 HDR & G-sync compatibility
With 90% DCI P3 color spectrum and up to 400 nits brightness, you'll be getting fantastic color accuracy for TN, and as bright as most gaming setups will demand
While a lot of people prefer IPS over a TN panel, the monitor still demonstrates sharp colors, blacks, and decent viewing angles. Plus, we think the advantages of reliable 1ms / low input lag (at this price range) are more important for a premium gaming monitor (we do have an IPS option further below if you have the budget).
With its low latency and high refresh rate, this is one of the best monitors for Fortnite, PUBG, and readers who take competitive gaming/esports seriously.
The one notable downside of the Omen X is its stand/mount. While it looks fantastic, it's disappointing that for this price-range, HP hasn't included a rotatable/tiltable stand.
With that said, the important thing here is the quality of the picture and response; and boy does the Omen X smash this department. 
Not only is this the best 240hz 1440p TN monitor, but if it's a very respectable alternative to our top Acer pick, and worth picking up if that model is out of stock.
Best Cheap 240hz 1440p Monitor: AOC AGON AG273QZ
In the world of high-end gaming monitors, "cheap" is a relative term.
The AG273QZ isn't a budget display; but at this spec? It is impressively cheaper than its competitors.
Another TN 1440p 240hz screen, this AOC offering boasts a lot of similar specs to our top choice with fantastic low response time, HDR, Freesync support and 400-nits brightness.
This choice also has a decent build quality, arguably better than our top pick with its ability to swivel (once again, a VEGA mount monitor).
So why do we consider this the budget 240hz 1440p display choice? Well, the monitor unfortunately has observed some potential eye strain issues for some users, with subtle flickering present as well as problems reducing the brightness to the lowest possible settings still being quite sharp in night-time settings.
Overall the AG273QZ is a fantastic display and the cheapest 1440p 240hz gaming monitor we have come across. But if you have any concerns over flickering/brightness (perhaps if you're prone to headaches), then we'd recommend our top choice.
Note: Right now, this monitor is unfortunately only available through the UK Amazon store; unless you're in Europe, you'll likely be better off with the other options on the list unless there are none in stock.
Second Best IPS 1440p 240hz Monitor (High-End Pick): Alienware AW2721D
One of the most powerful gaming display on the market today, this Alienware IPS QHD 240hz monitor is a beast.
On top of the HDR, low response time, and other high specs you're getting similar to our top pick, the AW2721D takes things up a notch with:
Up to 600-nits brightness
98% DCI-P3 color coverage – an insane spec for a monitor focussed on resolution and framerate, most colors will appear sharp and vibrant
One of the best build qualities on the list – with a beautiful, sturdy design and tilt/swiveling options.
On top of all this, the monitor an IPS panel; which, considering the other specs on offer here, seems like some kind of wizardry.
If you have the budget for the AW2721D and are willing to pay the extra for higher brightness and a slightly superior color gamut, it's one of the best gaming monitors we've come across in any category and the perfect display for esports or high-end gamer setups.
Best VA 1440p 240HZ Monitor / Curved Choice: SAMSUNG 32-inch Odyssey G7
This Samsung QHD display is another excellent choice if you desire a curved/VA panel offering or if our top/premium choices aren't available (or lesser-suit your price range).
With its large 32″ size, very bright 600-nit capable panel, and excellent color accuracy, the Odyssey G7 provides one of the best-looking pictures on the list.
The 1000R curve is stunning too. At a higher radius than a lot of other curved monitors, the angles provide a unique, immersive bonus that suits what most people will be looking for in a high-end gaming monitor.
A VA panel is a natural fit for a 1440p 240hz display, striking a good balance between viewing angles/display quality and reliable response times.
So with all that said, why isn't this our top choice? Well it is a close one to call, but the Odyssey G7 has a couple of slight cons:
Some users report G-sync issues in regards to flickering (though using this software isn't a necessity for a great display)
The package doesn't include the high-quality cabling you'd expect for a premium monitor. To get the full potential of your picture, you'll need to pick up some VEGA-certified cabling (it's not a big deal, just a bit disappointing for the price).
Now, this is still a fantastic display, and the build quality/design is beautiful (as you'd expect from Samsung), so if you're more concerned about that than the 2 cons mentioned (as well as the curvature and larger size), the Odyssey G7 is a great choice for you.
Alternative Options
Unfortunately in the world of 1440p 240hz monitor stock, we're often seeing these great displays without any availability.
If that is the case for you, don't fret! The below 2 options are the incredible alternative choices should you want to complete your setup and the above aren't available.
Upcoming 1440p 240hz Monitors
Eve Spectrum 1440p 240hz
Eve intends on bringing out a cheap 1440p 240hz IPS monitor to counter the current Alienware offering. While we know some of you may be keen on such an offering, we'd recommend going with the Samsung/Omen options.
Yes, they are not IPS, but their specs still match up to IPS panels in the most notable ways, and having a reputable brand behind your purchase is also an important factor (Eve has delayed their monitor release multiple times at this point…)
The future of immersive displays
The best pre-builts available on the platform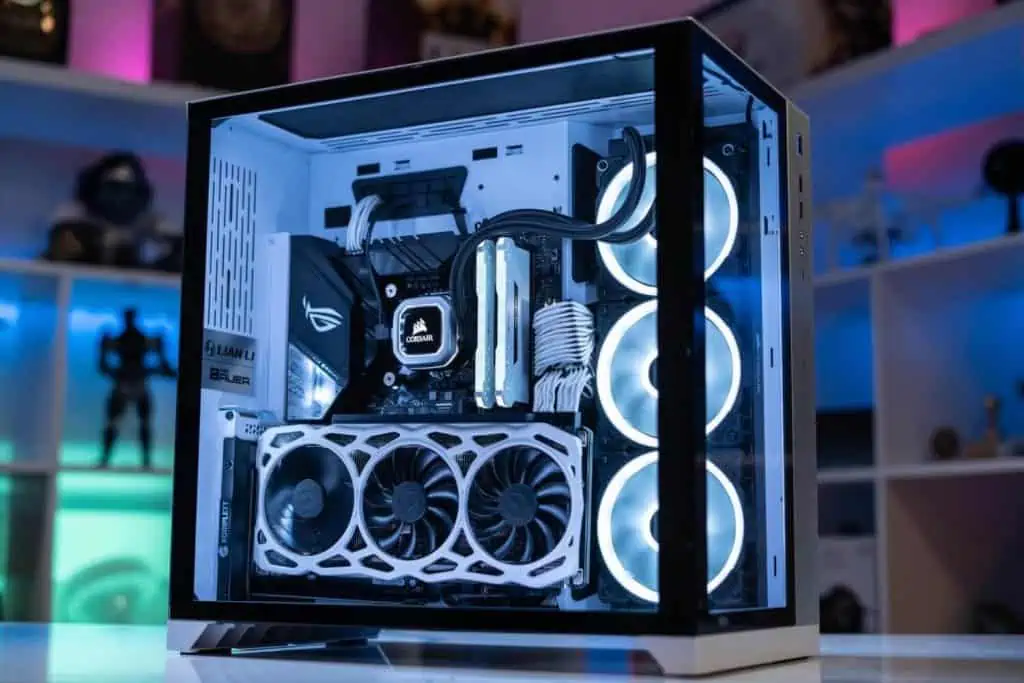 After hundreds of case reviews, here are the best
Hear that? It's the sound of silence.