The 5 Highest Hz Monitors of 2021
If you're into competitive gaming or looking for the best monitor possible for immersive titles, you'll know how wonderful playing on a high hertz gaming monitor can be.
Thankfully, there have recently been a few exceptional products to take high hz displays well beyond the usual 60-144hz + 1080p.
Which is why today's feature will guide you through the highest refresh rate monitors worth buying for different resolutions and budgets.
Highest Hz Monitor: ASUS ROG Swift 360Hz PG259QN 24.5"
Usually, on our top monitor features, there is a close battle for the top choice.
But in the category of the highest hz gaming monitor? There is a clear winner.
With an incredible 360hz, this ASUS display is unrivaled by nearly every other option.
Not only is this the highest hz 1080p monitor available on the market, but it's as good an offering as we could hope for with plenty of other decent specs elevating the screen's quality. We wouldn't be surprised if it remains the best 360hz monitor available even when more options begin to emerge in the next year or two.
To start, the PG259QN runs on an IPS panel, which is great to see when many of the other highest refresh rate displays have chosen TN/VA. ASUS has also negated the usual main downside of IPS with a 1ms response time (between 360hz and the incredibly low latency, we easily rank this the best monitor for esports/competitive gaming).
Working alongside the IPS panel is a 1000:1 contrast ratio, G-sync, and HDR10 capability; we love that this gaming monitor hasn't sacrificed picture quality for the highest refresh rate (you're getting the best of both worlds).
Finally, with decent, sturdy adjustment options, thin bezels, and a beautiful design, the PG259QN feels like a premium gaming monitor should; with no notable complaints from us on its build quality.
360hz vs 240hz Monitors
But let's talk about 360hz for a moment.
A refresh rate 50% higher than the next common high refresh rate option (240hz), even at these incredibly high rates, 360fps will still provide a measurable improvement over 240fps for serious gamers.
That's not to say 240hz isn't still a very capable refresh rate for all types of games, which is why we have covered options below if you'd like a screen with a higher resolution.
But there's no denying 360hz is very compelling, and for competitive gaming, is going to provide that additional edge that is oh-so-important in key reactionary moments.
We're a long way away from ever seeing things like 480hz, 500hz, and 1000hz monitors being available on the market, so expect 360hz to be king for a long time.
If you're very serious about getting the smoothest gameplay experience possible, then know this isn't just the highest refresh rate monitor ever, but a display that excels in picture and build quality to match its incredible 360hz capability. 
Highest Hz 4K Monitor: LG 27GN950-B 27 Inch UHD
Now, as much as we rate our top 360hz choice for the highest hz gaming monitor available, if you're focussed on immersive titles as much as you are on competitive gaming, then you will likely want to consider our next 2 choices.
This LG monitor offers an incredible UHD + 144hz combo. While nowhere near as smooth as 360hz, running games at 2160p with a high refresh rate is an entirely new experience in itself.
Similar to our top pick, we love that LG has managed to base this model on an IPS panel with 1ms response time. Taking the display further, this model also has an impressive DCI-P3 98% color gamut & VESA DisplayHDR 600. Between all these specs, you can expect fantastic blacks & colors, and when tied with the resolution and refresh rate? Well, few monitors are going to produce better output, especially at its respectable price-point.
This is also G-sync / AMD FreeSync compatible monitor, with a striking design and beautiful build quality. Two design areas specifically stand out:
The incredible screen-to-body ratio, with some of the thinnest bezels of a premium display we've seen. This choice would make a fantastic high refresh rate monitor for a dual display setup.
The RGB Sphere Lighting 2.0 included on the back of the unit; this will output colorful lighting onto the wall behind your monitor which can be customized to blend into what you're seeing on screen. It sounds gimmicky, but if you see this effect in person with its thin-bezels, you'd be surprised at how much extra immersion it can add.
Ranking at the top of our 4k 144hz display feature, there's so much to love about this LG model. At its decent price-point, it's easily the best choice for someone after the highest refresh rate 4k monitor for gaming and more.
Highest Hz 1440p Monitor: Acer Nitro XV272U Xbmiipruzx 27″
Last but not least out of our top 3 highest refresh rate gaming monitor picks is what you could call a "compromise" between the two choices above.
If you want the joys of very high refresh rates but also want a resolution that notably improves graphical capability beyond full HD, this is easily the best pick on the market for you.
At a stunning 240hz + 1440p, the Xbmiipruzx feels like the best of both worlds and is the top choice on our review feature looking at monitors in this category.
Boasting an IPS panel that takes response time even further with 0.5-1ms response time with agile-splendor technology, this is one of the lowest latency monitors out of the premium choices on the market. 
Tied with these specs is a 99% Adobe RGB color gamut and HDR400. Alongside its IPS panel, there's plenty of capability here for a gorgeous, bright picture (alongside the ability to use AMD Freesync / Nvidia G-Sync to reduce stuttering/screen-tearing).
Now, this list is about the highest hz monitors after all, and while the standard ceiling for 1440p is 240hz (which there are a few great options for), the Xbiipruzx takes this a step further with the ability to overclock to up to 270hz with DisplayPort or USB Type-C. You don't need this overclocking for the monitor to be incredibly capable of smooth gameplay, but it's a nice bonus for those extra focussed on building the highest FPS monitor for their setup. 
There are no complaints from us on the build quality either. With a sturdy, adjustable frame and beautifully thin bezels, the monitor is perfect for a multi-screen setup if desired.
The only thing we don't like about this monitor is the model name (who knows what Acer was thinking with that eyesore!) but you know a model is good when the name is our biggest complaint.
While it is an expensive choice, we see many monitors well above this price-point that don't match the well-balanced nature of this Acer display's specs.
If you're looking for the highest refresh rate 1440p monitor that is worth buying today at a mid-range price point, you've found it.
Highest Hz Budget Monitor: Acer XF250Q Cbmiiprx 24.5″
Now, if your budget allows, we would definitely recommend the above 3 picks for someone after the highest hz monitor for esports/gaming.
That said, our last two picks are great options if your wallet demands something closer to the $150-300 range.
The Acer XF250Q still boasts a fantastic 240hz refresh rate and is a superb option for someone after an esports monitor.
One of the cheapest 240hz displays on the market, the model still has a lot going for it; with 1ms response time and AMD Freesync compatibility.
In addition, we like that this budget high refresh rate choice is still well built (even including vertical orientation options) and is from one of the best monitor brands in the business.
So, where does this choice lack compare to our top picks? Well, of course, the main loss in this category is at 1080p, there is a superior 360hz display available which will be a significant increase for serious gamers. And if you're happy with 240hz, then the 1440p 240hz options available are notably better.
This isn't just true in terms of resolution/refresh rate, our top 3 picks also have IPS panels, very high-nits, and great color accuracy. This Acer XF250Q model isn't bad in these areas (certainly superior to similarly price picks), but it runs on a TN panel and will not give the same premium picture you can expect from our top picks.
With all that said, if this price-point is the furthest your wallet can stretch, then know we included this great option for a reason, it is easily the best choice for those after the highest refresh rate monitor on a budget.
Highest Hz Monitor under $200: LG UltraGear 24GL600F-B
To round off our list, we wanted to include another commendable budget pick for those after the highest refresh rate monitor at a very low price.
This LG offering strikes an incredible balance; not much more expensive than the cheapest 60hz monitors we would recommend, it somehow manages to run 1080p 144hz with a 1ms response time.
This really is very impressive for the price-point. Of course, don't expect gameplay close to as smooth/sharp as the picks above, but we're still floored by what they've managed to pack in here.
Running on a TN panel (as you'd expect at this price-point) the monitor still has serviceable colors/brightness and is Radeon Freesync compatible.
The build quality is decent for the budget too, with some decent adjustability. The screen-to-body ratio isn't quite as nice as our other picks, but really at this price-point, we'd be amazed if it was!
While we'd love to recommend our top picks to everybody after the best monitor for gaming and esports, we appreciate that isn't feasible for every budget.
Luckily for those tight wallets, LG's option here is not just the highest Hz monitor available at this budget, but we'd argue it's the best gaming monitor under $200 in any category.
For the sharpest image possible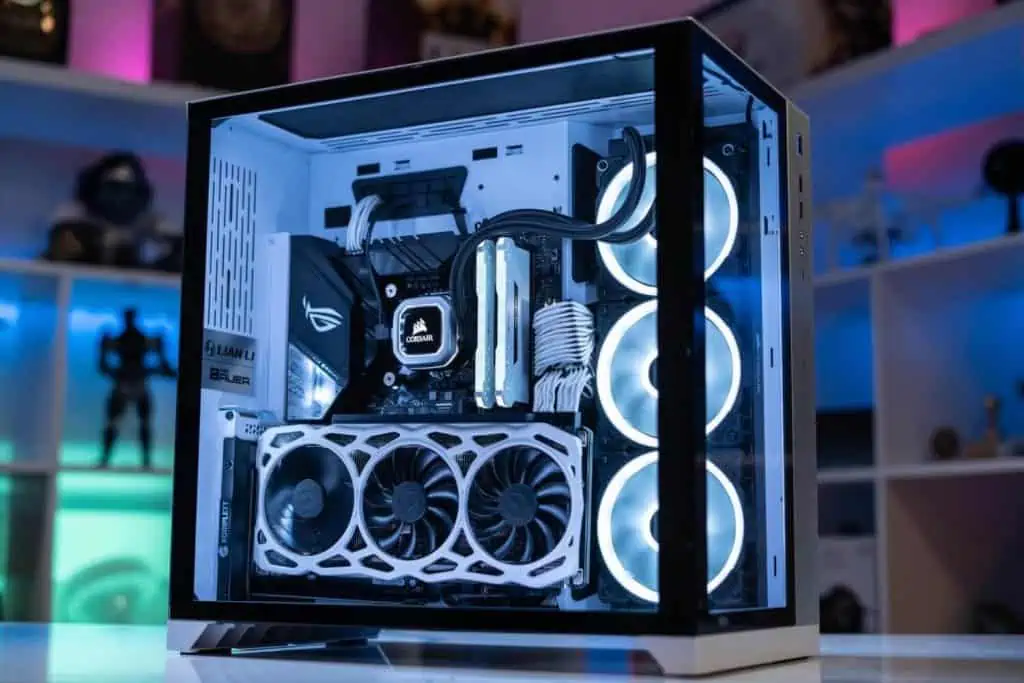 After hundreds of case reviews, here are the best
Hear that? It's the sound of silence.