Bose Radio CD Players: 2022 Buyers Guide
Our best picks, budget options, alternatives and where to buy
If you're serious about getting the best sound for your audio, there are few options that match a premium Bose speaker unit.
If your idea of the ideal speaker system includes something that can play your library of CDs and offer great radio functionality, then Bose has some excellent products in this market. Today's feature is going to break down which Bose Radio CD player you should pick depending on your budget and needs.
REASONS TO BUY
+ Unbeatable stereo-unit sound
+ Simply all-in-one setup
+ Great aesthetic and build quality
REASONS TO AVOID
 − Expensive
 − No built-in Bluetooth
What a wonderful audio offering this is.
Bose's Wave Music System series is their mainline answer to creating an all-in-one solution that combines great compatibility, aesthetic, and durability with the renowned Bose sound quality.
The Music System IV is the latest iteration and the best one yet.
One of the most impressive aspects of the MSIV is the power it packs despite its deceptively small size. The lows, mids, and highs all come through consistently and clearly. Heavy bass can be reached without notable rattling or distortion.
Overall, we're very impressed with the sound on offer here (even by Bose's high standards). The setup is perfect for movies, CDs, and radio alike.
There's not much to detail on the compatibility front; the Music System IV easily plays CDs and offers decent remote-controlled radio functionality and AUX input for TVs, headphones, and other home setups.
There's a nice dual alarm system designed for 2 different sleep schedules (we're pleased to see it, but we're not awarding it extra points for such a basic add-on).
We're a little disappointed to see that Bluetooth isn't built-in to the device. If this is an important feature, you need to purchase an external add-on (see our next pick).
The price is premium, but you're paying for the sound quality, longevity, and great connectivity on offer here.
We've reviewed more options below for completeness, but to put it simply; if you're interested in the best Bose radio CD player (or by any brand, for that matter), then this is the choice.
REASONS TO BUY
+ Amazing sound quality
+ Perfect connectivity across multiple generations of audio
+ Great potential as a central smart-home speaker
REASONS TO AVOID
 − Very expensive
If you love the idea of the Music System IV, but your idea of a CD radio player combo also includes smart-home/audio streaming functionality, this is the pick for you.
Bose Wave Music System IV vs SoundTouch Music System IV
The central unit on both devices is practically identical; you can expect the SoundTouch version to have the same excellent sound quality, build, and compact aesthetic.
The SoundTouch version is made unique by the addition of the bottom unit which enables Wi-Fi & Bluetooth functionality. This added feature allows you to play your PC/phone audio collection (including streaming services like Spotify, Amazon Music, and Pandora).
The SoundTouch can also be used with Alexa for better control. In essence, SoundTouch is the better choice if you value music streaming over CD/radio and you want an audio speaker for a smart-home setup.
If these aren't important to you, go with the vanilla Music System IV, as the large price difference means the SoundTouch really is made for those audiophiles that really want to take full advantage of its features.
REASONS TO BUY
+ Great sound quality
+ Similar to MSIV
REASONS TO AVOID
 − Discontinued and not readily available/may be more expensive
As the saying goes: you get what you pay for. Bose Radio CD Players come with a hefty price tag because of the level of quality on offer.
For those with a significantly lesser budget, we have a non-Bose alternative for you at the bottom of the list. But if you still want to enjoy one of the Music systems, we wanted to highlight the previous iteration, the MSIII, as you may get lucky and find it at a reduced price.
Note: Because the model is discontinued, chances are, you will not find the III readily available (and even if it is, it may come at a higher cost) – we simply recommend having a quick check of the product links for it above just in case you get lucky. Otherwise, stick to the IV.
Bose Wave Music System III vs Music System IV
Surprisingly, there aren't too many differences between the III and IV base models, with the III having a comparable sound quality, remote, CD/AUX/FM compatibility, dual alarms, and touch on/off control.
The main difference between the base models is the design, with the III looking a little like a dated "naughties" audio controller and the IV boasting a more modern aesthetic (we don't consider the difference a big deal though, this is up for you to decide).
Aside from that, the main iteration leap is in the SoundTouch add-on of our premium pick. This is where the Music System IV becomes a lot more with Bluetooth, Wi-fi, and smart-home/Alexa compatibility.
If you see the III at a lower price than the base model IV (and you don't want the additional features of SoundTouch) then there's no real reason not to go for the III.
REASONS TO BUY
+ Perfect for serious CD collections
+ Wonderful sound quality
+ Sturdy unit
REASONS TO AVOID
 − No longer readily available
 − At the price-point, most users will prefer SoundTouch
With the limited availability and niche use, we only briefly want to touch on this product.
But we figure there are a few of you out there who may be more serious about their CD collections, with little interest in smart homes, streaming, and other modern audio methods.
If that sounds like you, you may appreciate the added utility of a multi-CD player. This edition is, to put it simply, the same as the Bose Music System III but with a multi-CD unit (allowing you to switch between 4 CDs easily).
Usually, this model can only be found at higher prices (if at all) so we really recommend the SoundTouch for future audiophiles' Bose setups UNLESS you are very dedicated to your CD collection!
REASONS TO BUY
+ Fantastic value
+ Bluetooth Compatability
+ Decent sound quality
REASONS TO AVOID
 − Large compared to all-in-one Bose systems
 − Sound quality expectedly not as good as more expensive options
If you liked the idea of a radio CD player but aren't ready to fork out the price tags for the Bose quality, our final pick is for you.
LG is another great player in the audio setup space, and the CM4590 represents a great compromise between price, audio quality, and connectivity.
To start off with a great point, despite being by far the cheapest option, it's one of only 2 on this list (alongside SoundTouch) to support Bluetooth! Be it for streaming from your phone or connecting to your TV, this is a fantastic value add alongside the CD player/radio/Aux functionalities.
The units certainly pack a punch too. We've not recommended an all-in-one unit as a Bose alternative because we think that, for most users with limited budgets, you should focus more on quality over compactness to maximize your value/cost-saving (that said, bear in mind that these certainly are bulkier/a tad more clunky than the joy of having an all-in-one unit like the Music Systems).
Sound quality-wise, we're pleased with the LG speakers. They offer good performance across all main levels. That said, this is where the biggest gap is between the CM4590s and the Bose Music Systems. Our top Bose choices are excellent from bass to highs; the LGs are great value, but you will certainly notice the difference.
That said, at their price we think they're the best option by quite a margin and are certainly good enough to give you the feel of a semi-serious audiophile setup.
Final Thoughts
And there you have it! We reviewed all the available Bose radio CD players to ensure completeness in picking the best option, but for users with the budget, we recommend that nearly everybody go for either the Music system IV, or its SoundTouch successor if you want a smart-home/streaming device. These 2 variations are easily the best Bose radio CD players available for everybody (and if your budget can't reach those highs, we recommend our last pick as a great alternative).
"Gamer Headsets" are overrated.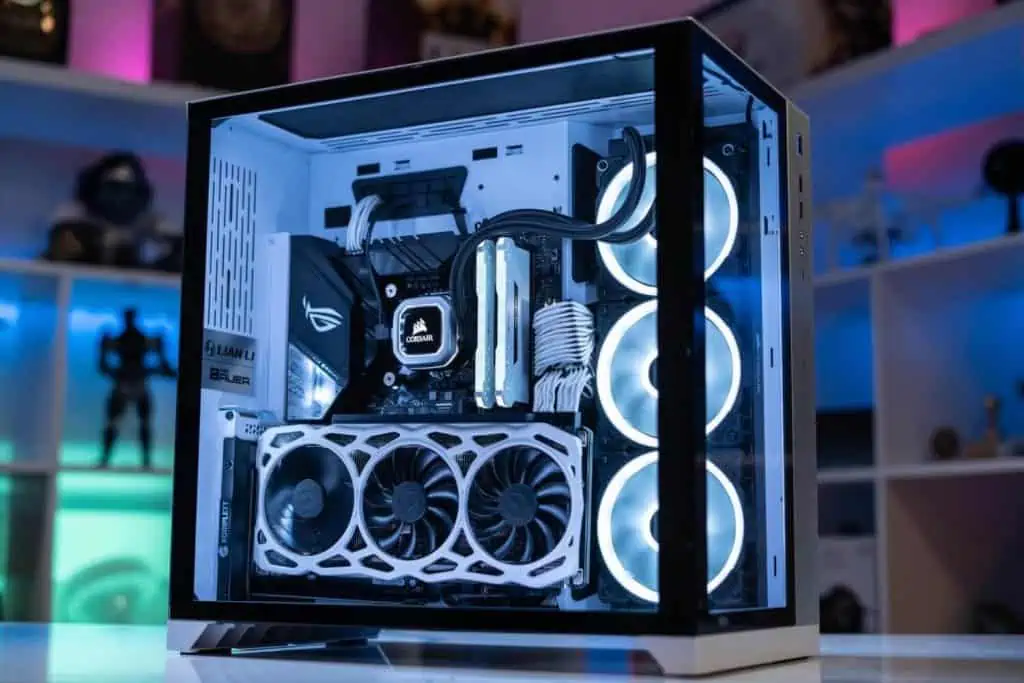 After hundreds of case reviews, here are the best
For the smoothest gaming possible
For those after the full package
* Specifications throughout our articles are double-checked and intended to inform our users, but should not be treated as factual information. When making final decisions on your products, please check the manufacturer pages to confirm the fine details.