280Hz Monitor Buying Guide in 2022 - Should You Buy & Best Picks
How to find the perfect high refresh rate display for gaming (and more)
Short answer: There are very few 280Hz monitors on the market but there are a few excellent choices (we'll cover them below).
If you're looking for the highest refresh rate monitor possible, we cover displays up to 360Hz in another detailed feature.
280Hz displays, what a time to be alive!
Not too long ago, 144Hz was hailed as the highest refresh rate available. Today, the top manufacturers have well surpassed this limit to provide some stunning ELMB monitors (extreme low monitor blur).
Today we'll go through the best 280Hz monitors available, and a couple of premium/budget alternatives.
Should You Buy a 280Hz Monitor?
280Hz screens are designed primarily with gaming in mind.
Such a high refresh rate (combined with anti-screen tear technologies like AMD FreeSync and Nvidia G-Sync) enables your content to boast extremely low motion blur alongside the snappiness/responsiveness of high-FPS.
If you're a serious e-sports or online multiplayer gamer, this refresh rate is a fantastic choice, you'll notice a huge difference between 280Hz vs 144Hz (280Hz vs 60Hz isn't even comparable!).
There are higher refresh rates available on the market (the best alternative we cover below), but 280Hz is a decent sweet spot for most (because the highest refresh rate options cost significantly more for what we would consider diminishing returns for most gamers).
If you're focused primarily on single-player games, 280FPS monitors are still a good choice, but we expect you'll prefer something that prioritizes a higher resolution (280Hz monitors are currently all 1080p).
Other options to consider:
If 280Hz monitors are your best option, then read on for the best picks…
Best 280Hz Monitor: ASUS TUF VG279QM
We considered all of the 280Hz monitors during this review feature, but there is a clear stand-out in this ASUS offering.
The VG279QM's main feature is, of course, its high refresh rate. The fluid screen is simply stunning for esports and single-player titles alike.
That said, it's such a great offering because of everything else packed into the display at a very modest price.
With a 1ms response time, decent contrast (alongside DisplayHDR400 options), and a good color panel, the screen quality is great for a mid-range gaming monitor (you'll certainly enjoy this quality across other types of content, e.g. TV & internet browsing).
This ASUS 280Hz monitor is also set apart by its excellent variety of gaming modes that ensure low screen-tearing and lag, namely ASUS Extreme Low Motion Blur Sync (ELMB-sync) which can work alongside FreeSync to provide a stable picture.
Don't underestimate how even some premium high refresh rate monitors can have notable problems with screen tearing and other visual artifacts (a quick look at customer reviews will show this issue for a huge array of expensive offerings). This TUF 280Hz monitor's ability to keep the picture smooth and clear is a huge buying factor.
1080p 27″ is a good size/PPI for responsive gaming (we would like to see 1440p, but this resolution at 280Hz doesn't yet exist, the closest is 240Hz + 1440p).
We're also happy to see great adjustability and build quality, with everything from titling to rotating (i.e. vertical monitor orientation) available, alongside the monitor's good connectivity (DisplayPort + HDMI options, with good compatibility for lower refresh rate modes when using with an Xbox Series X and PS5).
VG279QM vs VG258QM
You may have noticed that despite our specific highlight on the 27″ version, there is a slightly cheaper and smaller version, the VG258QM.
The 24.5″ version is just as capable in screen quality, refresh rate, and anti-screen tear technology as its larger counterpart.
The reason we focus on the 27″ version is that, for most gamers, we find 27″ to be the sweet spot for setups (small enough to offer a good PPI with 1080p, large enough to spot details in games at the average eye-to-screen distance).
That said, if the idea of a slightly smaller version that comes in a little cheaper is important to you, then know that the VG258QM is just as capable as its larger brother.
What else is there to say? With good screen quality, buttery-smooth refresh rates, snappy response time, and a solid build all offered at a price tag lower than its competitors, ASUS has created a fantastic offering here.
Not only is this the best ELMB monitor on the market, but it's one of the top offerings across any category. If you're looking for the best 280Hz monitor for gaming, you've found it.
Other 280Hz Monitors
VG279QM vs VG258QMvs XB253Q vs XF273 Zbmiiprx
As part of this feature's research, we reviewed each of the top 280Hz screens with price in mind. So why did the VG279QM come out on top?
The other two options worthwhile are:
Both of these Acer 280Hz monitors are great; with good specifications across color, blacks/whites, low response times, and anti-screen tearing technology.
With that said, at the time of writing, they both come in between 15-25% more expensive than their same-sized ASUS monitor counterparts.
The Zbmiiprx, with 99% sRGB and HDR10, has an impressive picture quality, but it's not so notable of a change to be worth the extra price (at this cost, you can look at our 360Hz monitor pick below).
In some ways, we'd say the ASUS choices are even better with price out of the equation due to the included ELMB technology and improved adjustability (the Zbmiiprx doesn't boast vertical orientation).
With their insane value in mind, the ASUS 280Hz monitors are our top picks for 24.5″ and 27″ buyers, but if you happen to see either Acer choice on a sale that leaves them at a similar price, we can then recommend picking them up (particularly the Zbmiiprx if you value a slightly better screen quality over extra adjustability and ELMB-sync).
Best 280Hz Monitor Premium Alternative: Alienware AW2521H
With the top 280Hz choice and its competitors covered, we wanted to also quickly highlight an option for those of you who saw the mid-range price tag of these 280Hz options and wanted to take their budget further.
As buttery-smooth as 280Hz is, the highest refresh rate available in today's monitor market is 360hz! This is an incredible offering for competitive gamers or those after a generally top-end experience.
One of the best offerings in this spec is Alienware's AW2521H, which matches the quality of its refresh rate with superb picture/build quality, G-sync compatibility, 1ms GTG response time, and great connectivity options, the Alienware is a good premium offering all-around. 
As much as we love our top option, if you could stretch your budget a little further, this would be a worthy upgrade for those after a competitive gaming monitor.
If you want more options (including the highest refresh rates at different resolutions) we have a detailed feature breaking this area down more.
Best Budget 280Hz Monitor Alternative: ASUS TUF VG24VQE
If you were interested in a 280Hz display but the prices are alarming you, fear not! The VG24VQE is a great monitor for those who want the joy of a high refresh rate screen at a cost not that much higher than a traditional 60Hz monitor.
Boasting 165Hz (which is a visible improvement compared to the most popular 144Hz gaming monitors), this may not reach the same prowess as 280Hz but is still perfectly suitable for competitive and single-player gamers alike.
We also appreciate that despite its lower price point, it still includes great anti-tearing tech between ELMB-sync and FreeSync Premium (the best compatibility we've come across at its price range) on top of its good connectivity. The IPS panel also still manages to offer a decent picture between blacks and colors (it's not quite as sharp as our more premium picks, but we're impressed by what we've seen for the price).
This model is small, but if you can stretch your budget a little further, there is an equally compelling 27″ version. It completely depends on your setup (if your eyes are fairly close to the monitor, a 23.6″ offering will be manageable).
Final Thoughts
And there you have it! That's everything we recommend you needing to know in the world of 280Hz monitors.
To summarise, if you are a serious multi-player/esports gamer, or simply love the idea of an extremely snappy screen with low motion blur (and you have a mid-range budget), our top 280Hz monitor pick (or the alternatives mentioned when on offer) are perfect for you.
"Gamer Headsets" are overrated.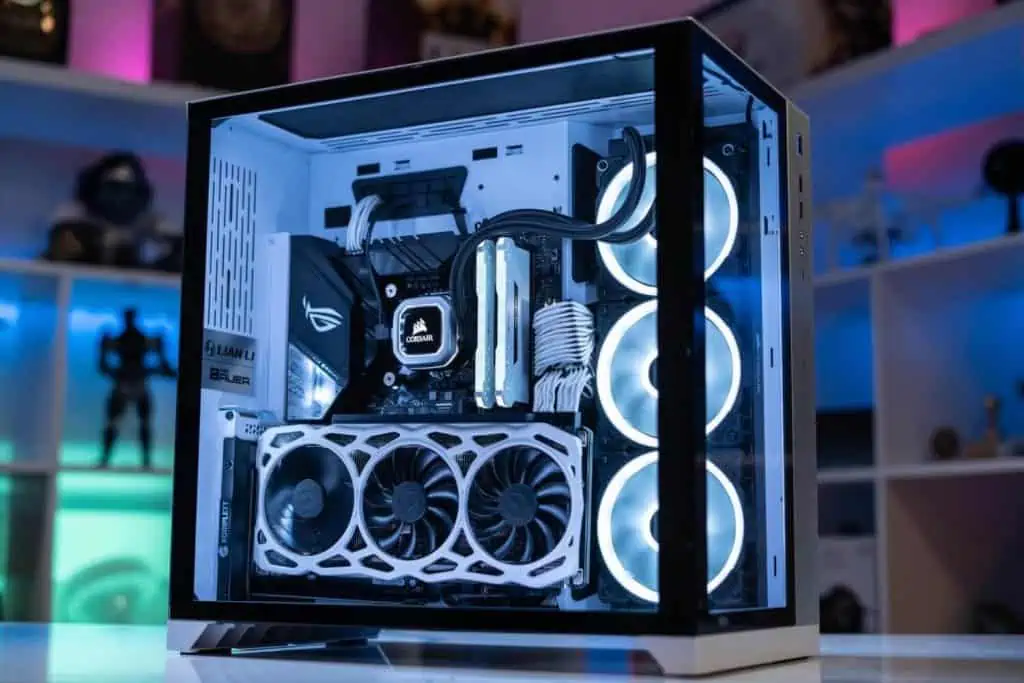 After hundreds of case reviews, here are the best
Hear that? It's the sound of silence.
Because 2 chambers are better than one.