The 5 Best Be Quiet! Cases in 2021
Be Quiet! has been a sleeper-hit in the PC case manufacturing game for years now.
While they're not as big a brand as say, Corsair or Thermaltake, they've made a name for themselves amongst being one of the best choices for a silent PC case 
That's why we've built today's feature to guide you through the best Be Quiet! PC cases for your next gaming, streaming, or production build (with different budgets in mind).
Overall Best Be Quiet! Case: Be Quiet! Silent Base 801 / BG029
Update: We originally reviewed the Silent Base 801 at around $150. The stock for this model appears to be a little slim. if you're seeing out of stock or dramatically higher prices, a good alternative to the 801 is the Silent Base 601.
Iomfortably taking our top spot is the fantastic Silent Base 801.
Ranked as one of our favorite picks in What in Tech's silent PC case feature, this chassis excels at offering excellent sound dampening and performance.
With an exterior made largely of insulated steel, the cases finished looks and feels high quality and is of course, specialized to reduce noise as much as possible.
It does a fantastic job of just that, especially considering its mid-tier pricing.
The only similar cases rivaling it in this department/price range are our top Fractal Design picks.
The SB 801 excels in space too; this Be Quiet! mid-tower has room for:
7 x expansion slots
GPU lengths up to 449mm
5 x 3.5″ & 11 x 2.5″ drive bays
Air cooling: Up to 7 x 140mm with 3 high-quality 140mm fans included.
Water cooling: Up to 1 x 420, 1 x 360 & 1 x 140mm radiators
It's not a small case by any means, but the specs for its dimensions are still impressive.
You have all of the GPU and storage room you could need, whether you're looking for a gaming PC case or something more production focussed.
There's plenty of cooling capability in the 801 too.
A case optimized for silence will never provide the same airflow as a louder tower (it's the trade-off for sound dampening insulation).
However, this chassis still does a great job of maintaining decent temps, and provides great value out of the box with its 3 included fans.
Another feature we like is the front I/O panel fan controller designed to allow you to control the fan speed.
This isn't a unique feature by any means, but nice to have it integrated into a build focussed on noise reduction.
What the Silent Base 801 does so well is balance all the features we expect anybody building a quiet mid-range build would need.
Build quality, size, internal features, low noise all in a decent price tag; this is why we consider the 801 the best Be Quiet! computer case today.
Runner-Up Pick: Be Quiet! Pure Base 500DX
Our second-place pick comes for those looking for the best Be Quiet case for airflow (in the mid-range pricing).
The 500DX trades in sound dampening panels for tempered glass internal views and more intake on the side.
Make no mistake, the build quality of the case is still great, with a design a little less minimalist compared to the 801 (with some beautiful RGB lighting included).
The 500DX still performs notably quieter than your average mid-range case with its 3 included silent fans and dampening panels on the non-window side of the case.
There's decent space inside this Be Quiet! ATX case too, with:
7 x expansion slots
GPUs up to 369mm in length (enough for nearly all mainstream cards)
2 x 3.5″ & 5 x 2.5″ drive bays
Up to 5 x 140mm fans (with 3 high-quality silence-optimized fans included)
There is less fan availability than the 801. However, this is partially made up for by the increased airflow capability of the 500DX.
The issue with this increased airflow comes when your build is under high load (say, playing intensive games, video editing, etc.); you will hear noise levels akin to a more typical chassis.
This is where you will see where the 500DX has chosen to focus on cooling over noise dampening like our top pick.
That doesn't make this case worse than the 801, it just depends on what your priorities are.
We chose the 801 as our top because it has a great balance between cooling and sound (and is still more than capable of hosting a powerful gaming build at reasonable temps).
But make no mistake, if you prefer the aesthetic and airflow focus of the 500DX, it's a great pickup and a tad cheaper than the 801.
Best Budget Be Quiet! Case: Be Quiet! Pure Base 600
Arguably one of the best budget quiet PC cases from any brand, the Pure Base 600 has a lot going for it in its price tag.
You're still getting an exterior with steel elements (albeit more plastic) that looks and feels higher quality than the price may suggest.
The dampening is, of course, not going to be the same quality/thickness as you'll see in the 801 and other premium picks.
But it still manages an impressive low-noise level that we think would meet most expectations for a budget gaming PC case (or even one for streaming and video/music production).
Spec-wise, this is another mid-tower, with:
7 x expansion slots
GPUs up to 280mm (or 425mm without HDD cage)
2 x 5.25″, 3 x 3.5″ & 8 x 2.5″ drive bays
Up to 4 x 140mm + 1 x 120mm fans (with 1 140mm & 1 120mm Pure Wings 2 fans included)
The fact that you are getting 2 high-quality Be Quiet! fans in a case already cheap on its own is a really impressive value-add.
With plenty of storage capability here too, you're covered for most builds – and the case has good modularity with options to remove some of the HDD cages to make room for larger GPUs should your build be gaming focussed.
If your wallet is tight or you just want to dip your toes into the world of silent PC building, the Pure Base 600 is a great starting point, and easily the best budget Be Quiet! PC case on the market.
Best Premium Be Quiet! Case: Be Quiet! Dark Base PRO 900
The Pro 900 is Be Quiet!'s answer to any builder who is after the most powerful silent PC build they can possibly create, regardless of price.
We have to point out that there are certainly diminishing returns when comparing the PRO 900 to our top 801 pick or the more expensive Fractal Design choices.
But if you have a larger wallet, this is a very powerful chassis for a high-end build.
One of our favorite features of the 900 (aside from the obvious high-quality design, aluminum/thick steel build, and noise dampening) is the level of modularity this case offers.
So many panels and cages can be removed or repositioned to help you minimize unnecessary parts.
This isn't just great for airflow, but also reduces any subtler vibrations to optimize low decibel output.
And then there is the incredible space; this Be Quiet! full tower case comes with:
8 x expansion slots
GPU lengths up to 325mm (or 470mm without HDD bracket)
Up to 2 x 5.25″, 7 x 3.5″ & 14 x 2.5″ drive bays
Up to 9 x 140mm fans with 3 x Silent Wings 3 140mm fans included (one of the best quiet fans on the market)
Or up to 2 x 420mm & 1 x 140mm radiators (could be combined with 2 140mm fans)
The capability in the PRO 900 is some of the highest we've seen in any chassis, and it easily comes in as one of the most capable silent PC cases.
With unbelievable storage specs, you have a fantastic PC case for video editing, storage builds, or a high-end HTPC.
Alternatively, if you're looking to build the most powerful silent gaming PC possible, there is plenty of room in here for a powerful overclocked GPU setup (especially with the excellent cooling capability).
With the amount of space in here though, you don't have to choose one or the other; this case could easily host a multi-facetted enthusiast build.
If you are without many limits in your budget and are looking for something extra special, the PRO 900 is a great choice.
Honorable Mention: Dark Base Pro 700
Coming in at the end of our list is a mid to high range pick in the Pro 700.
This chassis is still fantastic in its own right, with an exterior largely made of steel, aluminum, and tempered glass; it looks simply beautiful.
Made to be the premium pick in between the price range of the silent base models and the top-end PRO 900, this chassis strikes a good level of quality and has excellent specs/noise dampening for a powerful (yet quiet) build.
The reason we don't rate it as highly is it comes in at a similar price point to our favorite Fractal Design cases.
And in this specific price range, we think Fractal has the edge.
However, if you happen to prefer the build/design of this case or it meets your spec requirement in a way one of the high-end Fractal cases don't, know we've included it for a reason.
It's still a great chassis and easily one of the best Be Quiet! towers on the market.
Be Quiet! E-ATX / Micro ATX / Mini ITX PC Cases?
Today, there aren't any Be Quiet! cases of other form factors we'd recommend (the company specializes in mid towers).
That said, if you're after a silent case of a different size, there are plenty good options in our quiet PC case feature or our breakdown of the best Fractal Design cases (What in Tech's favourite case brand for silent cases).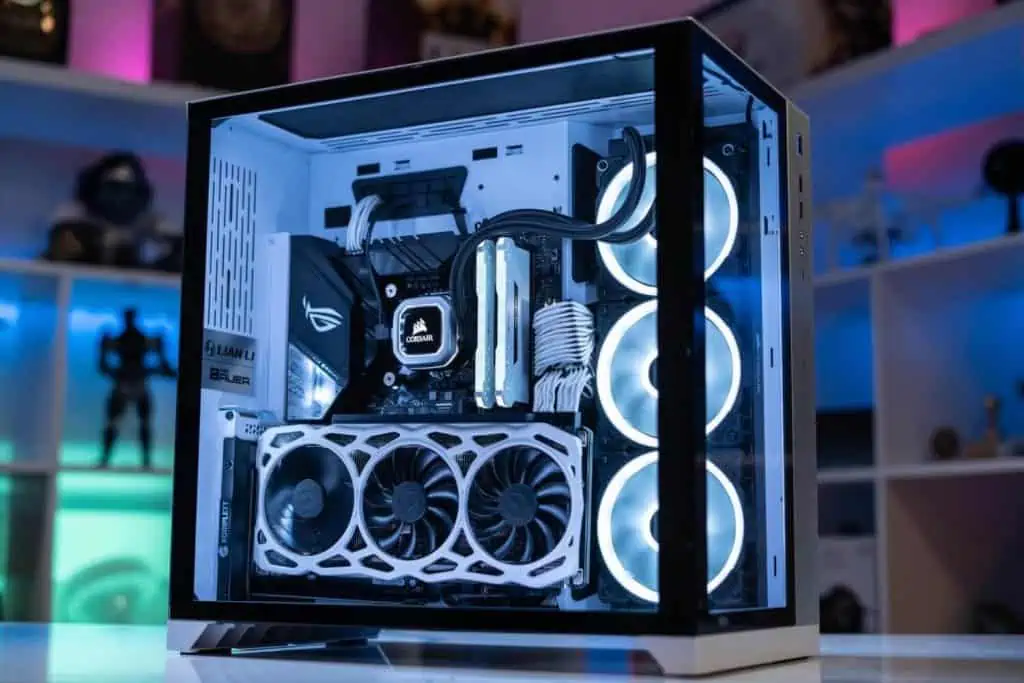 After hundreds of case reviews, here are the best
Hear that? It's the sound of silence.
Finally install every Steam game in your library!
For the sharpest image possible