PC Case Sizes - The Complete Guide
All the info you need to find your perfect case
Article fact-checked in June; all information still accurate for 2023 builders.
The verdict is in, size does matter!
…for PC cases at least. As with all things technology, there are many confusing terms to know.
We've got:
E-ATX vs ATX vs mATX vs mITX.
And…
Small form-factor vs mini-tower vs mid-tower vs full tower vs super tower.
I know, I know, they don't roll off the tongue.
But in this guide, we've put together what's essential.
You'll have what you need to understand the differences between computer case sizes and decide the right type for your next build.
Computer Case Size Comparison Chart
Smaller FF

Mini Tower

Mid Tower

Full Tower

Mobo Size
Mini ATX
Micro ATX
Mini ATX
ATX
Micro ATX
Mini ATX
E-ATX
ATX
Micro ATX
Mini ATX
Graphics Cards
1
1-2
2-3
3-4
Case Fans*
1-3
2-5
3-9
6-12
Expansion Slots
2
4
5-8
7-12
2.5" Drive Bays
0-2
0-4
0-8
0-12
3.5" Drive Bays
0-3
2-6
5-8
5-14
5.25" Drive Bays
0-1
0-3
1-4
2-6
*With larger sizes, you will usually be getting more room for bigger fans, not just higher quantities.
PC Case Sizes Explained
Full Tower Size: E-ATX (Extended ATX)
The largest form factor of the popular options, a full tower case gives you the most space for high-end, demanding PC builds that require the best overclocking and plenty of cooling/hardware options.
As you can expect with the large internal dimensions, you'll also have the best ventilation/airflow capabilities.
If you're looking to achieve the most powerful build possible (whether for gaming, a server build, or editing/production) then this is the most capable option.
Bear in mind these cases are very bulky, heavy, and on the expensive side.
If you're looking for something compact or on a budget, check the sizes below.
Note: It's very rare, but we've seen a couple of cases that claim to be "full towers" while still only supporting up to ATX motherboard mounting holes.
We doubt you'll run into this problem, but before buying a full tower case for EATX, just make sure that the product listing states it will support extended-ATX motherboards.
Mid Tower Size: ATX / mATX
The most popular form factor, a mid-tower case strikes a great balance between space/price and is the "jack of all trades" choice.
For a majority of enthusiast builds, a mid-tower case will still have all that you need for a gaming PC (and most other types).
Providing great cooling options for overclocking and enough space for a strong SLI/crossfire build (if desired) with lots more room for the rest of your hardware (ATX motherboards are also the most popular, giving you lots of options and competitive pricing).
ATX is a great middle-ground. Going larger is only needed if you want to build the most monstrous machine possible. Smaller is better for those after something more compact (and often a little cheaper).
Mini Tower Size: mATX / mITX
Mini-tower cases have become very popular in recent years due to the increasing quality of micro ATX motherboards/compatible parts.
The great thing about this form factor is that it offers decent compactness while still providing enough internal space to fit most hardware.
As we get smaller, bear in mind you'll, of course, have to be more considerate in what parts you're choosing and the airflow available for them.
But if your gaming build is only 1 (at a push 2) GPUs and you don't need lots of other drive bays/expansion slots, an mATX case may be the best option for you.
Another bonus add is that mATX cases are usually a little cheaper than ATX due to the reduced material.
Note that some mini-towers only support mITX, so be sure to check that your motherboard and cases are compatible in size before you buy!
Smaller Form Factor Size: mITX
The smallest form factor on the list.
These are ideal for a portable / LAN party case or someone looking for something quite presentable and flashy (e.g. a streaming build).
You can still install many major parts inside an SFF case.
But be aware that for certain hardware (particularly PSUs/GPUs) you will have to get one of the larger mITX cases.
If however, you're looking for the smallest computer case possible, you'll have to buy some less common ("specialist") parts that'll be a little more expensive.
If your heart is set on a tiny case, don't let the above cautions put you off. The form factor is becoming popular enough that even niche parts only carry a slight premium over regular ones!
As long as you check your dimensions, you can still create an awesome gaming setup with an ITX case.
How to choose a PC case size
We've recommended the best cases for all build types in our detailed feature here (and some picks further below).
But if you want to understand what the criteria are for your desktop case, here's what to pay attention to:
Hardware support
As per our comparison chart at the start of the feature, larger cases and the big motherboards they support will give you more options for your hardware.
This includes:
Expansion slots – More will allow for multi-GPU builds and other components depending on your needs (dedicated sound cards and network cards).


Note that it's becoming very common for motherboards to support decent sound, network and Bluetooth capabilities, so many builds will be fine with a case that only has the expansion space for a GPU.

Clearance for main parts – What dimensions are supported for your GPU, PSU, and CPU cooler? These are the 3 parts that usually have to be considered for case sizes.
Drive bays

5.25″ drive bays – Less popular nowadays, but still useful for things like CD/Blu-Ray Drives and additional card readers.
3.5″ drive bays – Suitable for your standard 3.5″HDDs. Having a high allowance here is good for those focused on storage (e.g. video editing builds).
2.5″ drive bays – For your SSDs: having a good amount of these will be good for those focused on speed.

Miscellaneous – Some very large cases will support awesome things like multi CPU/PSU builds and 8 DDR4 RAM slots if you're interested in power more than a low budget.
Cooling
With big cases, comes big cooling capability.
For air-colling, the larger the tower, the more fans you'll usually be able to fit in (not just quantity, but size too – often up to 200m).
Larger cases will also include more room for airflow and ventilation which is key for power-hungry builds.
And then there's water cooling. Whether your focus is on a silent PC build or overclocking, you're going to have a lot more radiator space in a full/mid-tower. Not to mention how much more pleasant it is to route cooling pipes through a larger case (we've had many experiences with tight builds, it can be a pain!).
Nowadays, smaller form factors do have these capabilities, but they're usually limited in what you can install and more reliant on air cooling.
If you're serious about buying a water cooling case or pushing your overclocking to the max, go for a larger tower.
Cable management
With larger cases (particularly full/mid) you will commonly see significantly better options for routing your cables into "hidden" areas.
Typically routing behind a compartment underneath the motherboard installation area.
This is not just handy for aesthetics, but also for making the build process a lot easier.
Sure, mATX/mITX will (usually) have the space you need for smaller parts.
But you'll have to be extra neat/efficient with your cable positioning/tying and ensure you're not using cables that are overlong (very common!).
If a clean-looking build is extra important to you, you could even purchase a dual-chamber case. 
These have dedicated areas to hide not only your cables but your other "less attractive" components (HDDs, PSU, etc).
Size / Design
Now as nice as it is to have great room for parts, cable management, and airflow, the small form factors have a very important thing going for them:
Portability.
You may not really care about this if you plan to have your PC stationary.
But if you're a LAN party regular and have limited space or plan to use your build in multiple locations (e.g. a VR demo PC) then don't underestimate the usefulness of this perk.
And then there's aesthetic.
It should go without saying that cases of all shapes and sizes come in really nice designs.
But it all comes down to personal preference; do you want a monolith towering over your desk or a small compact machine that fits tightly with the rest of your setup?
Price
As far as the case itself goes, smaller form factors will offer the best value due to fewer material requirements.
You can, of course, get PC cases for all form factors in all price ranges, but if we're talking about value, $ for $, you're going to get more bang for your buck from small options.
There is a balance here, however.
If you go too small (mainly mITX/SFF cases), you may run into needing "specialist" PSUs/GPUs if the dimensions are low.
These parts tend to be more expensive than their mainstream alternatives.
Because of this, MicroATX tends to be the sweet spot, which leads us nicely into our budget choice…
Which PC case size should you get?
Budget gaming PC case
For a cheap PC build, the best option is usually Micro ATX.
This form factor and motherboard type will have less space and feature availability than ATX/E-ATX.
But you're not going to care about losing these things in a budget PC (e.g. high PCIe slots and cooling options that would be excessive for a cheap build).
mATX hits the sweet spot between being smaller, but not too small that they lack compatibility with major parts and require "specialist" hardware like many mITX towers.
One of our favorite "all-around" recommendations for a cheap gaming PC case is the Cooler Master Q300L.
It's popular for a reason; offering impressive utility, build quality, and design for its price range.
Looking for something else? All our PC case articles provide the best budget choices for their category, whether it's a silent build, the best overall cases, or the cheapest cases we recommend.
We'll also add that there are also plenty of very affordable budget ATX options if you do want something a little larger/easier to build in.
Mid-range gaming PC Case
If you happen to like the compactness of an mATX, you can still use that form factor for a mid-range PC.
But as we approach a more "typical" gaming build, our recommendation would be to go for a mid / ATX tower.
Even if you don't necessarily need every hardware allowance a case offers, working with a larger unit provides better airflow/ventilation, cable management, and overall ease of build.
There are a ton of great options out there in this range, but our pick for the best mid-tower case easily goes to Lian-LI Dynamic O-11 and the Fractal Design Define R6. The latter is for you if you are interested in noise reduction.
If you want something a little more flashy, we highly recommend the NZXT H710, but there are so many beautiful cases around if aesthetic is important to you.
Powerful gaming PC Case
What about those less focused on budget, and are instead asking: "how do I build the best gaming PC possible?".
We don't want to "gatekeep" the top-end PC builds, you can get a lot done in a standard ATX case (including SLI/decent cooling for overclocking).
But for the best performance possible, you'll often want to look at full / extended-ATX towers.
This form factor will offer you incredible options for fans, water cooling, multi-GPU, cable management, and much more.
Because they're focussed on high-end builds, they tend to come with fantastic build quality and awesome designs.
One of the best full tower cases is the Thermaltake View 71.
This monolith supports up to 9 fans, 4 water cooling radiators (all of impressive sizes), and plenty of expansion slots/vertical graphics card installation options.
Between this space and cooling utility, you're going to achieve incredible overclocking potential on a multi-GPU build.
We also feel compelled to include a runner-up pick for those more focussed on style than build in the Thermaltake AH T600.
Take on look at the product and you'll see why!
Don't get me wrong, it's still more than capable of building a very powerful PC, you're just paying a little more for the aesthetic.
Whether it's a PC for video editing, server stand-up, some other high-end production build, or of course gaming, the space of a full tower will give you incredible utility.
Small PC / HTPC Case
Finally, there are those after a lightweight PC case.
If your goal is to build something for portability, a home theatre, or simply because you like a tiny aesthetic, then you should definitely be looking at a Mini ITX case.
We would highly recommend checking out our horizontal PC case article which includes a lot of great options.
But for a top pick: you can't go wrong with the Thermaltake Core V1.
For its price, the V1 offers great build quality and features considering its limited space, which is why it's one of the most featured towers on What in Tech.
If money is less of an obstacle in your small PC build, check out the InWin A1 Plus.
Other tips / FAQ
Motherboard compatibility
The best identifier of a case's internal size compatibility is what type of motherboard a case can support, which should be one of the main factors of your decision.
We've included the common "mini/mid/full" form factor definitions in our chart but know that these terms are not as accurate as motherboard compatibility.
For example, you may run into a full tower case which is really more the size of a "large mid-tower".
There's also a huge variance in what is considered a "mini-tower".
This is why a "case with ATX support" is more reliable than a "mid-tower case", so always check the motherboard compatibility in the product listing.
EATX vs ATX / Full Tower vs Mid Tower
Hopefully, our feature has explained the differences between these two form factors. But as this is a popular question, we thought to provide just a little more context.
ATX/mid towers, while being a tad smaller (typically), will usually have the greatest amount of options given they are the most popular pick on the market.
E-ATX/full towers are larger, more expensive, and will usually give the absolute utmost capability you can get for space and motherboards. It's just worth being clear that this extra space when comparing E-ATX vs ATX is usually only going to matter for very high-end production builds or enthusiasts who want to max out their cooling and performance as much as possible.
Short answer: ATX is great for a large majority of builds, consider E-ATX if you really want the most power possible and aren't too concerned about keeping to a budget!
If you're after ATX, our best PC case feature covers many great options.
If you're leaning towards E-ATX, we have a separate feature for that form factor.
Can my MicroATX motherboard fit in my ATX case (and similar questions)?
Yes.
As per the comparison chart, nearly all cases will fit motherboards smaller than their main form factor.
So you could also fit a Mini-ITX mobo inside an ATX tower, an ATX mobo inside an E-ATX tower, and so on…
That being said, there isn't really much point in putting a smaller motherboard in a larger case (unless you wanted a large space for airflow and had low build requirements).
In nearly all cases though, you'd be better off getting an ATX case for an ATX motherboard, an mITX case for an mITX motherboard, etc.
Super Tower vs Full Tower PC Case?
"Super Tower" is a bit of a marketing term without a very clear definition of what size it represents (not unlike "XL-ATX").
Typically, this form factor is going to be on the larger side of a full tower case.
So if you're looking for the largest computer case possible, then this term is a good sign.
But we wouldn't recommend excluding full towers in your search, as there are a lot more options available and plenty of these are just as spacious as the super form factor.
If you're simply looking for the largest PC case size possible, we've got a separate feature for just that!
PC Case Size Dimensions
We've chosen not to include specific "typical" dimensions for each of the form factors in this article because they're simply too varying from model to model.
We'd highly recommend you look at the dimensions of specific cases you're interested in, as opposed to relying on "typical" dimensions.
PC Case Sizes Final Thoughts
And there you have it! We've been through everything we think you need to know about the wide world of case sizing.
We'll keep this feature updated if more size-specific details emerge in the market, but generally, you can expect this same advice to be valid for a long time (the PC case market and its practices are pretty stable, even with new offerings coming out).
If you're still a little overwhelmed by how you should pick, let us leave you with 2 simplifying thoughts:
Focus on what size motherboard your PC case is made for (ATX case, Micro ATX case, etc.) and combine it with an appropriately sized motherboard. The full/super/mid/mini-tower terms are a little vaguer and interwoven, so we recommend just focussing on the motherboard sizing as a better indication for what you need.
Check out our features on the best PC cases available. We've reviewed hundreds of PC cases so you don't have to! Depending on your needs, we have articles on:
Happy building!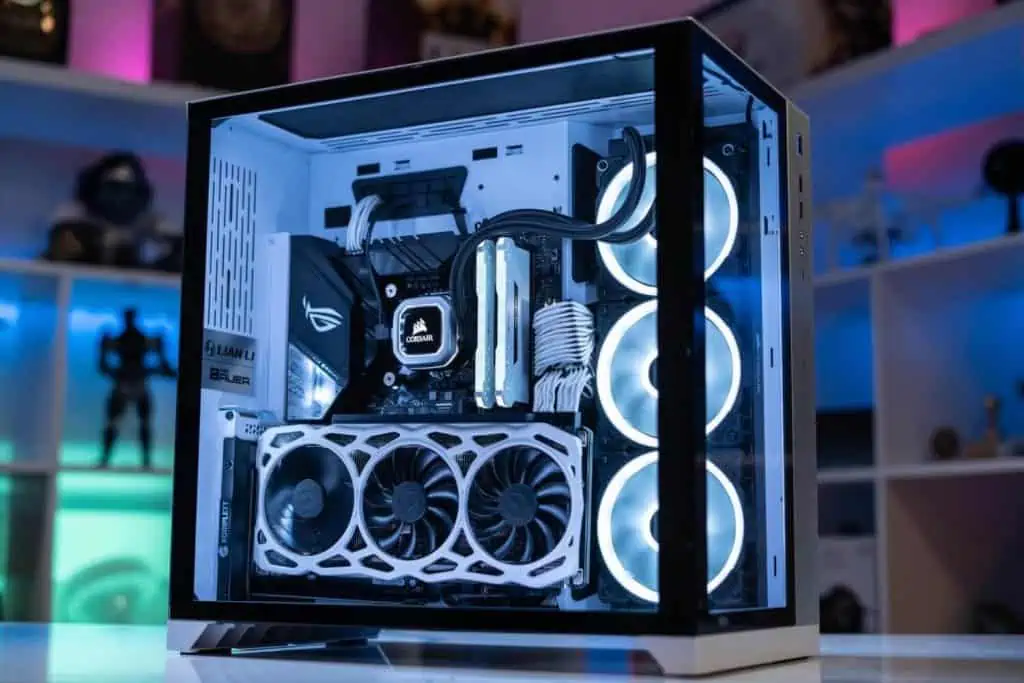 After hundreds of case reviews, here are the best
Hear that? It's the sound of silence.
For the smoothest gaming possible
For those after the full package