The 8 Best E-ATX Cases of 2021
There's no tower like a full tower.
As we've seen in recent years, ATX and mATX form factors have become more popular for your average gaming build.
But if you are looking for the most powerful PC possible, there's no beating an E-ATX computer case.
These monoliths offer incredible features across the board.
Whether it's gaming, production, server build, or streaming; we've broken down the best full tower cases (and some smaller options that can handle EATX) for your next powerhouse PC.
Best EATX Case Overall: Fractal Design Define R7 XL
This case is simply fantastic.
It's no secret that we rate Fractal highly for their work on creating the best silent PC cases.
But the new R7 XL model isn't just great for noise reduction, it excels across the board as a fantastic premium option.
Let's start with space.
The R7 XL is huge. For storage, it supports up to:
18 x 3.5″/2.5″ drive brackets
5 x 2.5″ dedicated positions
2 x 5.25″ optical bays
You will not need more storage than this case can host.
While we are primarily focused on what is the best gaming PC case, this utility would also make it an incredible option for video editing/production/server builds.
So what if you're like most gamers and don't need that many drives?
That's the beauty of Fractal's high-end cases, they offer great modularity/customization.
This means you'll be able to remove any unnecessary drive brackets and free up more space for a multi-GPU build and/or better airflow.
That includes GPUs up to 359 mm in length (549mm in an expandable open layout it needed) alongside 9 + 3 expansion slots.
Simply put, you have the freedom here to install the best graphics card setup possible.
Now, what about the cooling solution for all these cards and their overclocking potential? Well, you have:
13 fans across the case (120-140mm) with 3 high-quality quiet fans included.
Great radiator support: up to 420mm top, 360mm front, 280mm bottom & 120mm rear.
Whether you're looking for a water cooling case, air-cooling build, or a hybrid; the utility you get here for the price is incredible.
The R7's internal size is so impressive it can act as an EE-ATX case (but check dimensions beforehand for such models).
The front I/O panel is great – with 2 x USB 3.0, 2 x USB 2.0, 1 x USB 3.01 Type C, and the usual HD audio ports (all very stylishly integrated).
Finally, there is the build quality; with a large steel base and a slick, monolithic design, the R7 XL is gorgeous.
Surrounded by noise-dampening panels that we have such good experience with their other models, they seemed to have outdone themselves here.
If you're looking for a tempered glass case, the windows R7 XL variation will still offer great sound reduction compared to other extended-ATX cases, with nothing sacrificed in the way of cooling or hardware space.
Simply put, the R7 XL is a brilliant high-value case from a manufacturer on the top of their game.
If you're looking for the all-around best E ATX case, this is it.
Best E-ATX Case Runner-Up: Thermaltake View 71
We've raved about the R7 above, but the second-place option by Thermaltake is still a fantastic offering.
It's hard not to talk about the design of the View 71 first.
With 4 beautiful, high-quality tempered glass windows surrounding the front, top, left and right sides, the case looks incredible.
Not to mention the 3 high-quality LED fans included in the RGB model, this would be perfect for an RGB build or if you're looking for something a little more flashy.
The build process and customization of this case are also top-tier.
Offering wonderful modularity for bays/other parts and a (largely) tool-free design, you'll be well placed to get exactly what you want out of the case.
The storage options here are lower than our top pick.
But still, more than enough for most builds with up to 10 2.5″ / 7 3.5″ drives (or a mix).
The case does a great job in the rest of the size department too, with:
Huge space for an SLI/crossfire PC builds if desired (including vertical GPU install options).
Up to 9 overall decent-sized fans (120mm-140mm).
Good room to spare for decent ventilation and airflow.
The View 71's crowning feature for gaming, however, is its fantastic radiator compatibility, with:
Front: up to 420mm
Top: up to 420mm
Right-side: up to 420mm
Rear: up to 140mm
Bottom: up to 240mm
Simply put, it's the best water cooling EATX case available in its price range.
If you happen to like the design more than the R7, aren't as bothered about maximizing silence, or want to focus on water cooling, this extended ATX tower is perfect for you.
Best Budget EATX PC Case: ASUS TUF Gaming GT501
The GT501 is very popular for a reason (many reasons, in fact!).
We appreciate this may not be quite as cheap as you'd hope for a budget pick.
But we have to caution that if you're looking at an E-ATX PC build, you're going to want to spend more than you would on small form factors.
That being said, this offering is fantastic and the cheapest PC case we would recommend for a large build.
Despite officially being a mid-tower, you're still getting great space for:
GPUs up to 420mm long (with 7 PCI-e slots and an extra 2 for vertical installs)
Up to 7 120mm fans or 2 x 360mm, 1 x 140mm radiator support
3 x 2.5″ drive bays & 4 x 3.5″/2.5″ bays
What really gives this case incredible value though, is the 1 included 140mm rear fan and 3 pre-installed RGB fans which you can use alongside your other compatible RGB parts with Asus's fantastic light control software (Aura Sync).
Despite the price and inclusions, the GT501 still manages to have great build quality and plenty of great features to make the build process smooth.
The carry straps on the top are a nice extra small perk, don't underestimate how convenient these will be when you're building an E-ATX PC, they're heavy to move!
We're really impressed by what Asus has achieved here in the price range.
If you can't afford our other top choices don't fear, this cheap EATX case is fantastic and more than capable of building a gaming monster.
Best EATX Case for Airflow: Corsair Obsidian 1000D
Now let's be real. This is a lot of money to spend on a PC case.
And you can accomplish a lot with the other options available on this list.
But, if you're one of the lucky ones that can afford this and want nothing but the best super tower for gaming, this is it.
Let's start with the crowning feature for high-end builds: dual system PC support.
What is a dual system PC?
It's the ability to have a secondary Mini ITX motherboard (with its own dedicated parts)  on top of your main E-ATX motherboard.
That's right, you can essentially have another PC operating in your machine doing secondary tasks.
On top of the obvious production/gaming uses, this is one of the best streaming PC cases if you can afford it. Allowing you to play games on your main mobo, and stream with the secondary one.
Then there's the space for your other hardware.
With VGA card support of up to 400mm, 5 x 3.5″ / 6 x 2.5″ drive positions, and an overall huge size allotment in the case,  you'll have more than you need to create the best multi-GPU PC you can.
So how can you overclock and cool all of this?
The case offers fantastic air/water cooling options with:
Front: 8 x 120mm fans or 2 x 480mm radiator (the best we've ever seen).
Top: 3 x 140mm fans or 1 x 420mm radiator
Rear: 2 x 140mm fans or 1 x 240mm radiator
It's really hard to imagine needing more cooling even for the most expensive gaming PC.
The 1000D also has one of the best front I/O panels in any case, with 2 x USB 3.1 type C ports (on top of 4 x USB 3.0 & 2 HD audio ports). All topped off with very stylish RGB backlighting.
There are more perks to talk about in this case, from amazing build quality to great ease-of-use build features. But you'd be here all day reading if we went through each one!
Not only is it one of the best dual system PC cases money can buy, but its utility would be incredible even for a standard one-motherboard setup.
If you can afford its hefty price-tag, boy are you in for a treat.
Best Quiet EATX Case Runner-Up: be quiet! Dark Base Pro 900
While the Corsair 1000D is the undisputed powerhouse for expensive gaming builds, and we love our top Fractal pick for quiet builds, we've included this other great option for anyone focussed on a silent PC with a high budget.
We've written previously on the quietest cases and the Pro 900 was our pick for the top high-end option.
The internal dimensions are fantastic. Suitable as an XL-ATX case, you have room for 2 x 5.25″, 10 x 2.5″, and 5 x 3.5″ drives (with options to extend further with additional bays if needed).
Similar to the R7 Xl, this space is made more valuable by the available modularity in the case.
Allowing you to remove unused bays/other components to maximize airflow, space for parts, and minimize noisy vibrations.
This comes in handy, for example, if you want to install very large GPUs. Up to 470mm if the HDD bracket is removed.
The Pro 900 supports up to 9 fans with 3 silence-focussed 140mm ones pre-installed.
For water cooling, you can get up to 2 x 420mm and 1 x 140mmin here. Offering plenty of potential for multi-VGA overclocking.
The build quality is fantastic as you expect in an EATX computer case from a great brand; with thick SECC/aluminum surround much of the case and a great tempered glass window should you choose the transparent option.
To top it off is a feature-rich front I/O panel. In addition to the usual USB 3.0/audio inputs, you're getting a USB 3.1 type C port, a universal fan controller, and (on the Rev. 2 version) a wireless QI charger.
If you liked the look of the 1000D but it was perhaps out of your price range, or you were keen on still building a quiet gaming PC, you can't go wrong with the Pro 900.
Best Dual Chamber EATX PC Case: Corsair 680X
We love this the 680X. It's not the first time it's been highlighted on What in Tech.
What is a Dual Chamber PC Case?
Nearly all (decent) gaming cases come with "compartments" behind the motherboard for cable management and (sometimes) SSD placement.
Dual chambers take this one step further and have a dedicated "mini-case" in the back to not only offer you ample room for cables, but also the space to hide your other "uglier" components (PSU, HDDs, etc).
This is great for making the build process super easy and maximizing ventilation on your best-looking PC parts; while you show them off clutter-free.
Speaking of showing off, this case's build quality and design are top-tier.
With 3 tempered glass panels, a high-quality steel/plastic construction mix, and in the RGB version: 3 included controllable RGB fans.
Note: This is a bit of a rogue pick as the 680X, officially, is an ATX case.
However, there are multiple examples of users who have installed an E-ATX in here and its dimensions do seem suitable for such a build.
We wanted to include it as a dual-chamber setup would be great for the very demanding builds you tend to get when building a huge, E-ATX desktop computer.
But sadly there aren't any great dual-chamber full towers we can recommend (a great option is the Corsair Air 540, but despite supporting E-ATX officially, it is smaller than the 680X).
Just check the size requirements of your desired mobo before you purchase.
With that said, although you're not getting the size of a super/full tower, you can still:
Fit 3 x 3.5″ HDDs and 4 x 2.5″ SSDs in the hidden chamber
Support multiple GPUs up to 330mm (with vertical install capability)
Install a good number of cooling options:

Up to 8 x 120mm / 7 x 140mm fans
4 water cooling radiators up to 280mm, 360mm, 280mm & 140mm for top, front, bottom, and rear respectively
If you've got the size requirements figured out, the Corsair 680X is a fantastic case for those looking for a special aesthetic and would be great for a large RGB PC build (just not too large).
Best Looking EATX PC Case (Wildcard): Thermaltake AH T600 Snow Helicopter
OK, look at this thing.
This may not be to everyone's taste, but we simply had to feature it as a great E-ATX open-frame case option.
Looking like a transformer halfway through turning into a normal computer case, the design may not be for everyone.
But it's perfect if you're craving a unique build.
The quality is fantastic. From a brilliant case manufacturer, the entire exterior is made of high-quality steel, tempered glass, and has great removable/modular options to make your build process easier.
The T600 isn't just about the exterior though, you're still going to be able to create a powerhouse, with:
GPUs of up to 440mm (if water pump removed, 300mm while installed)
Up to 10 x 120mm or 7 x 140mm fans
Up to 1 x 480mm and 2 x 320mm liquid cooling radiators
The biggest spec weakness is the drive availability, only offering space for 2 x 3.5″ or 3 x 2.5″.
This is very low, we expect because they wanted to only included spaces where they can be hidden given the case's focus on design.
With that being said, even for an expensive gaming pc, you can manage with this amount (installation of M2 storage is also an option with the right motherboard).
You're of course paying a premium for the way this case looks.
But wow, it looks fantastic! And it still has everything you need to create a well cooled, overclocked, multi-GPU machine.
Honorable Mention: Phanteks Enthoo Primo

Don't be deceived by this E-ATX motherboard case not getting a top pick.
The Primo was very close in the consideration for runner-up and deserves your attention as much as the Thermaltake View 71.
The case seems deceptively large due to how slim it is, there's a lot of space to play around with in here:
Up to 5 x 5.25″ and 6 x 3.5″ / 12 x 2.5″ drives
Up to 10 140mm fans with 5 pre-installed (including 2 LED ones on the front)
GPU size allowances up to 515mm (just note this is if the reservoir bracket and HDD cages are removed)
A 30mm cable management area in the back of the case
And finally, the Primo is a beast of a liquid cooling case.
With 5 separate spaces for decent-sized radiators (1 being a side installation with HDD cage removed), it's one of the best water cooling computer cases on the list.
The manufacturing quality is fantastic, largely made of a mix between steel and aluminum.
You'll have plenty of modular capability during your build. Allowing you to remove unneeded pieces and get the best airflow/space for your main hardware.
Reading this, you'll see why we've still included it despite not getting the runner-up spot.
The only reason we didn't rank this above the View 71 is the slightly higher price point.
But if this is in your range and you like the design/offering, you won't be disappointed.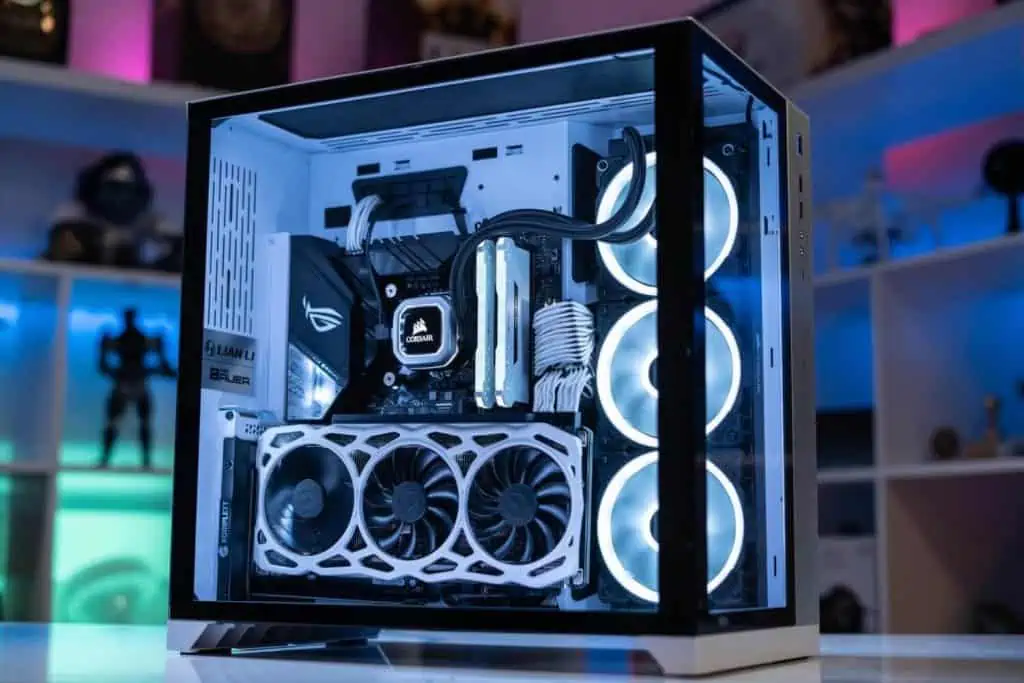 After hundreds of case reviews, here are the best
Hear that? It's the sound of silence.
Finally install every Steam game in your library!
For the sharpest image possible