The 15 Best Thermaltake Cases in 2023
After reviewing all of the cases from this great brand, here are our top picks
I updated this article in June to cover Thermaltake's latest releases in 2023. There are no big changes to the list this time around, but I've added a couple of great alternatives for certain picks that run into stock issues.

Rivaled by very few in size, Thermaltake is one of the biggest and best manufacturers in the PC case business.
They've been in the game for a while, and it shows in their enormous line of fantastic towers today.
If you're looking at their fantastic line-up, you'll quickly realize there's a lot to choose from.
Which is why today's feature breaks down the best Thermaltake cases for gaming, production, streaming, and more (for all different sizes & budgets).
Top Picks
Worth Considering: Thermaltake P-Series
Best of the Rest: Quick-Fire Picks
Overall Best Thermaltake Case: Thermaltake Core P3
What a fantastic chassis this is.
Featured several times previously on What in Tech, the Core P-series is the best there is when it comes to high-visibility PC cases.
Our top pick from this iconic range is the P3; which strikes the best balance between cost and spec for most mid-range gaming/enthusiast builds.
The build quality of the P3 is fantastic. With a beautiful, thick tempered-glass surrounding the top side and a base made up of high-quality SPCC steel.
It's deceptively sturdy, with options for vertical, horizontal, or wall-mounted placements (it's also by far the best wall-mount case available should you be inclined). 
The P3 is a mid-tower (ATX compatible case) with room for:
8 x expansion slots
GPU lengths up to 450mm (if radiator reservoir removed) with vertical install options
Hidden 2 x 2.5″ / 3.5″ and accessible 2 x 2.5″ / 3.5″ drive bays
This is a decent spec for an ATX case, you'll have all the room you need in here for any of the mainstream GPUs.
We like that it manages to retain a good amount of storage capability considering the chassis is so exposed and focussed on high visibility (drives often get "shafted" in cases like this).
Don't be intimidated by the way the Core P3 looks compared to a more traditional chassis.
It's deceptively easy to build in because you have lots of room to play around with (no awkwardly leaning into a case!).
Finally is the cooling, which this tower simply excels at.
You have the capability for either 3 x 140mm fans or up to 1 x 420mm radiator.
While this may not sound like much for cooling, the P series units are the best Thermaltake cases for airflow, with their open-air design.
So essentially, you can get amazing cooling/overclocking potential with fewer fans – a real bonus in terms of value too.
If you're after something extra special, capable, and with excellent value for your next build, it's hard to find better than the P3.
2023 update: The Core P3 remains my top Thermaltake pick for 2 years running. If you want a more traditional PC case then there are better options below, but I think the Core P3 best encapsulates the heights of Thermaltake: great quality, design and space/airflow for your hardware.
Runner-Up Best Thermaltake Case: Thermaltake H200 TG RGB
As much as we love the Core P3, we know that many of you will be looking for more of a "traditional" PC case.
If that's you, Thermaltake has a great option in the H200 TG RGB.
At an impressively low price-tag, the case comes with the aesthetic, build quality, and size that is perfect for most mid-range gaming/production builds.
With a well-finished SPCC steel exterior, tied with a nice full-length tempered glass window and slick RGB light, the case looks and feels great powered on.
This is one of the flagship Thermaltake ATX case offerings, with:
7 x Expansion slots
VGA length clearance of 320mm
Up to 2 x 3.5″ or 3 x 2.5″ drives (or 1 of each), all hidden
Up to 6 x 120mm fans with 1 included (great for the price)
Or up to 1 x 280mm + 1 x 240mm radiators
These are all pretty standard specs for a mid-tower case.
And we don't mean that badly, the great thing about the H200 is that it ticks all of the expected boxes that you need for typical builds.
The only area it is lacking on a tad is storage capability, but there is easily enough here for gamers and most common builds.
Though if you're looking at something very high-end or for high-storage production (video editing, etc.) then see our top premium pick below.
The cooling capability of the case is great for the price range.
With enough room to comfortably cable manage also, you have the ability to avoid main-chamber clutter (helping airflow and aesthetic).
The H200 accomplishes everything the average gaming build needs, and does so with a nice style and build quality.
If this is the kind of budget you had in mind for a PC case, know it's an excellent choice.

2023 update: The H200 is still my top pick for a more traditional-style Thermaltake case, but I've seen it run into stock issues over the last few months. If it's not available, I'd recommend looking through the rest of this list or going for the Thermaltake V250.
Best Budget Thermaltake Case: Thermaltake S100
There are plenty of cheap Thermaltake cases on the list that are excellent for their value (including our runner-up pick directly above).
But the cheapest among them is the S100.
And what's more impressive is the case still offers a good amount of utility for its price tag.
With a gorgeous minimalist design, tempered glass window, and SPCC steel exterior, you're still getting some really impressive quality.
The S100 is a Micro ATX case, which we often recommend for budget builds because they are typically cheaper (as are mATX motherboards). In fact, we rate this as the best Micro ATX case available today.
This case is also on the larger side of the form factor too, so no concerns for newer builders about trying to build something intricate.
With space for:
4 x expansion slots
VGA lengths up to 330mm
2 x 2.5″ & 2 x 2.5″ / 3.5″ drive bays
Up to 6 x 120mm fans (with 1 pre-installed)
Some of these specs are really impressive for a cheap mATX case.
You comfortably have all the storage, GPU, and cooling capability you'll need for a budget gaming build here.
The fact that this all comes in such a nice design and build is really an impressive feat.
Not only is this the best budget Thermaltake PC case, but one of the best for tight pockets from any manufacturer.
2023 Update: The S100 is easily still our top budget PC case pick for Thermaltake, but we've seen it occasionally run low on stock. If this is the case for you, check out our cheapest PC case features for more options.
Best EATX Case / Premium Pick: Tower 900
What an absolute beast of a chassis the Tower 900 is.
If you're looking to build the most powerful PC possible, whether gaming, editing, server, or other high-end production builds, you'll find few better than this.
Featured several times on What in Tech, there is so much this unit has to offer.
Starting with the build quality: you're getting a very high-quality SGCC steel exterior with 3 thick, tinted tempered glass windows.
Not only is it one of the most durable PC cases we've ever come across, but its one of the best chassis to show off your internal parts (stock photos do not do it justice).
With its "super tower" form factor, the T900 has space for:
E-ATX motherboard compatibility
8 x Expansion slots
GPU lengths up to 400mm
1 x 5.25 ", 6 x 3.5″ / 2.5 " and  2 x 2.5″ drive bays
Whatever your build requirements, it's hard to imagine needing more than the internal spec offered here.
And what's more, the Tower 900 is one of the best modular cases today.
This means it gives you a huge amount of customization potential, like removing bays and reservoirs you don't need for better airflow/aesthetic.
Speaking of airflow…
The Tower 900 is the best Thermaltake case for water cooling, air cooling, or a hybrid solution (and one of the best from any brand).
With up to:
13 x 120mm fans
1 x 560mm & 1 x 480mm radiators (which can be combined with 5 x 120mm fans)
The specs speak for themselves; with an insane combination of top-of-the-line build quality, modularity, space, and airflow design.
Simply put: if you're looking to build the most powerful rig you possibly can, this is easily the best Thermaltake computer case to accomplish it.
Best Thermaltake Micro ATX Case: Thermaltake Level 20 VT
If you're looking for a "traditional" micro ATX case for your next build, we've already got you covered with our top budget pick above, the S100.
If however, you're after the best innovation that Thermaltake has created for the form factor, that's the 20 VT.
With its thick SPCC steel frame being accompanied by 4 tempered glass windows, this is a fantastic high visibility / clear PC case, perfect for showing off your Micro ATX components.
Despite its very transparent design, it's still very sturdy compared to other mATX chassis and would make a great portable PC case.
The space is impressive for its cube design/size too, with:
5 expansion slots
VGA lengths up to 350mm (great for mATX)
3 x 2.5″ & 3 x 2.5″ / 3.5″ drive bays
Fan cooling: up to 7 x 120mm + 1 included high-quality RGB 200m fan on the front
Water cooling: up to 3 x 240mm & 1 x 120mm radiators
Let us re-iterate: for the form factor, these are really good specs.
And when a manufacturer goes for a unique, cube PC case shape, those dimensions also tend to hurt the internal capability.
But clearly that hasn't happened here; you have everything you need for a gaming, streaming, or production PC.
What's more, the case has a great little dual-chamber on its bottom.
This will allow you to hide cables and "uglier" components (HDDs, etc); perfect for a chassis so focussed on high visibility.
The L20VT is great, and easily one of the best Thermaltake towers if you're looking for a balance between form factor and capability.
Best Thermaltake Mini ITX Case: Thermaltake Core V1
This is one of the most popular mini ITX towers of all time (and for a good reason).
The Core V1 is a tiny, console-sized PC case.
But despite that, it still manages some impressive internal specs and a very nice build quality for the price (it's one of the most featured cases on What in Tech).
With an SPCC/tempered glass exterior and multiple effective mesh panels; the case is sturdy, looks unique, and does pretty well airflow-wise (for an ITX case).
With room for:
2 x expansion slots
2 x 2.5″ & 2 x 3.5″ hidden drive bays
Graphics cards lengths up to 285mm
1 included 200mm fan + space for 2 x 80mm fans
These specs are really impressive for the dimensions.
To put it in context, we've seen larger ITX cases with just 1 x 2.5″ drive bay, and way less cooling capability.
The fact that the drives are also hidden is a cherry on top (because why build an ITX case without a clean aesthetic?).
Yes, the GPU length clearance is a little low, but that's what you can expect with mITX.
This is still one of the best ITX cases for gaming because you'll be able to fit a good portion of mainstream cards in here.
(If you're looking at something like a GTX 3090, then you should look at the other larger form factor picks above).
Overall, we're really impressed with how much the Core V1 has to offer.
With such a small price tag, you get a great fan, build quality and capability for your tiny build.
This is not just the best Thermaltake ITX case, but arguably one of the best chassis of all time for the tiny form factor.
Worth Considering: Thermaltake P-Series
Our top Core P pick is the fantastic Thermaltake P3, as it caters to the most common mid-range gaming/enthusiast builds.
That said, there are other P-series cases of different sizes/price ranges that are also fantastic. We've broken them down briefly below for different needs.
Alternative Picks – Best of the Rest
While the above are the best Thermaltake cases most needs, we've included a few other quick-fire picks that may be worth considering if you're picky.
Best Budget Case Alternative: Thermaltake V200
Very popular for a reason, the V200 offers beautiful design at a cheap price.
Performance-wise you're not getting the best case here.
But if your requirements are modest for cooling, and you're more focussed on getting the best looking PC case for the least cost, the V200 is perfect.
Most Unique Case (Budget): Thermaltake Versa N24
An excellent case for the price and part of our Unique PC Case feature, if you're after something different that still performs impressively for a low price-point, the N24 is a great option.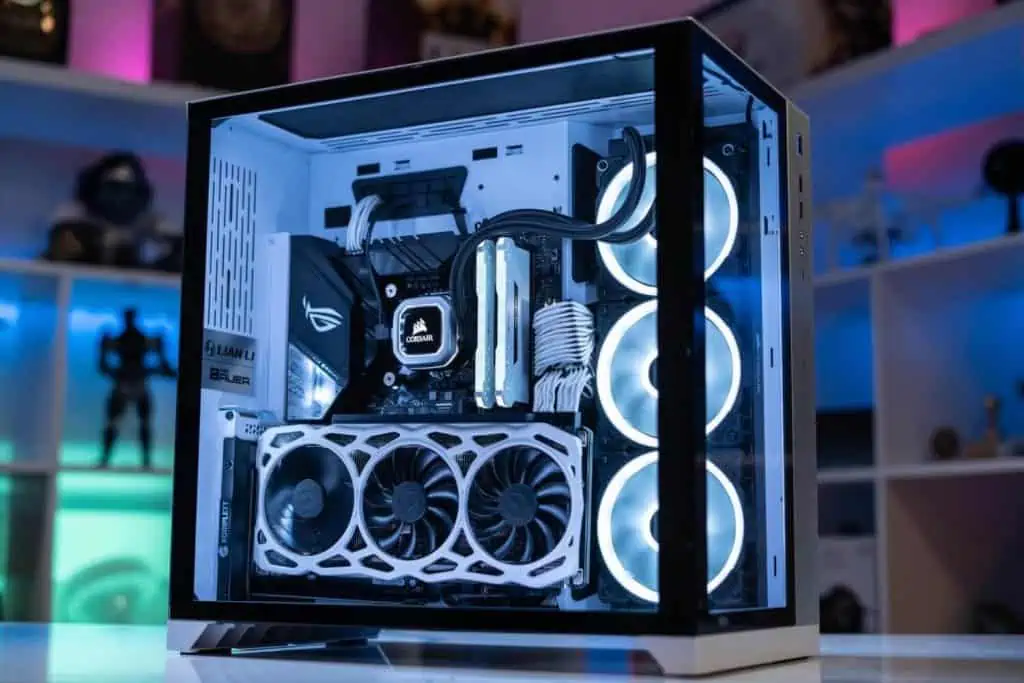 After hundreds of case reviews, here are the best
Hear that? It's the sound of silence.
For the smoothest gaming possible
For those after the full package