The 8 Best Clear PC Cases of 2021
Let's look at a hypothetical:
You've dedicated loads of time and money into putting together your perfect build.
The hardware looks amazing and you plan to set it up as neatly as possible.
…but then most of the cases you're looking at only have one small window showing the internals!
This is common with a lot of gaming towers.
But thankfully, there's been an emergence of beautiful, clear computer cases that give as much transparency to your build as possible.
We've put together this feature to guide you through the best open frame cases and ones with more than one window available today for all sizes/budgets.
Best Clear PC Case: Thermaltake Core P5 V2
Let's make one thing clear.
The Thermaltake Core P series is the undisputed king of transparent computer cases.
We've raved about this set of towers in many other What in Tech features, from white to horizontal chassis'.
You'll see other Core P models below for different categories, but the P5 is the best "all-round" pick.
A tempered-glass ATX case, it has a single window on the top and completely open sides, with only its slim base being made up of SPCC steel.
The case can be orientated horizontally, vertically, or wall-mounted.
So you're well-positioned to ensure the non-transparent base is against a wall/your desk with the rest fully on display.
We don't just rate it so highly for just aesthetics though.
The clear mid-tower case comes with size for:
8 Expansion slots
VGA lengths up to 570mm (without drive reservoir)
1 x accessible 2.5″/3.5 & 3 x hidden 2.5″/3.5″ drive bays
You'll have plenty of space for multiple GPUs and good storage options for a gaming PC.
It's nice that a majority of the drives can be hidden in such an exposed case too.
So how would you cool your transparent computer?
Despite not having a lot of fixtures, the case still manages to have room for either
4 x 120mm fans
1 x 480mm radiator
This may not seem like much for an ATX case.
But remember, this clear PC tower has excellent ventilation with airflow from 4 of its sides.
With some basic air/water cooling setup you have an overclocking case ready for a gaming build.
Although this is a minimalist PC case, don't be intimidated by the lack of fixtures, etc.
It actually is quite beginner-friendly for building.
When taking off the glass panel during assembly, you have a lot of space to place around with and are not "reaching inside" plastic/metal casing like you are with most gaming chassis'.
Simply put, the Core P5 offers an incredible value point. With excellent build quality, style, and space.
We can't recommend it enough if you're looking for a clear PC case perfect for a gaming, streaming, or general enthusiast build.
Best Clear Case Runner-Up: Lian Li PC-011 Dynamic
One of the most popular PC cases on the market, and for good reasons.
Lian Li's flagship PC-011D model seems to tick every box most users need for a gaming ATX case and also ranks at the top of the list in our overall best PC case feature.
While a little more covered than the Core P5, we still think it warrants a good place on this list because of its full-length tempered glass panels on the side and front.
And with the rest of the exterior made between high-quality SECC steel and aluminum, even the non-clear sides look and feel excellent.
The case has great room for a mid-tower, with:
8 expansion slots
VGA cards up to 420mm in length
2 x 3.5″ & 4 x 2.5″ drive bays
This Lian Li PC case has a very important USP over other chassis on this list: it's a dual-chamber case.
This means it has a second "compartment" fully dedicated to hiding your "uglier" parts – think PSU, hard drives & cables.
Not only is this important for a clear PC tower build from an aesthetic POV.
But it also maximizes the airflow to your key components that need it (i.e. GPUs and CPU).
Despite the split compartments, the PC-011 still has room for:
Up to 9 x 120mm fans
Up to 1 x 360mm, 1 x 280mm & 1 x 240mm radiators
Between all these features, we're sure you can see why this case is revered as one of the best ATX computer cases available.
If you prefer the 2-window approach of the PC-011 to the very transparent presentation of the P5, don't hesitate in picking this for your next gaming PC.
Best High-End Clear Case: Thermaltake Core P7 & Core P8
2021 Update: The below focuses on the Core P7, our original high-end pick. However, Thermaltake has created another fantastic option in the Core P8 recently, check out our full review in our premium PC case feature.
For our most expensive case pick, we're back to the P-series.
The premium model is an incredibly unique clear chassis.
The central case is similar to the Core P5 (just sized up for EATX motherboards / a full tower form factor).
But on top of that are two side panels on the left and right side, designed to host and show off extra fans/radiators.
If you check out some of the build/stock photos on the product listing, you'll see just how incredible this case can look, especially if you're building an RGB setup.
And let's talk about cooling potential; because the capability is crazy for a see-through PC case with so much ventilation:
Up to 12 x 120mm fans
Up to 3 x 480mm radiators
You have the room in the main case for a monstrous multi-GPU build too, with:
The VGA cards can be up to 570mm in length (with reservoir removed)
8 expansion slots
Up to 6 x 3.5″ / 7 x 2.5″ drives (or a mix) – more than enough for gaming, streaming, video editing or a HTPC case.
Between all the cooling options, space, and open-air case design, this is one of the best overclocking towers available today.
Let's be real though; this is a very expensive choice.
And for many gaming builds, the Core P5 and others on this list are more than enough for what you'll need.
But if budget isn't a big concern and you want the most power/style you can possibly get, this is one of the best clear computer cases available.
Final note: If you like the look of this high-end chassis but it's a little out of your price range, you can also consider the Core P90 as a great middle-ground option.
Best Clear Micro ATX Case: Thermaltake Level 20 VT
This list may seem a little Thermaltake case-heavy
But there simply isn't any other manufacturer that has come out with clear chassis as good as them (in so many prices/size ranges).
This next offering is for those looking for the best clear mini-tower case available today.
The L20 VT is covered with 4 tempered glass panels: left, right, top, and front.
These exposed angles and the small form factor would make it fantastic for an on-desk setup.
Due to the solid build quality of the case overall (SPCC steel), it'd still more than sturdy enough to act as a portable/LAN Party case if needed.
The space is really excellent for a Micro ATX chassis, with:
5 expansion slots
VGA lengths up to 350mm (great for mATX)
Up to 7 x 120mm + 1 included high quality RGB 200m fan on the front
Up to 3 x 240mm & 1 x 120mm radiators
As you can see you're getting a lot of room, certainly space for an SLI/Crossfire dual-GPU build with tons of cooling for overclocking.
This case is also the smallest dual-chamber tower on the list.
With hidden compartments for PSUs, drives, and some of your cables (perfect for a transparent PC case).
There aren't many see through computer cases with full/open exposure in the Micro ATX form factor.
But fortunately, the Level 20 VT is such a good offering it hardly matters.
With excellent build quality, deceptive internal size, beautiful presentation/style, and unparalleled cooling options for a Micro ATX tower, this is an easy pick if you're looking at this form factor.
Best Clear Mini ITX Case: Thermaltake Core P1
You can probably see by now why we called the Core P1 series the king of clear glass PC cases.
The last one on our list is the smallest tower available – perfect for mITX builders.
The cases still manage to maintain the excellent build quality of the larger P cases.
With an SPCC steel base and the same signature open-air case setup (+ a thick tempered glass top).
Stock pictures really don't do the Core P series justice as what makes them so great is the look of a completed, powered-on build.
Note also, that even in this tiny option, the Core P1 still has dedicated wall mounting support and looks incredible in this format.
You'll be getting good space for a Mini-ITX tower, with:
5 expansion slots
VGA lengths up to 380mm
2 x 2.5″ accessible & 1 x 3.5″ / 2.5″ hidden bays
Obviously, this is much more limited than a mid/full tower case.
But if your focus is on the smallest PC possible, you have more options here for a portable gaming build than a lot of other similarly sized chassis.
Cooling-wise, you'll be looking at either 2 x 140mm fans or 1 x 280mm radiator.
Alongside the open-air case design, this is more than enough for a single-GPU build (which is what you'll get out of pretty much any mITX motherboard).
With excellent build quality, deceptive internal size, beautiful presentation/style, and unparalleled cooling options for a Micro ATX case.
This is an easy pick if you're looking at the smallest form factor. There isn't another transparent ITX case that comes close.
Best Clear EATX case: Thermaltake Tower 900
So what about if you're looking for the most space possible?
The Tower 900 is a fantastic option for Extended-ATX motherboard builds.
Dubbed "the fish tank PC case", the Tower 900 has 3 full-length thick, tinted tempered-glass windows.
They provide an excellent presentation for a monstrous build alongside the rest of its rock-solid SGCC steel exterior.
Speaking of monstrous builds, you can certainly create one here, with:
8 Expansion slots
VGA lengths up to 400mm
1 x 5.25 ", 6 x 3.5″ / 2.5 " & 2 x 2.5″ drive bays
Note this is in a case that is extra-long, so tied with an EATX motherboard, these space provisions will give you room for a Quad-GPU build.
You'll be able to overclock them well with the incredible cooling on the Tower 900 too.
To start, it's the largest dual-chamber case we recommend.
This chassis has space to hide all your storage drives, PSU, and cables.
This of course gives maximum airflow to your GPUs/CPU in the main chamber (and makes them look as neat as possible).
That great airflow can then be combined with:
13 x 120mm fans
1 x 480mm & 1 x 560mm radiators
You can add air cooling to your water cooling case too if you prefer. If you install both of these radiators, there will still be room for 5 further 120mm fans on the top, rear & HDD cage.
The Tower 900, simply put, is one of the best cases for cooling and overclocking available today.
You will get diminishing returns compared to an ATX/Micro ATX case as we detail in our complete case size guide. These form factors are suitable for most builds.
But if your concern is less on budget and more on asking "how do I make the most powerful PC possible?", here's your answer.
Worth Considering: Thermaltake View 37
While not taking one of our top picks, the View 37 has some great factors going for it.
The biggest one by far is style.
The design is very unique, with a curved window covering the full length of the left side/top.
Paired alongside it's included addressable RGB fans, it's one of the coolest looking cases in its price point.
For a mid-tower chassis, you're getting excellent room too, with:
8 + 2 (vertical mount) expansion slots
VGA cards up to 410mm (without front fans)
3 x 2.5″ / 3.5″ accessible & 8 x 2.5 /4 x  3.5″ hidden drive bays
Up to 8 x 120mm fans
Up to 1 x 420mm, 1 x 360mm & 1 x 120mm radiators
The storage capability on this case is a particular staandout.
With the drive bays here, you have room for a HTPC, server, production, and/or video editing PC case.
Note the airflow design of this case isn't quite up to the standards of some of the other cases on this list.
But there's still great cable management utility and its good enough to achieve decent overclocking on a multi-GPU build.
The case even claims to support E-ATX motherboards. Though this may be a tight squeeze and we'd recommend the larger options above if you were looking at a huge build.
One important note: the View 37 is a clear plastic PC case.
It still has a sturdy SPCC steel exterior but the window is not tempered glass like the rest of our picks.
But if its curved window design, excellent space, or decent price-point appeal to you, know we've included it for a reason and would still highly recommend for a clear PC case RGB build.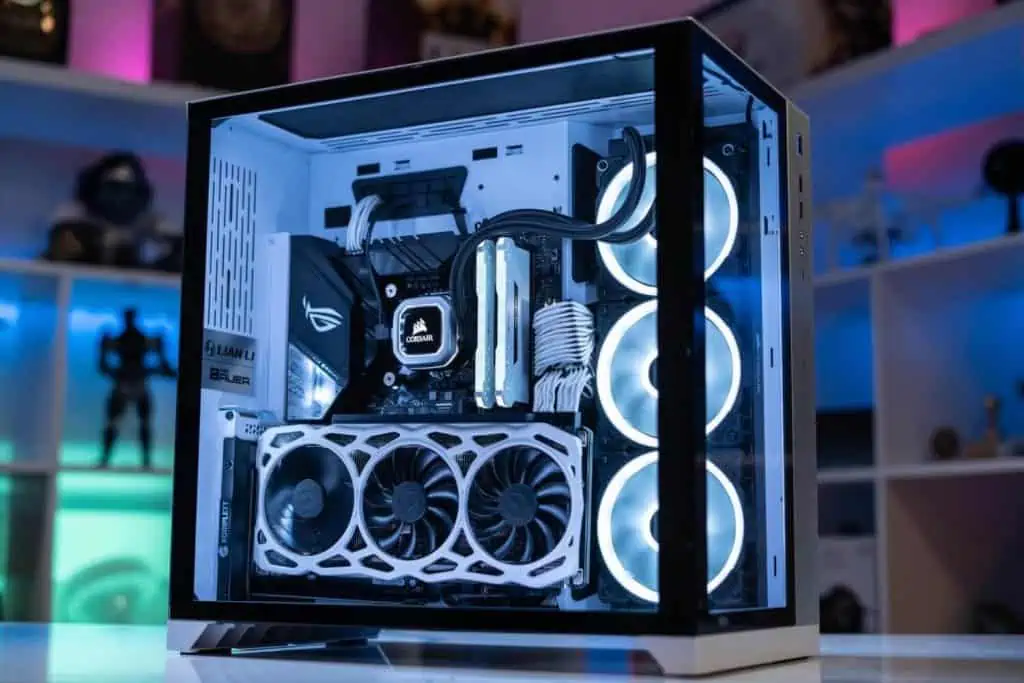 After hundreds of case reviews, here are the best
Hear that? It's the sound of silence.
Finally install every Steam game in your library!
For the sharpest image possible