The 10 Best Horizontal PC Cases in 2021
I know what you're thinking:
"Where are all the horizontal cases amongst the thousands of vertical options?".
Up-front cases rule the market, and it's difficult to find a good sideways case for all of you looking for something a little different for your next HTPC, VR, gaming, or server build.
But fear not, they do exist! And we're going to breakdown the best horizontal computer cases available on the market for that unique aesthetic.
A note on size
Before we jump in, it's important to note that most horizontal cases are on the smaller end of the scale. Whether you're looking for a full tower or a mini/mid-range case, we've covered all the options below. Just remember to check that the dimensions of the parts you're looking at will fit.
So, without further ado:
Best Overall: SilverStone Technology GD09B
Offering both style and substance at a great price point, the GD09B really excels on multiple levels.
From a company that has specialized in building horizontal PC cases for over a decade, the GD09B has an impressive space for parts considering its overall dimensions and horizontal layout, being able to support up to an ATX motherboard.
An impressive 7 expansion slots are available for the case. With support for 1 x 5.25″ external and 2 x 3.5″/ 1 x 2.5″ internal drives, there is decent room for your various storage requirements.
Remember that with the compact nature of most horizontal cases, you may have to decide what is most important to you (e.g. it's possible you may need a smaller fan or two in place if you require all of the above drive slots).
The case is surrounded by decent ventilation, which combined with the reasonable size, allows for builds to run cool with good airflow. This is the ideal pick for a Home Theatre PC/HTPC case where you will be able to keep fans at a lower speed due to the natural cooling capabilities of the chassis (you can also consider smaller water cooling options).
The GD09B is a great, unique looking case with fantastic build quality. Along the front of the case are 2 USB3.0 ports, audio inputs, and a very sleek looking drive bay. 
For horizontal desktop PC builds, this SilverStone offering ticks so many boxes. Considering it's far from the most expensive on the list, it's the amount of value demonstrated that makes it our top pick. If the design fits your idea of what you want from a horizontal motherboard PC case, we think you'll love it.
Best Case Runner-Up: Cooler Master HAF XB EVO
We didn't quite want to give this Cooler Master ATX unit the top horizontal case accolade partially due to it's slightly more square/cube shape.
However, know that if this fits your idea of a horizontal case, you're going to be in for a treat, This thing is a beast.
Somehow this unit manages to carry capacity for up to 2 x 5.25″ drives, 4 x 3.5″ drives, and 4 x 2.5″ drives. If you don't need all that in your build, then that's simply more room for other parts to breathe/fit!
Designed with great airflow in mind, the case has room for plenty of air cooling (up to 5 fans, with 2 XtraFlo fans pre-installed) and/or space for water cooling radiators.
The case includes the usual front I/O panel connectors (2 x USB3.0/audio ports) and boasts a build largely made from steel, the feel/quality of the HAF XB EVO is superb.
One big plus for novice builders: this case was designed for you. Some features have been included to make the build of your PC with the HAF XB EVO as easy as possible, most notably screwless installation and a removable motherboard tray (trust us, trying to install a PC in a more compact case can be a pain, so this is a massive plus!).
With a balance of great cooling, space, ease of use, and high-quality build/design, the HAF XB is simply a fantastic option all-round.

Best Premium Horizontal Case: Thermaltake Core P5 V2
This Thermaltake range is quite special, we were very close to ranking this as the best overall case despite its high price-point.
With a full-glass design, once you have installed your components in the Core P5, it is truly a sight to behold and one of the most beautiful presentations available on today's market.
The legs are fully removable, allowing this case to look as good horizontally as it does vertically.
There is plenty of space to play with when building here and a fantastic array of modular options. Thermaltake is aware that when you buy this case you're trying to build a PC that is fully visible, so the ability to install various HDDs, drives, and other components in various positions are well available, not to mention the amount of space in here for a high quantity of all of them!
With the great design of this case, comes the recommendation to include water cooling if possible. Given the high visibility, you'll be conscious in wanting to avoid dust, and building air cooling will cause more of that (if you want to go down this route, however, the excellent cabling management capabilities should allow you to clear decent airflow paths and keep it relatively clean).
The front I/O panel is well presented and has 2 x USB 3.0, 2 x USB 2.0 plus HD audio inputs.
This case may look intimidating to assemble, but it is actually quite a beginner-friendly unit, with the ability to detach the glass during your build, in many ways, this makes the overall process a lot easier than traditional PC cases!
Thermaltake Core P1 vs P3 vs P5 vs P7 vs P8 vs P90:
Here we've focussed on P5 as the main choice, but there are other great options for this range. Note that all of these cases support horizontal placing.
Aside from the obvious presentation differences (especially the P90 beast…), the biggest differences here are in the size/form factor.
If you have the budget, we cannot speak highly enough of the Thermaltake P series, and the P5 stands as a case that will tick boxes for nearly every horizontal mobo builder (especially style!).
Best Budget Horizontal PC Case: Thermaltake Core G3
I know, I know, the picture shows a vertical case.
But the beauty of the G3 is that it's designed for either vertical or horizontal placement.
The cheapest ATX case on our list, this Thermaltake offering still provides impressive performance for the price-point.
Designed to be a horizontal gaming PC option with consideration for compactness (think virtual reality or people with small media cabinets), the case is on the smaller side for an ATX but still offers 120mm / 240mm water cooling options and/or 3 fans, with 2 front fans pre-installed. This is less than a lot of the other builds, so bear this in mind if you wanted to have lots of fans in your build.
The front I/O panel is great and surprisingly offers more than many others on this list – with 2 x USB 3.0, 2 x USB 2.0 / standard audio ports.
Note that as the G3 was designed to be very slim PC case by ATX standards, you will likely not have room for other PCI-e cards outside of your GPU (however, the case comes with options to fit your GPU in vertically, giving you more control over space for the most demanding component).
Overall, if you are looking for a cheap Horizontal PC case and don't have the largest of components to install, the G3 is a great option for your horizontal build.
Wanting something cheap and looking even smaller? We have more options for you below.
Best Horizontal Micro ATX Case: SilverStone ML04
We're back to SilverStone for the best horizontal microATX computer case.
With a very high-quality steel/aluminum mix build and compact form, this unit durable and looks fantastic on display.
We're getting into the smaller builds now, so don't expect to be able to fit a huge GPU and motherboard in here!
However, we like this case because it still manages to offer some good internal space given its tight external dimensions (440 mm (W) x 105 mm (H) x 350 mm (D)).
This includes drive allotment for 1 x 5.25 " external, 2 x 3.5″ and 1 x 2.5″ internal; space for 4 x 80mm fans and 4 x low profile / 1 x utility expansion slots.
Sure, this may not sound like much compared to some of the others above, but for the size? It's impressive. And with its ventilation, if you can keep down the cabling and components not needed, you'll manage decent airflow too.
SilverStone even suggests you can install traditional ATX/PS2 PSUs up to 140mm – impressive considering even when many vertical Micro ATX cases don't support these.
Standard front-panel with 2 x USB 3.0 ports and audio inputs (for mATX and microITX, you won't find more than this).
Overall, if you're looking for a wide PC case for your micro ATX build, we don't think you'll find better than this.
Best Horizontal Mini-ITX Case: Fractal Design Node 202
As you may know from our silent PC case picks, we're big fans of Fractal Design.
With the Node 202, they've managed to create an incredibly attractive, low-volume case that would be perfect as a horizontal gaming PC case for those looking for a console-sized portable alternative.
Despite the compactness, there is still decent room for a powerful GPU (PCI-E riser card include, supporting up to 310mm in length!) to go alongside your mITX motherboard (just remember to check dimensions as we get into such tiny builds).
The front I/O panel is the standard for small builds – 2 x USB 3.0 and audio inputs.
The inner layout provides decent ventilation for both the CPU and GPU, as well as offering 2 x 120mm fan mount options and 3 included dust filters.
Fractal are simply one of the best manufacturers of PC cases today, if you're going for a mini-ITX build, you'll be hard-pressed to find something so visually pleasing, high-quality, spacious (yet compact) and impressively low cost as the Design Node 202 – for this specific form factor, this one feels like a no-brainer. 
Best Large / E-ATX Horizontal Case: SilverStone GD08
A third SilverStone case in this list may seem like a lot, but they're masters of the flat PC case for a reason.
If your budget/space allows, we would recommend the Thermaltake P7 discussed above within our P5 pick. But overall, the value of the GD08 is fantastic.
Not only do you get the high-build quality (including aluminum front-panel) that you expect from SilverStone, but also an incredible roomy environment (for a horizontal PC) that will give you the freedom to effectively balance airflow, cable management, and beefy components (with 7 expansion slots, up to 6 fans of varying sizes and good PSU/GPU compatibility).
The front panel is quite basic with standard audio inputs and 2 x USB 3.0 (would've been nice to see 4 USB ports on a case this size, but not a big deal considering most larger motherboards have plenty).
The case also has decent measures to allow for an easy build, with the entire top being removable, you get good access into a big space for the parts (I know we've talked about space a lot, but if you have the room, it really makes life a whole lot easier when building and managing temperature).
The size and quality of the GD08 make it a superb option if you're looking to build a horizontal gaming build or large-scale media center/server PC.
More Options:
The above are our top picks, but if you're looking for a few other options, we've included ones we'd still recommend for your next extra wide PC case.

Budget Horizontal ITX Case: Thermaltake Core V1
This tiny little cube was a decent second place for our "best mini-ITX" slot. It's one of the most recommended ITX cases on What in Tech and is worth considering if you like the look (note there is also a great looking white option available too).
At a very impressive low pricepoint (one of the cheapest on the list), the Core V1 still manages to boast a great build quality, with some steel components and a ventilation setup designed to get the most cooling out of the tiny space (up to 3 fans with 1 200mm one included, very impressive for the price point).
Bear in mind while the cooling isn't bad, you can only do so well with such a small setup! If you're looking to run something monstrous, look at some of the larger cases above.
The front I/O panel is standard, with 2 x USB 3.0 / audio inputs.
Given the layout and the "tiny cube" design, it isn't necessarily the friendliest to all PC component shapes/sizes and you'll need to be careful about the dimensions of your parts for this one (you're certainly not fitting the large PSU/GPUs in here!).
It's worth calling out that some users have seen quality issues with the Core V1 which is why we didn't give it a top pick. With a 3 year warranty, if you're one of the unlucky ones, you'll be covered; but this is, of course, a risk that many would rather pay more money not to go through.
If your budget is tight and you're confident that your build will fit, this case is a very impressive value offering and will give you a very unique presentation compared to your peers!
Alternative Slim PC Case: Antec VSK2000
Another vertical/horizontal hybrid option, this mini-tower is a cheap case for those on a budget.
It comes with the standard 2 x 3.0 USB/audio I/O ports and a slick glossy black design.
The VSK2000 comes with a little less space for extras than our other Micro-ATX picks (4 expansion slots, 1 x 5.25″, 1 x 3.5″, and 1 x 2.5″ drives) and little room for air cooling (but one front fan included).
Despite this, the case seems to manage decent airflow, likely due to its decent ventilation and cable management options.
If you have a very minimalist build, a low budget, and are attracted to a small case for a micro-ATX build, the Antec VSK2000 will be a good choice for you.

Alternative Mini PC Case: In-Win CE685
Lastly on our top 10 list is the In-Win CE685, a MicroATX dual vertical/horizontal case.
At a cheap price point, the case offers good value for those balancing compactness and space.
A nice addition is the 4 x USB ports on the front I/O panel, many of its mATX competitors only offer 2.
The case has space for 1 x 5.25″, 2 x 3.5″ & 1 x 2.5 (pretty standard for its size).
There is one included fan and not too much room to add more. However, the case still seems to manage good airflow (possibly because at this size, you're not going to be installing too many hot parts!).
Much of the case boasts a toolless design (aside the MB/PSU installs) so it would be a nice beginner pick.
Although not our top pick as we think the other MicroATX options are superior, if this case grabs your eye, it is still a great all-rounder and would make for a good horizontal case.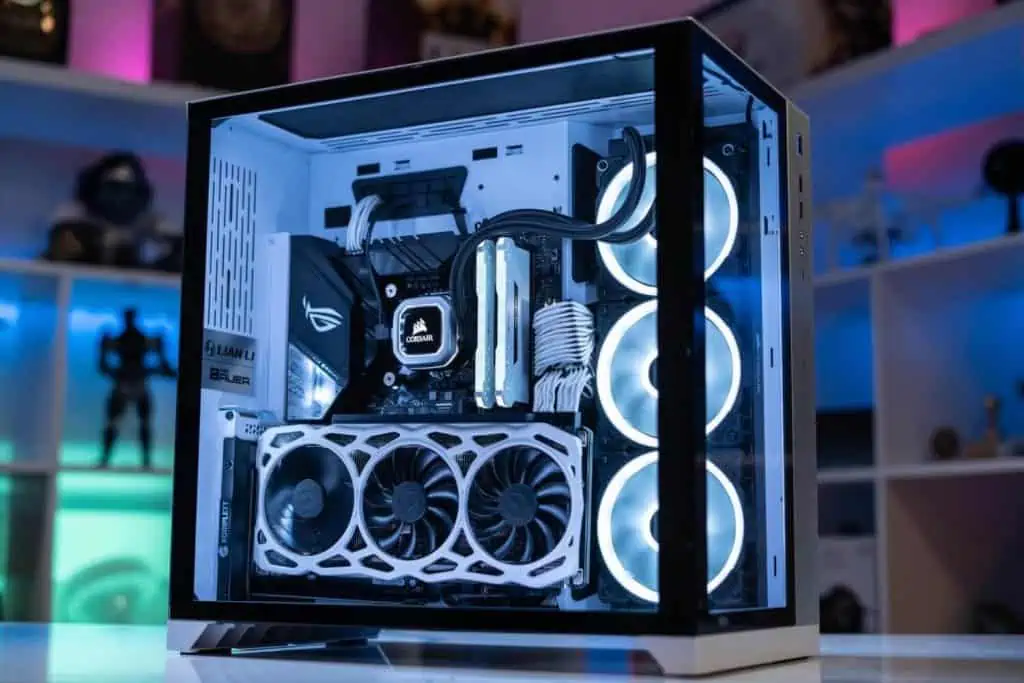 After hundreds of case reviews, here are the best
Hear that? It's the sound of silence.
Finally install every Steam game in your library!
For the sharpest image possible