The 8 Best EATX Motherboards of 2021
Sometimes, ATX isn't big enough.
Perhaps you're looking for a motherboard form factor that can accommodate the most high-end build/overclocking possible.
Whether it's for the most powerful gaming PC, streaming rig, server, or even a production build, E-ATX is the way to go.
Which is why we've put together this feature on the best E-ATX motherboards available today.
(We've even included an XL-ATX choice for someone who wants the largest motherboard for their next monster setup).
Intel vs AMD EATX Motherboards
We've touched on this topic more in our motherboard CPU combos feature.
While AMD usually takes the top spot in the mid-range Micro ATX / ATX motherboard sizes, Intel is king for E-ATX.
There are simply more good options available between the Z490 and X299 chipsets in this form factor when building a very high-end PC.
This is why we've primarily focussed this guide on Intel options.
The picks below are some of the best options for Intel Core i9-9900K and 10th gen HEDT CPUs.
(But we've included a very worthy high-end AMD Extended-ATX motherboard pick for those interested).
Now, let's get to it:
Overall Best E-ATX Motherboard: EVGA Z490 Dark
What a beast this is.
The EVGA Z490 Dark strikes an amazing balance between accommodating different types of high-end builders whilst also maintaining excellent value for its price.
Yes, it is an expensive motherboard. But considering the form factor's purpose is usually for HEDT PCs, many other competitive picks are close to the 4-figure mark, this EVGA offering sits at around half of that.
We like the approach EVGA has taken with the Z490 Dark; specifically, they've reduced bandwidth consumption on certain elements that will not be used by an overwhelming amount of users.
The two main examples are the 2 dual-channel DIMM slots and max-2 SLI/crossfire GPU capacity (with 3 x PCIe x16 available onboard).
Sure, this sounds low if you're after a HEDT motherboard and demand the greatest specs possible.
But the balance has been crafted around still providing enough capability for most users, while also allowing you to push as much as possible with overclocking your CPU, GPU, and RAM all at an impressive motherboard price.
To put it another way, 64GB of RAM (that could be 4800MHz+) and 2 (even 1) GPU on this board would make for a superb 4k gaming motherboard or high-end production desktop.
(If you're one of the rare users who does demand more GPUs/RAM, say for very intensive rendering, video production, or a server PC build, then our premium picks below will be for you).
Speaking of overclocking; this is, of course, the crowning jewel of the Z490 Dark; with an oversized VRM cooler, great quality-of-life features surrounding the board (including a unique layout specifically designed to better transmit heat/bandwidth between integral parts), and a great software interface for the BIOs, you are really set up well here to do build something truly special.
The other great SSD storage options that you'll enjoy for a high-end build is 2 x M.2 110m storage (up to 32GBps) & 1 x U.2 NVMe.
With the fantastic Z490 chipset, this one of the best LGA 2000 motherboards around, giving you compatibility with Intel's latest 10th gen processors, you'll be able to achieve some incredible processing power.
The EVGA Z490 has many more great features that we could take all day describing, from a good featured I/O panel to great onboard audio.
While this is certainly one of the best gaming motherboards today, we would go further and say it has all you need if you're building a high-end production PC too (unless you need the extra RAM/GPU capability as mentioned above)
Simply put, if you're looking at an EATX PC and don't want to fork out double the price for the high-end picks below, this is a no brainer.
Runner-Up Best E-ATX Motherboard: Gigabyte X299X AORUS Master
If you're going for an Intel E-ATX motherboard, we'd highly recommend our top pick as the chipset will better suit you for the latest 10th Gen Intel CPUs.
That being said, if you are interested in X299X chipset, this Gigabyte motherboard is a feature-packed option..
This board offers:
4 x PCI-e x16 slots, with the bandwidth capability to run a Multi-GPU gaming PC (SLI or CrossFire)
8 x DIMM outputs for up to 256GB DDR4 RAM up to 4333 Mhz
3 onboard M.2 storage outputs
A great I/O panel with good Wi-Fi, blu-tooth, and LAN outputs.
Fantastic onboard ALC1220-VB HD Audio with an ESS SABRE9218 DAC chip capable of making the most for high-end headphones.
The above are just the highlights. 
There are a bunch of additional onboard/BIOs features that make this a premium motherboard (anything from excellent onboard heatsinks to great build quality for durability in a heavy EATX PC Case).
Combined they make this the best motherboard for overclocking on X299 at its respective price-point.
With the incredible graphics card, storage, RAM, and cooling capability, you've got a great motherboard for video editing, gaming, streaming, and production.
As good as the Aorus Master is, it's still on the CPU chipset that is becoming outdated compared to our top pick's one, so bear that in mind.
That said, if your wallet is thick but not so thick that you're looking at the pricier picks and are interested in building with an X299 CPU, then this is a good E-ATX mobo pick for you.
High-End Best Intel E-ATX Motherboard: MSI MEG Z490 GODLIKE
And now we come to the choice for those who care more for power than price.
Brand new to the market, this MSI motherboard is simply incredible.
To start, it's built on the Z490 chipset / LGA 1200 socket, which combined with the features below, easily makes this one of (if not the) best motherboard for Core i9 10900K and other 10th gen CPUs.
3 x PCI-e x16 slots
4 x DDR4 RAM slots with max speeds up to 5000 MHz+
Fantastic I/O panel with Intel JHL7540 Thunderbolt 3 controller
3 x M.2 storage outputs with Frozr heatsinks, and an adapter for a further 2
You may be asking yourself, "why does this board have less max RAM/GPU slots than our runner-up pick"?
Well, while we love the high RAM/GPU approach, the Z490 GODLIKE has chosen alternate bandwidth allocations.
Each motherboard can only circulate so much power and this MSI offering puts more into its CPU chipset, overclocking potential, and other features.
We're sure you've also noticed that this is perhaps the best looking motherboard on the market.
With a fantastic array of headers for an RGB build, wonderful LED lighting, and an OLED screen to act as a "dashboard" for your computer status.
With a host of onboard features and incredible thermal solutions across the board, reviews are quickly finding that this is one of the best motherboards for overclocking available.
You're going to get incredible high FPS 4K gaming if tied with the right CPU/GPUs, and a future-proofed production machine with the insane RAM overclocking.
If budget isn't a concern, and your only question is "how do I achieve the most power" for your Intel build, this is the one.
High-End Best AMD E-ATX Motherboard: MSI MEG X570 GODLIKE
Now, we've focussed on Intel E-ATX mobos as there are better options for them in most of the price ranges.
But for a premium choice, MSI released an AMD version of our top Intel pick that is just as impressive.
This AMD offering stands out for a few reasons, but the biggest is that it's one of the best X570 motherboards on the market perfect for Ryzen 9 CPUs.
The X570 chipset enables PCI-e 4.0 support which will give you incredible bandwidth/performance for top-end GPUs/M.2 storage.
While this bandwidth may not be fully exploited with all current hardware, you easily have one of the best motherboards for an RX 5700 / other 5000 GPUs as these can take advantage of it.
Let's breakdown the spec highlights:
4 x PCIe 4.0 x16 slots with 4-way Crossfire support
4 x DDR4 slots with up to 128GB RAM OC'ed up to 5000Mhz+
3 x onboard high-performance M.2 storage with an M.2 XPANDER-Z GEN 4 PCIe adapter allowing for 2 more, all with excellent thermal control
Incredible build quality, design and light features (including onboard lights, RGB header availability and OLED screen)
Fantastic onboard audio and Wi-Fi
As we've stated above, you can make an incredible gaming build with 2-3 GPUs.
But if you're looking for more, this is perhaps the best Quad-GPU motherboard available today.
Additionally, the thermal solutions across the board will give you incredible overclocking capability, with benchmarks showing amazing OC performance on this board for RAM, CPUs, and GPUs.
The top of its class, the GODLIKE is one of, if not the best X570 motherboard on the market.
If your heart is set on AMD and this is out of your price range, there are good options in other form factors.
But if you have the budget, know that you really can't get much better than this.
Best Budget E-ATX Motherboard: MSI X299 Pro
If you're going for an E-ATX build, whether for high-end gaming or production, we'd recommend the picks above, especially the 10th gen Intel choices.
That being said, what MSI manages to fit into this cheap EATX motherboard is insane for the price if you're looking at a X299 chipset.
This includes:
8 x DDR4 RAM slots for up to 256GB memory (up to 4200Mhz)
4 x PCIe x16 slots with capability for up to 3-way SLI GPU builds.
2 x M.2 storage outputs
Decent RGB header options available (though check our other feature if a lot of light is important to you).
As you can see, you still have the utility here for a high-end build for gaming, streaming, and other production rigs.
If you're in the video editing business (or similar), it's the RAM offers an insane amount of future-proofing for memory (though to be clear, most users do not need to buy 8 slots worth of RAM).
You don't have the same level of onboard features for overclocking/cooling as you do on the above boards, but it's still capable of great clock speeds across your hardware.
The issue with this pick for budget builds is that it's a X299 motherboard; we think most budget builders are going to significantly prefer Motherboard/CPU combos that are either LGA 1151, budget LGA 1200, or AM4.
But if your goal is focussed on the best cheap extended ATX motherboard, the MSI X299 Pro fits the bill better than any other.
Best XL-ATX Motherboard: Gigabyte X299X AORUS Designare 10G
2021 Update: The XL-ATX mobo market is very slim these days, so much that there is no current recommendation for motherboards on any Intel 10th gen chipsets. We've kept this recommendation at the bottom of our list if you are happy to be after a X299 build but in nearly every case, we'd recommend looking at our E-ATX picks above.
We'll start by repeating what is said in our complete guide to motherboard sizes:
You don't need an XL-ATX motherboard over an E-ATX one for a large high-end build.
The options above will give you more than enough for a premium gaming motherboard (or for production, streaming, etc).
That being said…
If you simply want more space to play with in a "super tower" PC case, we included this as it's still a fantastic pick.
A Socket 2066 motherboard, the AORUS Designare boast:
8 x DDR4 RAM slots for up to 256GB memory at 
4 PCIe x16 outputs capable of 4-way CrossFire or SLI builds
A fantastic I/O panel including 2 x Thunderbolt 3 connectors
Great Onboard Realtek ALC1220-VB HD audio
Gorgeous LED lighting with great RGB header support for an RGB build
Fantastic build quality with lots of port reinforcement, good for such a large setup
When you can combine this colossal graphics card capability with all of the onboard thermal solutions/excellent BIOs, you have one of the best gaming motherboards for overclocking.
Its price-point sits in between our top picks and high-end picks, and we'd say that's about right for what it offers.
If you're looking to build an absolute monstrous PC both in power and size, this is perhaps the best XL-ATX Intel motherboard available.
Alternative Quick-Fire Picks (Best of the Rest)
The top 6 picks are our main choices for the best extended-ATX motherboards. However, we've included a couple more options just in case you have very specific requirements.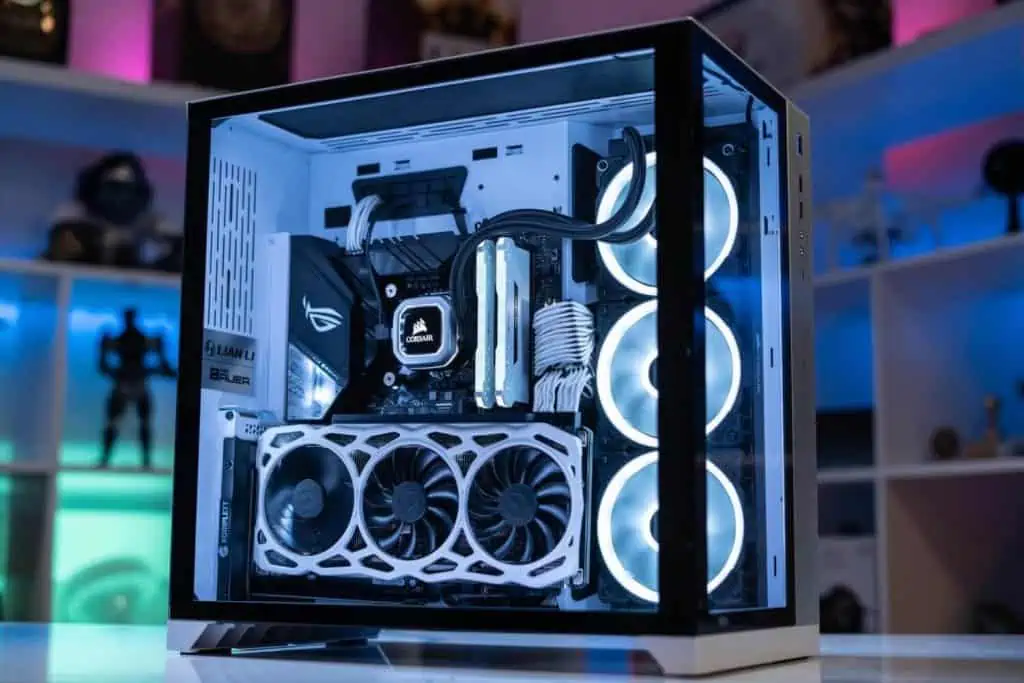 After hundreds of case reviews, here are the best
Hear that? It's the sound of silence.
Finally install every Steam game in your library!
For the sharpest image possible