The 15 Best RGB Motherboards of 2022
It all starts with the motherboard.
Nowadays, the market for this foundational part is so competitive, manufacturers have come up with new ways to add value to their latest versions.
Luckily for us builders focused on a beautiful PC, the big emerging trend is now the inclusion of RGB lighting within the motherboard, and lots of RGB header availability to light up your PC subtly, or make it look like a glowworm cave.
Not all the options available are great though, which is why we've collated the best RGB motherboards available on the market and categorized them for your varying needs.
Quick Tip:
RGB builds look great in cases with lighter colors/more windows. The reflective surfaces/increased visibility can really add to the effect. So if you're also looking for a case, there are some great combinations in our best RGB case, best white case, and best clear case features.
Anyway, let's get to it:
Best Intel RGB Motherboard Overall: Asus ROG Strix Z490-E
This one is popular for a reason!
Asus has created what we think is the best RGB gaming motherboard for LGA with the Z490-E. Filled with fantastic features at a decent price point against many of the other Intel offerings.
Let's talk about the RGB utility. To start, you have a gorgeous LED ASUS logo and "cybertext" shining across the I/O panel. Which combined with the 2 x RGB headers and 2 x addressable RGB headers available on the board, gives you fantastic customization options when installing additional LED strips on your case.
The great header support and onboard design are the standout features from an RGB perspective, but on top of that is also Asus's fantastic Aura Sync software. With an incredibly wide compatibility range to other LED parts (be it cases, fans, or GPUs) and a multitude of different effect options (anything from rainbow color cycles to lighting in beat with the music you're playing). It's hard to get a better base for your next crazy RGB PC build.
But the board isn't just about being a light show. Featuring 4 x DIMM (DDR4 compatible) RAM slots, LGA 1200 socket for Intel gen 10 processors, dual m.2 inputs and 2 x PCIe 3.0 (x16, CPU) / 1 x PCI-e 3.0 (x16 / PCH at x4), the board has everything you need for a powerful multi-GPU setup should you desire. Also coming with a bunch of quality software and onboard utility that will expand your ability to effectively overclock your CPU and GPU.
And to round up is the set of great features available through the beautiful I/O port. Excellent HD-quality audio is outputted via an S1220A codec SupremeFX chipset; which surpasses what many independent sound cards achieve. Not to mention 6 AX201 wi-fi (and Bluetooth) capability. And of course, it includes all the usual ports you will expect to see with a nice addition of USB 3.1 Type C.
If you like the look of this motherboard but its price is a little steep, the Z490 would be a decent substitute.
If this board fits in your price range, then know you haven't just found the best LGA 1200 RGB motherboard for Intel 10th gen & 11th gen, but in our opinion, the best RGB motherboard for gaming with Intel.
2022 update: The Strix Z490-E remains our top pick in 2022 with is fantastic balance of features that perfectly suit a mid-range (or even enthusiast) build.
Best Budget RGB Motherboard for Intel 10th Gen: ASUS ROG Strix B460-H
Asus seems to be on the top of their game when it comes to the best Intel motherboards with RGB header/lighting capability for the new 10th gen series.
If you're looking at more of a budget combo; say something with an i5-10400,  the B460 chipset is a great value proposition and this specific model comes with a great amount of RGB capability to go alongside it.
You'll still be getting a motherboard with 1 standard RGB header and 1 addressable RGB header on top of the red LED ASUS logo sleekly shining on top of the I/O panel. Not as many headers as our top pick, but still enough to go alongside a sharp RGB PC case for a good looking build.
In terms of specs, this cheap RGB Intel motherboard still has everything you need for a decent gaming, streaming or general use build on a budget. 
With 1 x PCIe x16 (CPU) & 1 x PCIe x16 (PCH at 4x mode), 2 x m.2 slots, still boasting the great S1220A audio codec as our top pick, and an I/O panel that still includes a USB C port, there's plenty here to like.  For the price? The Strix B460-H is matched by no other Intel RGB mobo.
Note: The Amazon listing talks about Bluetooth capability – this motherboard does not have this (if this is a concern for your budget build, know that Bluetooth USB adapters that work fine are incredibly cheap).
Don't expect this board to offer the same kind of overclocking as our top pick. That said, if you're getting a 10th gen i5 or similar, these CPUs aren't particularly about OC'ing anyway.
RAM speeds will also be a tad hit (usually) compared to running a comparable build on a Z490 chipset. But that said, the differences will not be anywhere NEAR as noticeable as the price difference between this motherboard and the cheapest Z490 options.
For a budget gaming build with some beautiful RGB aesthetics, this B460 RGB board is everything you'll need and easily our top choice for the best cheap RGB Intel motherboard.
Cheapest RGB Motherboard (Intel): ASRock B365 Phantom Gaming 4
This may seem a tad pricey for a "cheapest" pick, but this can be common for Intel motherboards. And truthfully, while there are cheaper LGA RGB options available, we simply can't recommend any of them.
That being said, the B365 is a fantastic choice for someone looking for RGB style without reaching too far into their pocket. With some gorgeous RGB illumination on 3 parts of the board (logo, I/O panel, and underneath) + 1 x addressable and 2 x standard RGB LED headers, you have an impressive amount of lighting available here for the price.
ASRock also has its own software for lighting customization with Polychrome Sync. While not as highly regarded as some of the other offerings here, it's still got all the central utility you'll need to configure many interesting lighting formations.
The general features of the motherboard are decent. With 9th/8th gen intel support, 4 x DDR4 DIMM slots, 2 x PCI Express 3.0 x16 Slots, and the usual I/O ports included. The onboard sound won't be quite as good as the other top offerings but for most users, it's still going to give you the performance you need.
If you (and your wallet)  like the look of the ASRock B365, then know you've still got everything you need here to set up an ambitious budget gaming PC build. The same goes for VR, streaming and production.
Best High-End Intel RGB Board: MSI MEG Z590 GODLIKE
With a price as long as its name, the MSI MEG Z590 GODLIKE is a beast of a motherboard (this being the hardest category on the list to decide, with other fantastic options available in this high-end category).
If the price isn't a barrier for you, this is the best RGB motherboard you'll find for Intel builds.
Firstly, the RGB utility: you've got some of the most gorgeous inbuilt lighting from the get-go with the large MSI logo and beautiful triangular light over the PCIe shield. On top of that is the 1 x 4-pin RGB LED header and 2 x 3-pin Rainbow headers, more than enough for even an intensive set of RGB lights. With the headers and onboard aesthetic combined, you're going to have some fantastic, customizable case lighting.
Then there's the general feature set and build quality. Which is pretty much as impressive as you can imagine and too quantitative to go over here. But to name a few highlights:
A fantastic array of onboard temperature control (from Frozr AI-controlled heatsink surrounding the board to the sophisticated heatpipe design for thermal dissipation).
Gen 4 PCIe & Lightning Gen 4 M.2 for unparalleled transfer speeds
An I/O panel with more USB ports than you'll ever need (including 2 x  USB 3.2 type C inputs both with Thunderbolt 4 capability, 8K display support & 10G + 2.5G LAN connectors) and audio ports powered by the fantastic Realtek ALC4082 Codec with ESS ES9218PQ Combo DAC/HPA
4 x DIMM slots, supporting RAM speeds up to 5600Mhz (this would be quite the build for video editing or high-end production).
Dynamic Dashboard II: see the area on the top right that brightly displays "Godlike"? That's an OLED screen that you can customize to display the things you want to monitor most.
The list truly does go on, this board has been designed to provide the best overclocking facility available today.
If you're looking for the best RGB motherboard money can buy for an intensive build alongside other very demanding components; then provided your wallet can handle it, this board is going to blow you away.
Best AMD RGB Motherboard Overall: MSI B450 Gaming PRO Carbon AC
If I had to pick the most impressive board on the list with consideration for price, this would be it.
Let's start with the RGB: The board has two beautiful in-built RGB lights, one shining under the MSI logo and one under the board itself. If you're thinking this may look more "understated" than some of the other options, know that once you have your shiny/bright CPU cooler, GPU and RAM in, some of the onboard lighting can become harder to see, so having light directly underneath is a great way for the presentation to still shine through.
For RGB customization, the PRO Carbon AC comes with 2 x 12V 4 pin headers and a 1 x 5V 3 pin header. Giving you great options for further lights on top of the existing ones. All of this can run through the Mystic Light Sync software, a similar offering to ASUS and Gigabytes offerings that allows you to customize and add cool effects to your LEDs.
Of course, we're not just here for the RGB. At a fantastic value point, you're getting support up to Ryzen 9, 4 x DIMM slots for DDR4 RAM and a host of quality-of-life features to allow for more effective overclocking.
One thing to point out is the lack of a third PCIe x16 slot. It's perfectly suitable for a crossfire setup and we expect for a large majority, having only 2 slots will not be an issue, but if you need to use a high amount of PCIe x16 inputs, you may want to look at our runner-up choice (or really the high-end choice if you're trying to run some 3+ GPU setup).
The onboard Audio Boost 4 processor will provide you with great sound through the available outputs (and some great onboard software to get exactly what sound optimization you're looking for). Accompanying them on the I/O panel are the standard ports, with plenty of USB/display options and very impressively for the price point, a decent onboard wi-fi adapter.
Reading through this, I'm sure you'll see why we're so excited about the PRO Carbon AC. MSI has really created a fantastic option here and if it meets your desired RGB style, component requirement, and price point, then we can't recommend it enough.
2022 update: While we still love the Carbon AC's combination of features and fantastic RGB lighting, if you are OK with slightly fewer RGB features, we would then push you towards the ASUS Strix B550-F, which, for a similar price, offers a PCIe 4.0 compatible chipset which is a notable upgrade over B450 (but if maximum RGB is still integral to you, then rest assured; Carbon AC is still a great board).
Best AMD RGB Motherboard Runner-Up: ASUS ROG Strix B450-F
Closely in second place is the AMD version of our top pick for Intel.
With the same very sleek LED logo in the top left I/O panel and two RGB headers on board, you still have great options to work alongside the fantastic Aura Sync software.
The reason this board didn't take the same top spot as it did on the intel side is the lack of addressable RGB header and the slick "cybertext" logo also isn't an LED in this version. This is likely due to the generally lower price point of AMD motherboards.
Aside from that, you have largely the same fantastic offering here for the AMD side: with 4 x DIMM dual-channel RAM slots, AM4 socket for 1st/2nd generation Ryzen chipsets, and 2 PCIe 3.0 x16 / 1 PCIe 2.0 x16. With a host of great onboard features if you wish to overclock.
The I/O panel is standard with everything you'd usually expect, this specific motherboard doesn't have wi-fi inclusion (and is lower in price as a positive result) but does include the fantastic SupremeFX S1220A CODEC chipset for excellent high-quality audio.
If the Carbon AC doesn't catch your eye, we love this ASUS offering and would be a fantastic foundation for an RGB gaming PC.
Best AMD Budget RGB Motherboard: ASRock B450 Steel Legend
While we'd recommend spending a little more to get the MSI PRO Carbon AC,  this is still a great option for an AMD PC build.
The RGB options here are brilliant for the price. We have the addressable LED lights on the I/O panel and underneath the logo, as well 1 x addressable and 2 x standard RGB headers, plenty for nearly any RGB build and with ASRock's Polychrome Sync software to customize them to your desire (not quite as good as the ASUS/MSI software but still perfectly decent).
The board includes the usual DIMM DDR4 slots, AMD AM4 socket, and 2 x PCIe 3.0 x16 slots. While not as feature-dense for overclocking as the other models above, you still have some onboard utility that puts it above a standard motherboard.
The I/O panel is also great for the price, with 6 USB 3.1 ports (including 2 x gen 2) amongst the other standard ones. While not the best on the list, the onboard audio will satisfy most.
As far as buying a cheap RGB motherboard goes, this is one of the best value offerings you can find if you're not looking to spend a little more on the MSI PRO Carbon AC and still has everything you need for a cheap gaming build.
Best AMD High-End RGB Board: MSI Prestige X570 Creation 
Just look at this thing.
Aesthetic is just one of the many areas the Prestige X570 excels at (there is little it isn't good at, except friendliness with a budget!).
Firstly, this is the only AMD motherboard on the list that fits into the E-ATX form factor, giving you optimal space for your build if compactness isn't a concern for you.
For the RGBs, you have stylish LED strips running across the I/O panel, and lighting underneath, both powered MSI's great Mystic Light software; which will also give you control over the 1x 4-pin RGB, 2x 3-pin Rainbow & 1x 3-pin Corsair LED connectors available on the board (between these headers and the onboard lighting, you have the best options available on the market for an AMD RGB PC build).
The other quality-of-life features across this motherboard are fantastic. Anything from steel protectors around the PCIe ports to protect your beefy GPUs, to the auto-adjust Frozr heatsink designed to maximize the cooling/overclock potential for the best gaming PC build possible.
With top-tier wi-fi, audio quality, and the highest amount of USB ports and types on the list, the rear I/O panel is also second to none.
Simply put, if you're building an AMD RGB PC build and want the best performance possible, you'll be hard-pressed to find anything that comes close to competing with the X570 Creation.
2022 update: We still love the X570 Creation and highly recommend it for serious builds. That said, we've been noticing some stock issues with it in the last few months. If you're unlucky, an excellent high-end alternative is the ASUS X570-E Strix, which still comes with a host of excellent features alongside its plethora of RGB lighting options.
Best Micro ATX RGB Motherboard: ASUS ROG Strix Z490-G
If you're looking at Micro ATX/Mini ITX builds and a motherboard with RGB headers/inbuilt lighting aplenty; there, unfortunately, isn't a crazy amount on the market we're willing to recommend right now (which is why this list only features Intel options for these categories).
That being said, thankfully the ASUS ROG Strix Z490-G exists! It's crowning feature from an RGB perspective is having both 2x Aura-Sync 4-pin and 2 x addressable 3-pin RGB headers onboard, fantastic for an mATX motherboard. Combined with the inbuilt addressable RGB lighting across the top of the I/O compartment, you're going to have plenty of lighting utility to brighten up an RGB mini tower.
The motherboard includes 10th gen Intel processor support with its LGA 1200 socket, 4 x DIMM DDR4 RAM slots, and 2 x PCI-e 3.0 x16 inputs (you're unlikely to need more for a mini-tower).
The I/O panel and additional features are good, with USB 3.1 Gen 2 ports, high-quality audio (not the best on the list but still great for the average user), and great onboard wi-fi 6 (Bluetooth included).
If you're looking to create a Micro ATX RGB PC, this is without a doubt the best motherboard to do so. If you're really desperate for a Micro ATX RGB Motherboard for AMD, then check out the AsRock B450m.
Best Mini ITX RGB Motherboard: Gigabyte H470I AORUS PRO AX
Gigabyte has a very impressive offering for the smallest form factor and anyone after a decent motherboard with RGB headers.
It's very impressive how many of the features are still crammed into this thing from the full form factor-sized models (accepting of course, that there are some removals).
The included RGB LED lighting shines underneath the back of one whole side of the board and is accompanied by 1 x addressable / 1 x standard RGB header connectors. This is all controllable through Gigabyte's fantastic RGB Fusion 2.0 software. It's hard to imagine you needing any more lighting in a tiny build like this!
The board boasts what you would expect for CPU and RAM, with an LGA 1200 socket and 2 x DIMM DDR 4 slots (sounds low, but is standard for RTX, and still more than enough for great RAM speeds). There is only one PCI-e 3.0 x16 slot. Again, this is standard for mITX, and I'm assuming you're not looking at SLI or Crossfire in such a tiny RGB build!
Covering a huge portion of the board is an extended heatsink/thermal pad. This is going to be great to manage cooling in such a compact build, where the lack of space/airflow can often cause problems in gaming /production rigs.
That board also includes a fantastic ALC1220-VB Codecaudio unit, Intel 802.11ax wi-fi 6 adapter, Bluetooth, and a good amount of I/O ports for the size of the board.
For the tiny form-factor AMD builders out there, there's also the AMD equivalent ASUS ROG Strix B450-I too (with some slight variations in specs but still a great option)!
Overall, we're really pleased to see that Gigabyte has created an mITX version of their mainstream boards that still feels nearly as impressive as its larger counterparts. We think you'll love picking this up for your RGB Mini ITX build.
Best Z390 RGB Motherboard: Gigabyte Z390 AORUS MASTER
Previously ranking as one of our top picks for the best overall Intel RGB mobo boards, the Z390 Aurus master is perfect if you're looking to build a RGB build around a Intel 8th/9th gen CPU.
Boasting a very flashy set of LEDs across the logo, bottom left shroud, top right small logo, and I/O panel; this option certainly has some of the most onboard LED display out of the options in its price range (if you're looking for RGB abundance).
The MASTER comes with multiple RGB LED headers and the RGB Fusion 2.0 software, a very respectable competitor in features to ASUSs's Aura sync.
Aside from that, the motherboard is also well equipped for your gaming/production needs, with 4 x DIMM, intel 8th/9th gen support, and 3 PCI-e 3.0 x16 slots.
There's a host of additional nice quality-of-life utility to this board. To name a couple of highlights: there are nice additional durability features for some of the case's ports (particularly for the GPUs where this can be a problem), alongside an onboard thermal guard solution for your overclocking requirements.
The included ESS SABRE DAC ES9118 chipset will arguably provide the best high-quality audio of all RGB motherboards outside of the high-end options. With a wi-fi offering similar in quality to our top pick. The I/O panel includes everything you'd expect with USB 3.1 Type C.
Overall, if you prefer the style and feature offering of the Z390 over our top Asus choice, don't fret: we're still confident this board will be a fantastic choice for your RGB PC build.
2022 update: We've kept our Z390 picks for budget/legacy builders. but at this point, we would recommend users stick to at least 10th gen CPUs when building a new Intel PC.B
Honorable Mention: MSI MPG Z390 Gaming PRO Carbon
While not quite getting one of the top spots, this item was effectively 3rd place in the "ATX motherboards with RGB lights" category back when Intel 8th/9th gen CPUs were the norm. We would still recommend if it better aligns with your style, price range, or hardware requirements (with an AMD version available too).
The PRO Carbon includes subtle lighting against the I/O panel and underside of the board, alongside the option to extend your RGB LED lights with 2 x 4-pin RGB, 1 x 3-pin Rainbow & 1 x 3-pin Corsair LED connectors. The biggest reason we wanted to include this on the list is that this amount of RGB headers included for the price is impressive and would give you a lot of customization options (especially working alongside the MSI Mystic Light software).
The case is great in the standard areas too, with 4 x DDR4 RAM slots, coffee lake CPU support & 3 PCIe3 x16 slots. The I/O ports being relatively normal but including good onboard audio also.
If you're a fan of MSI, the board style, or anything else that is shifting you towards this, don't be put off for it not getting a top recommendation; we've added it for a reason. It's still a great base for an RGB PC.
Alternative Quick-Fire Picks (Best of the Rest)
While the above items are our overall top choices, to end our list is a few extra final picks that may be worth considering for very specific requirements/scenarios.
Best Alternative to Strix Z490-E: ASUS ROG Strix Z490-H
Very nearly taking our top pick over the Z490-E is its cheaper brother, the Z490-H.
While it has 1 less addressable RGB header and a tad less capability for overclocking, it's still an incredibly stable RGB motherboard and worth considering if you check the differences and value the price decrease more than the changes.
Hear that? It's the sound of silence.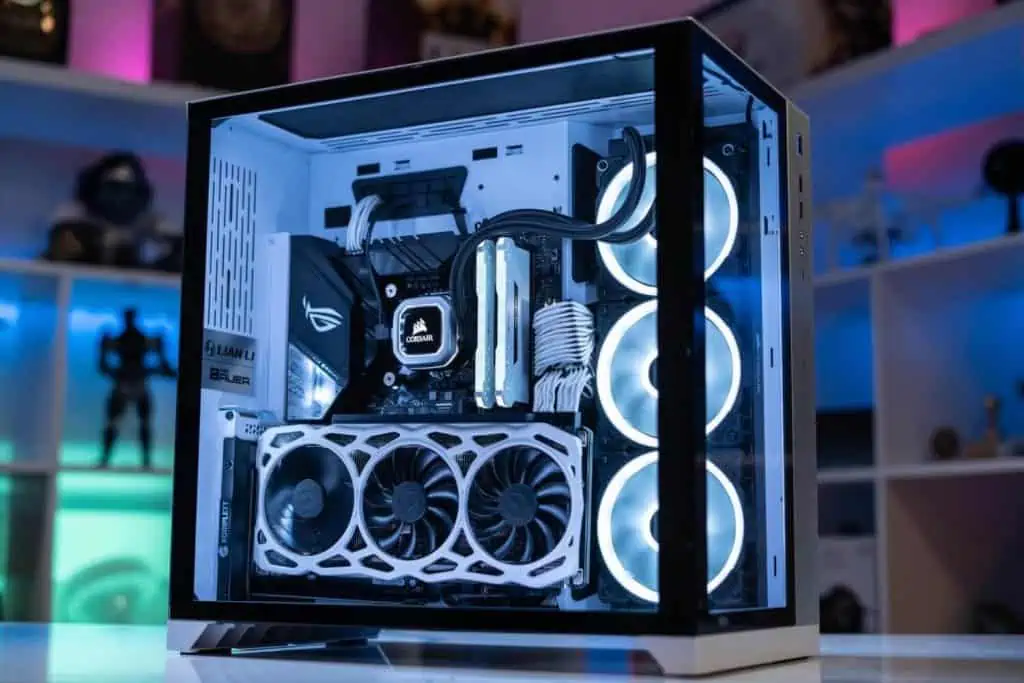 After hundreds of case reviews, here are the best
The next generation of multi-tasking