The 10 Best RGB PC Cases of 2021
Let's be honest.
Aesthetic is a massive factor when buying a PC case for your exciting new build.
Sure, if you're building a gaming, streaming, or production PC, you want it to have decent cooling, space, and build quality too.
But why not both?
We've put together this feature to go over the best RGB computer cases on the market today.
They've been chosen not just based on pretty lighting, but their ability to perform/overall value.
Whatever shape, size, budget, or function you're looking for, we've covered the best RGB case options for you below.
We're aware beauty is in the eye of the beholder which is why we've included a lot of different design options, including some extra ones within certain categories –  we recommend looking through the whole list if you're picky.
So without further ado…
 Table of Contents – Top Picks
Overall Best RGB PC Case: Corsair iCUE 220T RGB Tempered Glass
This is an awesome chassis from Corsair, one of the best case manufacturers around.
A lot of this list is more focused on cases with in-built LED lighting (instead of LED fans), but the iCUE 220T packs an incredible value with its fan inclusions.
Let's start with the design.
The exterior is made of good quality steel and thick tempered glass on the side/front.
These windows are slightly tinted, which may sound counter-intuitive for an RGB computer case.
But having strong LED lights shine through tinting actually provides a way more sophisticated look (don't worry, they'll still be bright!).
Speaking of lights…
This case includes 3 x high-quality CORSAIR SP120 RGB PRO fans.
These are addressable RGB fans each including 8 separate LEDs.
You're then also getting an iCUE Lighting Node CORE fan controller included.
This will give you the ability to control your 3 included fans (and up to 3 more) with the fantastic Corsair iCue software.
But it's not just a good looking PC case.
The iCUE 220T is a compact mid-tower case designed for an ATX motherboard (or smaller).
With space for:
7 expansion slots
VGA lengths up to 300mm
2 x 3.5″ & 2 x 2.5″ drive bays
For a gaming PC case, you've got room for a powerful GPU build despite it being about 30% smaller than the average ATX tower.
Cooling wise, you'll be getting:
Up to 6 x 120mm fans (with 3 included)
Up to 1 x 360mm, 1 x 240mm & 1 x 120mm
It's impressive that despite being one of the smallest ATX cases around, there's still room in here for an impressive amount of airflow.
That includes a full-length PSU shroud to aid your cable management, the build is deceptively capable of good ventilation and would manage well for overclocking.
Side-note: we also wanted to shout out the iCUE 220T mesh edition. Which we've featured previously on What in Tech, it has a similarly great spec/value if you prefer the mesh front panel design.
Reading the above build quality, RGB fan/controller inclusion, and space, you'll see why we've ranked this case at the top spot.
Tied with further RGB hardware you can achieve an incredibly unique aesthetic.
But even out of the box, the iCUE 220T still looks amazing and is one of the best value PC cases on the market.
Runner-Up Best RGB PC Case: MUSETEX Phantom 907
We don't often give such a small manufacturer a high accolade as the larger brands often beat them out.
But MUSETEX has created a really impressive PC case for RGB builders at an insane value-point (we nearly gave it the #1 pick and it should be considered as much as the Corsair 220T for many of you).
The build quality is great, with a steel exterior and 2 sturdy tempered glass windows covering the side and front panels.
You're getting an incredible 6 x pre-installed RGB fans.
These are also connected to a fan controller that works with an included remote with plenty of features.
It might not be made for the top of the line Corsair/ASUS RGB software.
But you're getting an incredible amount of customization. Anything from static colors to having your lights change to music/your voice.
Tied with further RGB hardware, it's hard to imagine needing much more out of an RGB ATX case.
The 907 has good space too, with:
7 x expansion slots
Maximum GPU lengths of 380mm
3 x 2.5″ & 3 x 3.5″ drive bays
As you might expect from the above, this chassis is slightly larger than the top Corsair PC case, with a good amount of room not just for more hard drives/SSDs, but pretty much any mainstream graphics card on the market (including RTX 3090, 3080 & 3070s).
It even boasts support for EATX motherboards (though we recommend our high-end pick below if you're looking for an EATX RGB case).
Cooling wise, you're already set with the 6 x included fans and some good cable management/airflow features.
Between the space and included fans, it's not just pretty; the 907 is also a great RGB gaming case for overclocking.
That said, if you were looking at liquid cooling, we'd recommend the other cases on this list (as much of the value comes from the included fans).
Simply put, the Phantom 907 is one of the best RGB PC cases available for mid-range builders.
With its great space on top of the included cooling, you've got awesome options here for anything from a gaming PC to streaming to a video editing rig.
Best Budget RGB PC Case: AeroCool Klaw
If possible, we'd recommend forking out a slightly more for the other picks on the list.
But with that being said, the AeroCool Klaw is a very impressive offering if you're looking for a mid-tower RGB case on a very tight budget.
With an SPCC steel exterior, ABS plastic front, and tempered glass side panel, you're still getting a fairly good build quality (though not quite on par with the more expensive options).
But the RGB is where this case really shines.
Included you'll have:
3 addressable RGB strips running down the front of the case (all controlled via a button on the front I/O panel)
3 x pre-installed RGB ring fans (also fully addressable)
These fans aren't the same quality as our top picks, but for the price, it's a very decent value point.
This RGB ATX case includes space for:
7 x expansion slots
GPUs up to 370mm
2 x 2.5″ /3.5″ & 4 x 2.5 " drive bays
If you're building a budget gaming PC, we assume you're looking at a single GPU setup, which this case can definitely perform well with.
Cooling wise, you can have up to 6 fans (with the 3 RGB 120mm fans included).
We wouldn't recommend going down the liquid cooling route in this cheap RGB PC case.
The cable management/airflow won't be quite as decent as our top offerings but you'll still be able to cool a budget gaming PC without concern.
If you're looking for the cheapest RGB PC case possible, you could go even cheaper with the AeroCool Bolt.
But we've chosen the Claw as our top pick because, with just a little bit more money, you're getting the 3 RGB fans included.
As far as PC cases with RGB capability go, this is the best value-point for those with a slim wallet.
Sure we'd recommend some of the other cases, but if this is what fits your budget, you're still going to have a great time with the Claw.
Best High-End RGB Case: Asus ROG Strix Helios GX601
Oh boy, this is an amazing case.
Popular for a reason despite its high price-point, the GX601 has so many great features.
Let's start with the design.
The exterior is based on aluminum, easily the best material for PC cases; giving it a sleek look and better build quality than the usual steel options.
Then there are the 3 thick, tempered glass windows on the front, left, and right sides.
These are tinted slightly while still being bright enough to allow your hardware and RGB components to shine through (we find this looks way better than non-tinted).
Finally, there's the beautiful front addressable RGB lighting.
Not only is it controllable with the front I/O panel button or the Asus Aura Sync software (one of the best on the market).
But the lighting is also directly behind the tempered glass and you can still see into the case past the non-lit areas (we've not seen this in a case before).
This means that you could have RGB fans on the front accomodating the pre-installed lighting.
It's hard to express how good the GX601 looks through stock photos. This is truly one of the best looking PC cases once your high-end gaming build is inside.
But enough on design because this chassis excels across the board, with:
8 + 2 vertical expansion slots
Maximum 450mm GPU length
2 x 2.5″ / 3.5″ & 4 x 2.5″ drive bays pre-installed with up to 9 total (enough space for even the most SSD-heavy builds)
Great I/O panel with 4 x USB 3.1 Gen 1 & 1 x USB 3.1 Gen 2 (Type C), LED/fan control, and the usual HD audio ports.
Good quality, easy to use dust filters
It has the most space out of all the cases on the list, also making it our top pick for anyone looking for the best RGB EATX case.
With this room, you're going to be able to achieve a fantastic high storage/multi-GPU build for powerful gaming, streaming, or production/video editing.
And to cool all of that hardware, you'll also have:
Up to 6 x 140mm fans (4 high-quality ones included)
Up to 1 x 420mm, 1 x 360mm & 1 x 140mm radiators
Tied with excellent cable management facilities and a good overall design for airflow, you've got an amazing PC case for water cooling or air cooling, capable of overclocking an intense gaming setup.
A small but nice detail is the included straps on the top of the tower if you need it to operate as a LAN party PC case (warning though: this thing is heavy).
Yes, this tower is expensive.
But if you're building something truly special and are looking for the best RGB full tower on the market, you've found it.
Best RGB Micro ATX Case: Antec Dapper Dark Phantom DP301M
Don't be deceived by the bizarre name, this is a fantastic choice if you're looking for a Micro ATX case with RGB capability.
From one of the "OG" gaming PC case manufacturers, Antec has created a great design with the DP301M.
With a largely SPCC steel (+ some plastic), tempered glass window, and unique "boomerang" RGB strip on the front, the case has a great aesthetic and build quality.
That RGB strip is also easily controlled from the front I/O panel with a single button.
Naturally, with an RGB mini-tower form factor, you're getting less space than an ATX case.
But there's still impressive room in here for:
4 expansion slots
GPU length up to 360mm (great for an mATX tower)
2 x 2.5″ / 3.5″ & 2 x 2.5″ drive bays
With the decent GPU allowance and storage, this is still a great Micro ATX case for dual graphics cards (providing you get a motherboard with dual PCI-e).
We say that confidently as the case has a good design to accommodate airflow/cable management, alongside:
Up to 6 x 120mm fans (with 1 included)
Up to 280mm top & 120mm rear radiators (could be combined with 2 x 120mm fans on top)
This is really impressive for an mATX PC case, definitely still suitable for some decent overclocking on a small gaming build.
Looking for a high-end RGB mATX case?  If you have the budget, the best choice is the CORSAIR Crystal 280X
We've raved about the 280X in our dual-chamber case guide and recommend it if you can stretch to it.
With that said, we've focussed on the DP301M for a reason.
When considering the average mid-range streaming/production/gaming PC and value, this is easily the best mATX RGB case available.
Best RGB Mini-ITX Case: InWin A1 Plus
And then there's those looking for RGB in the smallest form factor.
Having been recommended multiple times on other What in Tech features, the A1 Plus is a fantastic RGB ITX case.
With an excellent quality SECC steel exterior and thick, tinted tempered glass window, the tiny tower sits on a beautiful transparent RGB base.
We don't really come across many other towers with such lighting.
And what's more, it comes with 2 high-quality InWin Sirius Loop 120mm ARGB case fans (fully addressable).
Combined with further RGB hardware, this is easily one of the best looking mITX cases available.
It packs great space for the form factor too, with:
2 expansion slots
VGA length up to 320mm (great for ITX)
2 x 2.5″ drive bays
Wireless QI charger on the top (very unique/impressive for the size)
This may all sound super low, but for a Mini ITX PC case, we're very impressed with the offerings.
This would be perfect if you're looking for a portable PC case or if you're simply someone that likes their gaming build to look as compact as possible.
On top of the 2 included RGB case fans, you could include a further 2 x 120mm fans (or 1 x 120mm radiator).
Having up to 4 fans in a chassis this small is awesome and definitely makes it one of the best mITX cases for cooling.
Bearing in mind that you'll only be looking at a single graphics card for ITX anyway, this cooling is more than enough to give you some overclocking potential.
Additionally, the case comes included with a 650W PSU pre-installed.
We will say the power supply is a slight letdown, and if you're getting a very powerful GPU, CPU, and motherboard, you may want to invest in another and use the base one as a back-up.
But for the average ITX gaming PC, it will be able to handle things if you can't stretch that far.
If you're looking for a very cheap RGB Mini ITX case, then a good backup is the Cooler Master Case H100.
This case still boasts impressive capability for the size and comes with a 200mm RGB fan.
But without question, the InWin A1 Plus is our top choice.
If you have the budget, it's easily the best Mini ITX case with RGB capability on the market.
Honorable Mentions
While the above choices are the best RGB tower cases available, if you're looking for a different flavour, we've included some extras we'd still highly recommend.
Wildcard – Worth Considering: Segotep Phoenix
I'm sure you can tell from the image why we wanted to include this.
Boasting a fantastic design, the case's front panel has incredible LED lighting that can be synced with the most popular RGB software if you have an addressable header on your motherboard.
You're also getting good build quality, with a tempered glass panel and 0.8mm thick SPCC steel.
The Phoenix has made a couple more design choices that truly make it one of the more unique towers on the market.
Firstly, it's a right-sided PC case. If you happen to want to face your build's window the opposite way to the standard.
And secondly, the case designed with sideways motherboard mounting – i.e. the rear I/O panels and cables come out of the top of the case instead of the back.
We actually really like this design choice as it means your I/O panel ports are really easily accessible (no reaching behind the back of the PC).
It also means your GPU will hang directly downwards, you won't find many other builds that look like this!
It's an ATX RGB mid-tower, with space for:
7 expansion slots
VGA lengths up to 320mm
2 x 3.5″ & 2 x 2.5″ drive bays
Pretty standard for an ATX chassis, perfectly suitable as a mid-range gaming computer case.
For cooling, there's space for:
Up to 5 x 120mm fans
Up to 1 x 360mm & 1 x 240mm radiators
Not particularly impressive for its size, but still enough for some decent graphics cards.
The cable management and airflow design also aren't as good as our top picks which (combined with the cooling capability) were the main reasons this case missed out on a top pick
But that being said, this is perhaps the most unique PC case on the list (and the least minimalist, but who wants minimalism with an RGB build?).
If you really want to stand out, the Phoenix is still a great option.
Worth Considering: darkFlash Phantom DR12
Last but by no means least is a great option if you're looking for a PC case with RGB fans (and a lot of them).
We've included the DR12 as it's a great "mid-range" choice for a lot of different build types.
To start, it has 3 very sharp, full-length tempered-glass windows (left/right sides and front).
But the case's crowning design feature is the 6 pre-installed 120mm RGB LED fans.
Combined with the high-quality glass windows, these fans beautifully illuminate the front and rear of the build.
The DR12 is RGB mid-tower case, with space for:
7 x expansion slots
GPU card lengths up to 359mm
2 x 3.5″ & 3 x 2.5″ drive bays
Pretty standard specifications here but a good balance for either a gaming or streaming PC case.
As far as cooling goes, given the tower includes 6 RGB fans, you'll be wanting to focus on air cooling.
You can add a further 5 x 120mm fans if you wish, totaling 11 x 120mm fans.
That's a crazy amount for an ATX case.
One downside though is the airflow, while not awful, is not the best in the DR12.
This is a tad disappointing given how clearly aligned to air cooling the case is.
But given the sheer quantity of fans you can install, you still have a great PC for overclocking here.
(If you were inclined, you could even use the spare space we talked about using for 5 extra fans on radiators for an air/water cooling hybrid build).
Overall, with specific consideration to the fantastic value the 6 RGB fans add, this is a great RGB ATX case if you like the design.
More RGB PC Case Options?
There are some more RGB computer cases floating around.
But we simply wouldn't recommend them over the above choices.
For example, we know a lot of gamers may be looking for an NZXT RGB case.
While you can easily add RGB fans to NZXT towers, we've focussed specifically here on PC cases that have RGB elements included (either fans and or/in-built lighting) at a great value.
We'd push you towards the above for anything from a gaming/streaming PC to a production/video editing computer.
That being said, If you wanted an alternate idea, you could create a cool "RGB" computer by:
Purchasing a clear PC case as a foundation
Installing RGB fans that will give you lighting in your transparent tower
Buying an RGB motherboard that will give you the best onboard lighting and RGB header capacity for additional lighting
If you'd prefer to add your own RGB fans to a case that doesn't include any lighting by default, we've included 2 final quick-fire picks below that are premium, large, and the cases that could include the most RGB fans (purchased separately):
Best Premium Case for RGB Fans: Corsair Obsidian Series 1000D
This is a monstrous case with the capability to host up to 18 x 120mm fans in a wonderful presentation and everything you need for a high-end gaming build.
If you want to see an example of how effective RGB fans can look in this case, check out the cover photo to our largest PC case article that also reviews the 1000D in detail.
Best Looking Case for RGB Fans: Thermaltake Core P8
Featured many, many times on What in Tech, the fabulous Core P8 can host up to 18 x 120mm RGB fans all highly visible in the cases 3 x tempered glass, high-visibility layout.
If you have the budget to purchase this great case and RGB fans, it's one of the most amazing aesthetics you can achieve. Check out our full Core P8 review on the premium case spotlight.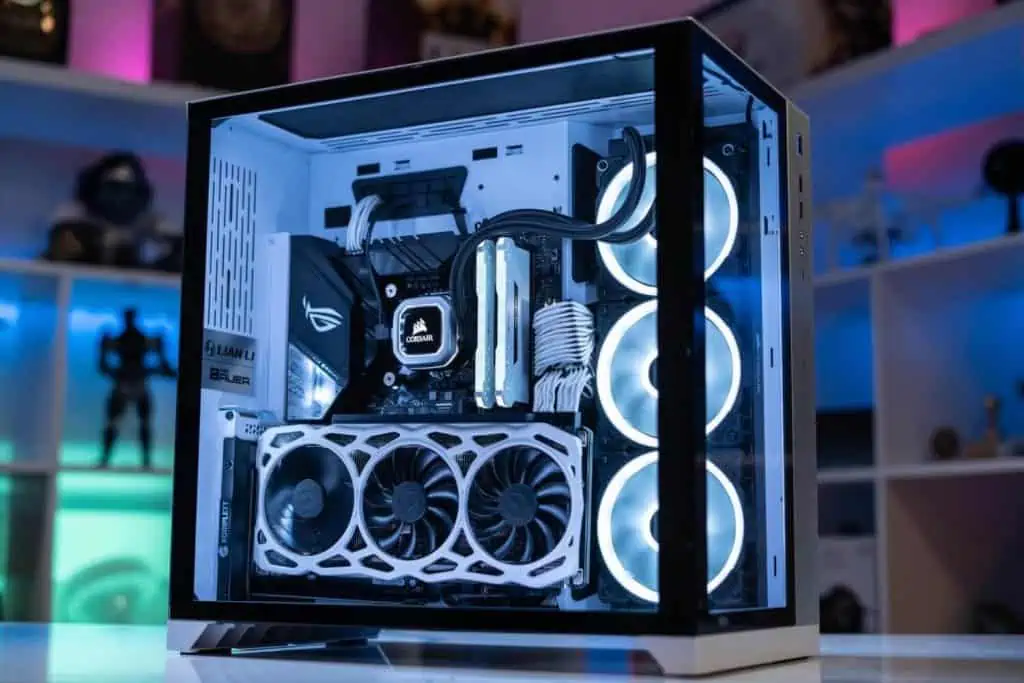 After hundreds of case reviews, here are the best
Hear that? It's the sound of silence.
Finally install every Steam game in your library!
For the sharpest image possible