The 10 Best Corsair Cases in 2022
Is there anybody in the world of PC hardware that doesn't know Corsair?
This classic manufacturer has been in the game for a long time, and it shows in their products.
Some of our all-time favorite cases come from this brand, and we can tell that they're popular for a reason.
So today, we're breaking down the best Corsair PC cases for gaming, streaming, production, and more (whatever price/size you're looking for).
Top Picks
Best of the Rest: Quick-Fire Picks
Overall Best Corsair Case: Corsair iCUE 220T RGB
The iCUE 220T is Corsair's best achievement in balancing design, build quality, aesthetic, internal space, and overall compactness while retaining a very impressive price.
To start, stock photos do not do this case justice.
Also ranking highly in our RGB case feature, you have a chassis here with a lot of beauty out of the box. But especially when powered on.
With a full-steel exterior and a thick tempered glass window down the full length of the side and front of the case, you have high visibility for your beautiful components.
We love that this Corsair RGB case comes with tint to the windows too, meaning any bright/RGB hardware still shines through, but will look sophisticated and not too bright/tacky.
That goes for the 3 included CORSAIR SP120 RGB PRO fans too, which look beautiful through the tinted front window.
These fans are all addressable, with an ability to customize and control the lighting alongside the included iCUE Lighting Node CORE fan controller.
Even if you're not crazy about RGB, having 3 high-quality performance fans included in a case of this build quality is a really good deal, the lighting is just a bonus.
But the 220T is far from just a pretty chassis.
It's an ATX PC case that still manages to retain pretty tight dimensions so is nice and compact, with space for:
7 x expansion slots
GPU Clearance up to 300mm
2 x 2.5″ + 2 x 3.5″ drive bays
For a mid-range gaming PC case, this is perfect; with enough room for decent storage/most GPUs.
We will add if you're looking for one of the larger graphics cards on the market (like the new GTX 3090) you may want to check out some of our other premium picks below.
That being said, for a large majority of builds, this will be a fantastic case for your gaming/production needs.
And that goes for cooling too, with:
Up to 6 x 120mm fans (with the 3 included)
Up to 1 x 360mm, 1 x 240mm & 1 x 120mm radiators
Tie that capability with the tower's decent internal ventilation for its size/price range and you have a great cooling machine here, capable of overclocking your build.
Simply put, we just love the high-quality design, build, and features you're getting in such a well-priced case.
If you're after a mid-range gaming, production or streaming build, then this is the best Corsair PC case available today for you.
2022 update: The iCUE 220T retains its top spot for our favorite Corsair case in 2022; although we also really appreciate the iCUE 4000X and this is a worthy competitor if you prefer its aesthetic or have a slightly higher budget.
Best Corsair Case for Airflow (Mid-range): Corsair Obsidian 750D Airflow Edition
What an incredible case this is.
So good in fact, that it has been around for several years!
While we didn't give it the top spot; that is mostly due to its higher price-point than the iCUE 220.
If you have the extra money to stretch to this case or are looking for something extra powerful, you're getting some of the best value on the market.
Starting with the build quality, the 750D is a beast and has the reputation for being very sturdy.
With an aluminum, high-quality steel, and tempered glass mix exterior.
Arguably the best Corsair full tower case on the market, this case is very large with room for:
E-ATX motherboard compatibility
9 Expansion slots
GPU lengths up to 450mm
3 x 5.25″, 4 x 2.5″ & 6 x 2.5″ / 3.5″ hybrid drive bays
As you can see, you have some incredible room in here for a monstrous build.
From a gaming-side, you will easily fit any mainstream GPU in here with room to breathe, alongside other high-performing components.
And as far as the incredible storage allowance goes, you have one of the best PC cases for video editing, server builds, and other production PCs in the 750D
Not only do you have great 2.5″/3.5″ storage, but 3 optical drive bays; great for an HTPC (but equally, if you have no interest in these bays, you can convert them easily).
And then there's the cooling.
As you can expect from the name, the Obsidian 750D is one of the best Corsair cases for air cooling, water cooling, and overall airflow today.
On top of the fantastic inner ventilation setup, you have the capacity for:
Up to 5 x 140mm + 4 x 120mm fans (with 3 high-quality 140mm fans included)
Radiator Support for 1 x 360mm, 1 x 280mm & 1 x 140mm.
You can probably see by now why we rate this case so highly.
If you're looking to build something truly powerful while still only paying a mid-range price tag, then this is the comfortable the best Corsair PC case for the job.
2022 update: Although the 750D is still our top choice for enthusiasts after a chassis for a serious build, the modern XXXXD series is also worthy of your consideration if airflow is your main concern; specifically the 5000D, which ranks as our top alternative to the 750D (and we appreciate many readers may prefer its more modern aesthetic).
Best Budget Corsair Case: Corsair 200R
We will start by saying we highly recommend you stretch your budget a little further and pick up one of the 2 great value picks above.
That said, if you're really wallet tight and after a cheap Corsair case, this is a decent option for the price.
The exterior is largely made up of thin steel (but we appreciate that Corsair haven't gone all-out plastic here).
The design is simple and minimalist, which certainly isn't a bad thing if it's to your taste, and gives the capability for more fans on the side panel (that would usually be a window).
Size-wise, this is another compact ATX case, with room for:
7 expansion slots
420mm length GPU clearance
3 x 5.25″, 4 x 3.5″ & 4 x 2.5″ drive bays
Fan setup: Up to 8 x 120mm fans (2 included)
This is a pretty impressive offering for its dimensions and size.
We like that there is a lot of storage and GPU space on offer (though we would say if you're purchasing a graphics card that demands such space, you should pick up the 750D or 680X).
The 2 included fans will be all you need for most budget gaming setups, but it's nice that the case has a lot more capability should you wish to expand/upgrade.
Note: The product listing has a lot of negative reviews for the 100R.
The 200R, with more general space for airflow and parts, is better-received.
While we would push you to the top picks over it, make no mistake: if you're on a tight budget, this is the best cheap Corsair case today.
Best High-End Corsair Case: Corsair Crystal Series 680X
What a case this is.
One of the most featured premium chassis on What in Tech, the 680X is one of the greatest choices for some looking to build something truly special.
Yes, it is an expensive tower.
But you're getting so much quality for the price.
With one of the nicest build qualities we've seen in a case, the unit is made of high-quality steel and 3 of its sides are covered by thick tempered glass windows.
It's one of the best dual-chamber PC cases on the market.
This means it has a main compartment for your most powerful (and beautiful) components.
And then a second hidden chamber to hide your "uglier" components that don't need the same level of cooling (think PSUs and HDDs).
Not only does this offer the best case airflow to your important hardware, but gives you the cleanest looking aesthetic possible.
I know we've said it before but, stock photos don't show you how beautiful this case is.
Tied in with the fantastic 3 x Corsair LL120 fans included, your build will look fantastic powered on.
(Don't underestimate the value of those fans also, with them being top-of-the-line and very expensive when bought solo, adding to the case value).
Then there's the excellent capacity of the 680X too, with:
10 x expansion slots
GPU lengths up to 330mm (will cover nearly all mainstream cards)
3 x 3.5″ & 4 x 2.5″ drive bays (in the secondary hidden case)
Air cooling: Up to 8 x 120mm fans
Water cooling: Up to 1 x 360mm, 2 x 280mm & 1 x 140mm radiator support
For cooling, not only is this capability good for an ATX tower, but when you combine it with the extra space/airflow that having a dual chamber setup provides? It's one of the best PC cases for cooling available.
You have all the room you need to create a beautifully-presented and powerful, overclocked gaming PC.
Simply put, few cases come close to offering the fantastic utility and style of the 680X.
If you have the budget, know this isn't just the best Corsair computer case, but one of the best towers available today from any brand.
Best Corsair Micro ATX Case: Corsair Crystal Series 280X
If you're looking for a Corsair mATX form factor offering you're in luck.
The fantastic 680X case has a smaller brother, and it retains much of what makes the larger chassis so great at a smaller size/price tag.
Starting with the same great steel/3-way tempered glass exterior, it feels as good as it looks.
We know that most Micro ATX builds are really focussed on a high-quality aesthetic, so we love that this also has the dual-chamber layout for your PSU/HDDs.
The internal sie is good for the form factor, with:
4 x expansion slots
Graphics card clearance up to 300mm length (still enough for most cards, but check before buying a GPU)
2 x 3.5″ & 3 x 2.5″ drive bays (all hidden in the second chamber
Up to 6 x 120mm fans
Or up to 1 x 280mm & 2 x 240mm radiators
As you can probably see from the specs, this case pretty much ticks all the boxes for either a powerful mATX gaming case or one for production/streaming.
With a fantastic fan/water cooling capability, tied in with the dual-chamber ventilation, you have a fantastic case here for overclocking.
Of course, with Micro ATX, you're making sacrifices in space/cooling for the smaller form factor compared to ATX.
But with the 280X? We haven't seen many other cases come close to matching a typical mid-tower in performance.
Note: The 280X has seen some stock issues in the past. If not available, you can also pick up the non-RGB version which will be the same great case (but cheaper, without the high-quality RGB fans).
If you have the budget, this is easily the best Corsair Micro ATX case today.
Best Corsair Mini ITX Case?
Unfortunately, right now, there isn't a Corsair ITX Case we would strongly recommend to you for your next build.
Even though the 280X is technically an mATX case, it's a great option for ITX builds too.
But if you want something that is "officially" mITX, check out our Lian Li, InWin, and Quiet PC Case features; these have some of the best Mini ITX cases around that will be superior to Corsair offerings.
Quick-fire picks: Best of the Rest
While the top 5 are the best Corsair tower cases available today for most needs, there are some other great choices worth considering if you are looking for something specific price/design-wise:
Best Looking Corsair Case: Corsair Carbide SPEC-Omega
One of our top picks for unique looking PC cases, the SPEC-Omega is a simply beautiful chassis that still performs well.
You're paying a little premium for the design, but if you like the aesthetic – we'd say it's worth it.
Best Corsair Case for Performance Runner-Up: Corsair Air Series 540
If it was the same price as the 750D, it would be a tough race for which case was better.
One of the best dual-chamber PC cases available, this is a great option if you're looking for something in between the 750D and 680X price range.
Hear that? It's the sound of silence.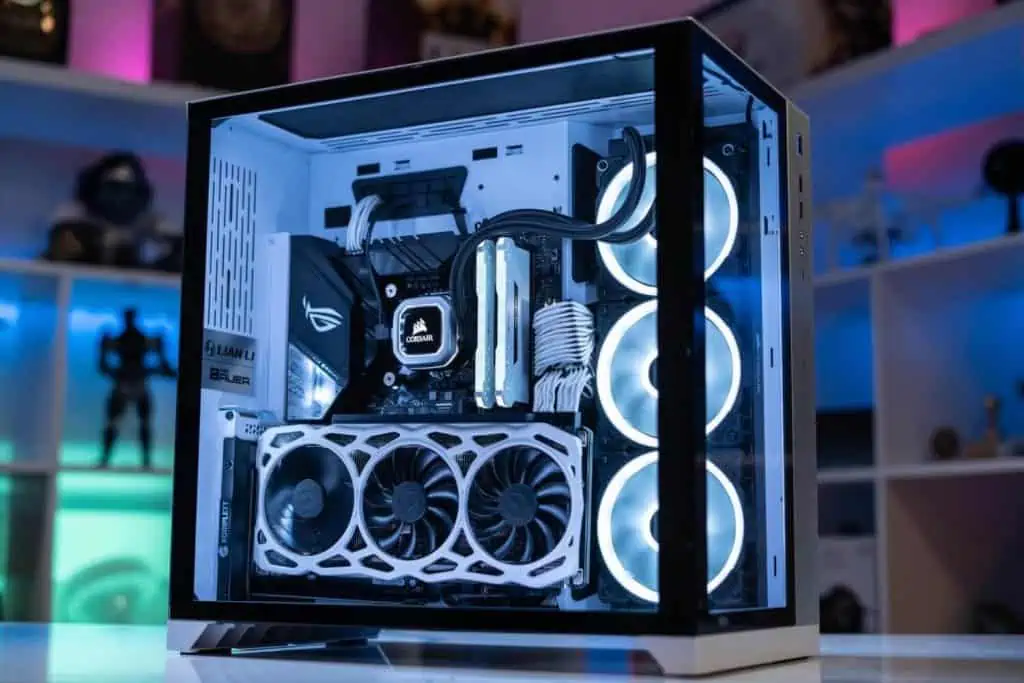 After hundreds of case reviews, here are the best
For serious production users
The largest towers worth buying