The 8 Best Dual Chamber PC Cases of 2021
What is a dual-chamber computer case anyway?
Let's take some of the main criteria when looking at a PC case for gaming:
Plenty of space for hardware
Good ventilation/airflow
Stylish/made for showing off beautiful components.
A dual-chamber case excels at providing all of these things by essentially having a second "hidden area" for some of your less attractive parts.
Sure, most mid-range cases have some small cable management compartments.
But having a dedicated full chamber gives room for the other "ugly" parts. Think PSUs, hard drives, etc.
This then isolates your GPU/CPU in the "main" chamber, giving you a cleaner presentation and space/airflow for the parts that need it most.
They're a fantastic innovation for PC builders, which is why we've put together this guide on the best PC cases with 2 chambers.
Best Dual Chamber PC Case: Lian Li PC-011 Dynamic
This really is a fantastic tower.
From one of the best case manufacturers today, the PC-011 Dynamic has been featured many times on What in Tech, and is also our top choice on the overall best PC case in any category.
Let's start with the build quality.
The PC-011 is beautiful. Boasting a very thick (0.8-1mm) SECC steel body, aluminum front, and dual-tempered glass layout.
The look and feel is simply fantastic for its price-point.
With the extra window on the front, you'll have great visibility for your internal build.
Stock photos do not do it justice – Check out our cover photo on the best PC cases feature to see how amazing this chassis can look powered on.
There's plenty of room too, with:
8 expansion slots
GPU cards of up to 420mm
2 x 3.5″ / 4 x 2.5″ drive bays (all hidden in the second chamber)
Air cooling: Up to 9 x 120mm fans
Or water cooling: Up to 1 x 360mm, 1 x 280mm & 1 x 240mm
As you can see, the PC-011 is quite large with fantastic cooling capability.
With more room than our runner-up pick, it's a good choice if you want to fit very large GPUs.
It's officially a mid-tower case but would likely manage an E-ATX motherboard (if you're in doubt, we've got larger options below).
The second chamber on the PC-011 is wonderfully discrete and has room for all of the cable management and drives/PSUs we expect you'll need in any kind of build, meaning you can establish a really neat main chamber with great airflow for your intensive hardware.
Speaking of power supplies, this is a great option if you're after a dual PSU case – the hidden drive caddy in the second chamber can be removed for a second power supply.
The fact that you're getting such a wonderful build quality, aesthetic, space, cooling potential and a perfect internal layout to empower neatness/airflow all at a great price is simply incredible.
If you're looking for the best dual-chamber ATX case on the market, and perhaps the best PC case in any category, you've found it.
Best Dual Chamber Case for Airflow: Corsair Series Air 540
Now don't mistake us, the top Lian Li case has fantastic airflow that we think will meet an overwhelming majority of needs.
But if you're someone who really prefers taking advantage of mesh layouts that ensure ventilation from all angles, you may want to consider the Air 540 too.
The Air 540 somehow manages to offer a fantastic set of features/quality while also being one of the cheaper PC cases on the list
Boasting great space in both of its chambers, you'll have room for:
8 expansion slots
GPU lengths up to 320mm
Up to 2 x 5.25″, 2 x 3.5″ and/or 6 x 2.5″ drives, more than enough for gamers
It's nice to see options for optical drive bays here too (even though a majority of people no longer use them, but you can still convert 5.25″ bays into more SSD/HDD drive bays if desired).
Alongside it's ATX/mid-tower form factor, you'll have plenty of space for a multi-GPU build if desired.
But it's cooling where a dual-chamber tower really shines.
In the Air 540's case, there's space for:
6 x 120mm / 5 x 140mm fans (including 2 pre-installed Corsair Air Series AF140L fans ideal for a quiet build)
280mm top & 360mm front radiators
Now that may not sound too impressive for an ATX case.
But remember: with your PSU/drives out of the way, these fans/water coolers are dedicated to cooling your GPU and CPU.
Tie that with the fantastic airflow design and you have one of the cheapest PC cases for overclocking that we'd recommend.
Finally, there's the style.
The Air 540 has a unique wide form factor.
With a steel exterior, it's a cube PC case that with a simplistic, high-quality build, appears minimalist and monolithic.
This simplicity is perfect because when you're creating a dual-chamber computer, you want the attention to be on the neat internal parts in the main chamber.
Through its tempered glass, the case beautifully presents the main hardware and gives you more than enough space to cleanly build.
We love the PC-O11D and made it our top choice for a reason. But if you're looking for something that balances unique style, fantastic features, cooling capability, and value; the Air 540 is also well worth considering.
Best High-End Dual Chamber Case: Corsair Crystal Series 680X
What a wonderful case this is.
Having been featured multiple times previously on What in Tech, there are so many amazing qualities to the 680X if you can afford its price tag.
Let's start with the design.
The 680X has some of the best build quality we've seen in any case.
With a thick steel exterior, and tempered glass covering it's front, top, and hinged side-window; the case looks incredible even before you add your hardware.
The RGB version we recommend includes 3 beautiful & addressable Corsair LL120 fans which are some of the best on the market and very expensive if bought solo.
Alongside these is a pre-installed Corsair Lighting Node Pro. One of the best RGB controllers available today, making this a perfect base for an RGB build.
Then there's the space of the 2 chamber case. With:
10 expansion slots (2 for a vertical GPU mount)
GPUs up to 330mm
3 x 3.5″ & 4 x 2.5″ drive bays (hidden in second chamber)
You're getting more than enough space for a huge SLI/crossfire build and enough storage options if you're looking for a video editing or server PC case.
What's even more impressive is the cooling potential:
Up to 8 120mm fans
360mm front, 280mm top, 140mm rear & 280mm bottom radiator support
Bearing in mind this is all part of a case with a large secondary chamber where you're already maximizing airflow to your GPUs/CPU.
Adding this incredible cooling utility on top makes this one of the best ATX cases for overclocking,
Yes, it is pricey.
But you're getting so much for your money.
From the excellent build quality to the RGB capability, to the fantastic space and airflow design.
Put simply, if you have the budget, it's one of the best PC cases available (not just in the dual-chamber category) and certainly the best Corsair case on the market.
Best Dual Chamber Micro ATX Case: Corsair Crystal Series 280X
What about those looking for a small PC case?
Well, thankfully, Corsair's fantastic 680X has a smaller brother.
And despite the lower price-point/size, it still manages to retain so much of what makes the ATX version great.
The design is essentially the same (but more of a cube computer case) with the high quality steel exterior and triple-tempered glass setup.
The space is great for its Micro ATX form factor, with:
4 expansion slots
VGAs up to 300mm
2 x 3.5″ & 3 x 2.5″ drive bays hidden in the second chamber
You still have enough room here for a dual-GPU build.
And the dual-chamber is still (impressively) large enough to hide your cables, PSU, and drives.
Between the room and cooling, the 280x is a fantastic Micro ATX case for gaming, with:
Up to 6 120mm fans
1 x 280mm top & 2 x 240mm front/bottom radiators
Most in this form factor will not perform as well for cooling & overclocking your GPU/s.
It's pricey for a smaller build, but it's one of the best mini-tower cases available in any category (not just dual chambers).
And we'd also argue with the 2 included RGB fans/Lighting Node controller, for an RGB computer, the price is actually very decent.
If you're building a mini-tower, you really can't get much better (or more stylish) than the 280X.
Best Dual Chamber EATX Case: Thermaltake Tower 900
S0 what if you're looking for the most powerful PC build possible with less budget constraint?
Whether for a high-end gaming build, production rig, or server PC, an E-ATX case is a great option.
If you combine such a huge size with a dual-chamber layout, you've got some real monstrous capability.
The Tower 900 is one of the best examples, with:
8 expansion slots
GPUs up to 400mm (including vertical mount option)
Up to 1 x 5.25″, 6 x 2.5″/3.5″ & 2 x 2.5″ drives
You have room in this huge case to host a Quad-GPU build if tied with an E-ATX motherboard.
The case also offers the most cooling on the list and some of the most out of any Extended-ATX case we've seen, with:
Up to 13 x 120mm fans
1 x 480mm & 1 x 560mm radiators
The radiators are installed on the left and right sides, meaning if you wanted to make a liquid/air cooling hybrid, you could also still include 5 x 120mm fans.
As you can imagine, between this cooling and the very spacious dual chamber, you have one of the best PC cases for water cooling in the Tower 900.
Another factor it excels in is the modularity/customization available.
This means that so much of what is included (anything from drive bays to dust filters) are completely detachable.
Minimizing parts you don't need will give you more space for parts/airflow, a cleaner presentation, and reduce vibration (great for a quiet PC build).
Last but by no means least is the design and quality.
Rivaled on this list only by the 680x, the Tower 900 looks and feels fantastic.
With an SGCC steel exterior and 3 full-size windows, it's somewhere in-between a tempered glass PC case and a sturdy fish tank!
Needless to say, it looks fantastic displaying your main components while the dual-chamber is more than enough to hide what you don't want to show.
It was really a toss-up between this and the Corsair 680X for the best high-end case.
The reason we gave it to 680X is that an E-ATX case can be a little too large for many builders and the Corsair ATX offering has what most of you would need.
But if you're drawn to the Tower 900 monumental capability, or simply want the most powerful dual-chamber computer case you can possibly find, then you can't go wrong here.
Worth Considering: Thermaltake Level 20 HT
Last but by no means least.
While not getting one of our top dual-chamber chassis picks, we've included the 20 HT for a reason.
You'll notice its similar to our above Thermaltake EATX choice.
When considering the Level 20 HT vs Tower 900, this case seems to be, in many ways, a slightly smaller version of the 900.
That's not to say it doesn't have a ton of room for your parts though, with:
8 Expansion slots
VGA length up to 400mm
4 x 3.5″ / 2.5″ & 1 x 2.5″ drive bays
It's still very much a great fit for a large gaming computer case, with enough room for plenty of GPUs on an EATX mobo.
The same can be said for the cooling, with space for:
Up to 10 x 120mm fans
2 x 360mm & 1 x 280mm radiators
So there's slightly less space capability than the Tower 900.
But let's be real, that's still a lot of air/water cooling potential.
Not to mention your PSU/drives/cables are suitably hidden in the spacious second chamber.
This is still most definitely an overclocking computer case ideal for gamers/multi-GPU builds.
The build quality is as fantastic as you'd expect for a high-end Thermaltake case.
With an SPCC steel exterior and thick tempered glass windows surrounding left, right and front.
A nice touch is the addition of a glass panel to the top of the chassis, it's a clear PC case made to show off your hardware.
Note that on this system, 2 high-quality 140mm fans are included.
With those fans and the slightly lower price point than the Tower 900, we've included this as its a great option for someone who likes the look of the 900, but doesn't need quite the space and wanted to save a little money.
Quick-Fire Picks
While the top 6 are the best dual-chamber cases for a large majority of users, we wanted to throw in another couple of worthy considerations if your needs are more specific.
Cheapest Dual Chamber PC Case: Rosewill CULLINAN PX
While we consider the top 2 options cheap dual chamber pc cases for what you're getting, this Rosewill offering is the cheapest available that we could still recommend (and impressively includes 3 fans).
You won't get the same build quality, cooling, or feature set, but as far as budget dual-chamber cases go, this is a great option.
Best RGB Dual Chamber Case: Anidees AI Crystal Cube
A great case in its own right (especially for RGB lovers), the Anidees Crystal Cube is perfect for someone after a unique aesthetic.
A little more expensive and from a lesser-known manufacturer than our top picks, but you are also getting 5 addressable RGB fans and 2 RGB headers. So if you're more focused on aesthetics, this isn't a bad option at all.
Best Dual Chamber ITX Case?
You may have noticed we haven't included a Mini ITX dual-chamber PC case.
Unfortunately, there isn't one on the market that we'd recommend for enthusiast builds.
Your best option to get the best out of a dual-chamber gaming PC case is the Corsair 280X discussed above.
This case still has a great small form factor and is light enough that is can act as a portable PC case/perfect for an on-desk setup.
Remember that although it's a Micro ATX case, you can still fit a Mini-ITX motherboard on it if that's how you want to build.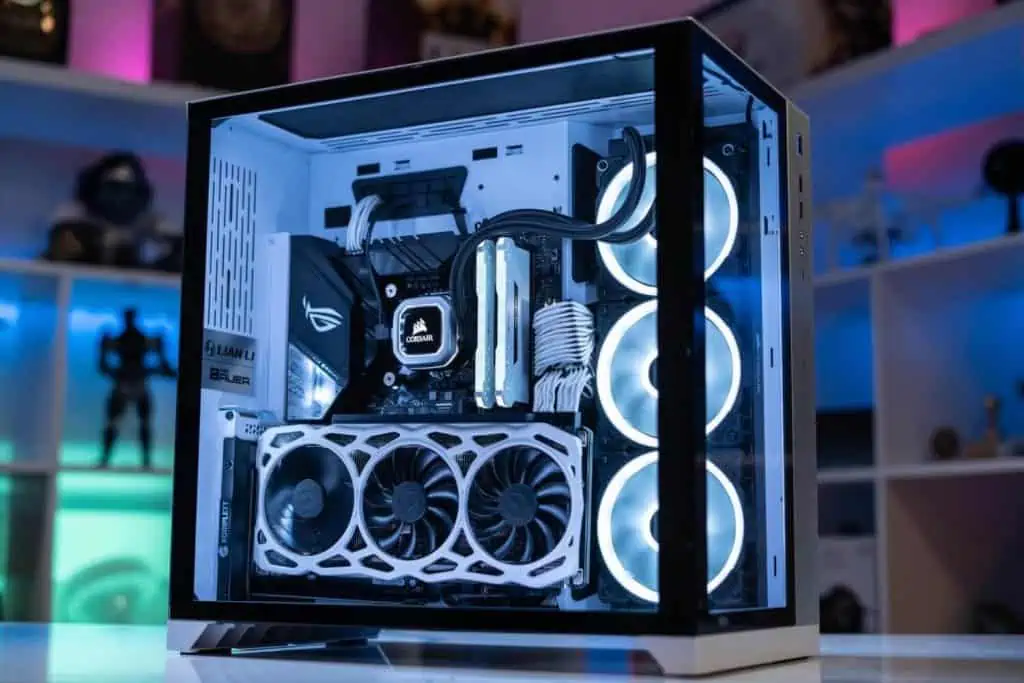 After hundreds of case reviews, here are the best
Hear that? It's the sound of silence.
Finally install every Steam game in your library!
For the sharpest image possible