The 10 Best InWin Cases in 2021
InWin has been in the PC case business for a long time.
And nowadays, with their wonderful mix of style, build quality, features, and value, they're one of the best manufacturers around.
We've put together this feature to guide you through the best InWin case for gaming, production, streaming, and more (whatever size/budget you're looking at).
Top Picks
Best of the Rest: Quick-Fire Picks
Overall Best InWin Case: InWin 303
The 303 is InWin's fantastic answer to creating a "jack-of-all-trades" ATX PC case.
For the price, you're getting a really high-quality product.
Starting with the design, this InWin chassis has an SECC steel exterior and a thick tempered glass window on its main side (a white option is also available).
It looks and feels great, with many other cases in this price-range relying on plastic elements.
What's more, the finish of the tower is beautiful. Combined with its slick LED lighting, the 303 looks way better than most in its price range.
Feature-wise, it has everything you would want out of an ATX case for gaming or other mid-level builds, with:
7 x expansion slots
VGA cards up to 350mm length
2 x 3.5″ & 2 x 3.5″ drive bays
Great specs for a mid-range PC with enough storage room to boot.
Cooling wise, you're looking at:
Up to 7 x 120mm fans
Up to 1 x 120mm + 1 x 360mm radiators (can be combined wth 3 x 120mm bottom fans)
Combined with a unique (and effective) ventilation design that holds the PSU on the top side of the case, you have lots of cooling potential in this case.
You'd certainly be able to handle a multi-GPU build in here should you desire.
But alternatively, it would be a great case for overclocking with a standard setup also.
There are many other nice quality-of-life features on the 303 that give it this accolade, like the (largely) toolless design & alternate GPU install options for security.
Simply put, this is easily the best InWin computer case available for mid-range builders, with such a fantastic quality coming from its low price tag.
Best Budget InWin Case: InWin 101
If you're looking for a cheap InWin case, they've created a fantastic option in this chassis.
While not quite the same overall quality as the 303, the 101 nicely captures the overall "essence" of what makes the 303 a great case.
The build quality for example still has the great tempered glass window and some SECC components (but with some of the exterior being plastic).
The finish is still decent, and you're getting some minimal LED lighting to contrast against the rest of the case color (the white version also looking sharp).
You're largely getting  the same space availability too, with:
7 x expansion slots
GPUs up to 305mm in length (but can be extended up to 421mm when removing side-cooling)
2 x 3.5″ + 2 x 2.5″ drive bays
Air cooling: up to 6 x 120mm fans
Water cooling: up to 1 x 120mm, 1 x 240mm & 1 x 360mm radiators
As you can see, there's still plenty of capability here for a powerful gaming/production PC.
The cooling capability in the case is still decent, albeit slightly inferior to the 303. But plenty for a single-GPU build.
If you're building a budget PC, it's hard to imagine you need more than what is offered here.
The 101 impressively retains a lot of our top pick's quality for 2/3rds of the price.
We would go for the 303 if you could stretch to it for its improved aesthetic and cooling capability.
But know that if the 101 is the furthest your wallet can go, it's still an excellent choice and easily the best budget InWin case around.
Best High-End InWin Case: InWin 925
If you're looking to create the most powerful PC possible, regardless of price, oh boy, do we have the chassis for you.
The 925 is InWin's answer to creating a HEDT case.
…and it is a very good answer!
Build-wise, you're getting a beautiful brushed aluminum exterior that has been curved around edges for a truly unique aesthetic.
Stock photos don't do the 925 justice.
Not only has the exterior been beautifully designed, but with its 2 full-length tempered glass side windows, you've got something special to show off your beautiful inner components.
But this case is far from just pretty.
An incredible feature-rich internal space is offered in the 925, with:
8 standard + 2 vertical expansion slots
VGA cards up to 420mm length
4 x 3.5″ & 3 x 2.5″ drive bays
It's hard to imagine you needing much more capability/size than the 925 offers.
This would be an amazing case for a high-end gaming PC or production build (video editing, rendering, etc).
Cooling is another particular shining area.
With up to 9 x 120mm fans or 1 x 280mm & 2 x 360mm radiators (note, 1 360mm radiator requires removal of 3.5″ cage).
Combined with immense space and wonderful design for ventilation, this is a fantastic PC case for overclocking dual-GPUs (or more).
InWin 925 vs 928
The InWin 925 is essentially the slightly smaller version of the original 928, which retailed for over twice the price.
As good as the original case was, the 925 represents a very similar quality for much less cost.
This is of course a very expensive PC case. And with any premium product, there are slight diminishing returns.
But if you're looking to build the most powerful PC you possibly can, this is one of the best cases around for it.
(Want something high-end but at a slightly lower price-point? Check out our alternative premium pick further down).
Best InWin Micro ATX Case: InWin 301
Another flagship model, the 301 is a great InWin mATX tower for those after a smaller form factor.
Built with the same design in mind as its bigger 303 brother, the 301 has the same SECC steel/tempered glass build quality.
The only notable design difference being the lack of LED lighting (but for around 25% less cost, logo/panel coloring still looks sharp).
Size-wise, you've still got room for:
4 x expansion slots
GPU lengths up to 310mm
1 x 3.5″ / 2.5″ & 2 x 2.5″ drive bays
Air cooling: Up to 5 x 120mm fans (2 require a PCI-e slot).
Radiators: Up to 1 x 120mm & 1 x 240mm (could be combined with the 2 PCI-e slot fans)
Of course, with the M ATX form factor, you're getting a slight reduction in specs.
But you still have plenty of storage, cooling, and GPU capacity here.
And combined with the 300 series' great internal design (with top-side PSU placement) the ventilation will be great for a small gaming/enthusiast PC.
We love that InWin managed to capture the essence of the 303 in a different form factor, for a suitably lower price without any notable sacrifice (aside the ones expected from the reduced dimensions).
If you're looking for a smaller PC, know this is easily the best InWin Micro ATX case available for your build.
Best InWin Mini-ITX Case: InWin A1 Plus
Then there are those builders looking for the smallest PC case form factor possible.
InWin has been a particularly great manufacturer of mITX towers for years now, and at the top of that pile is the A1 Plus.
We have featured the A1 plus many times across What in Tech.
With its fantastic balance between feature-set, aesthetic, and (very small) size, its InWin at the top of their game.
Starting with the striking design, this is easily the best mITX RGB case around,
With the inclusion of 2 high-quality InWin Sirius Loop 120mm RGB fans and the whole unit resting on a transparent RGB base, the case looks wonderful as soon as it's powered on.
The secret bonus being all of these RGB components are fully addressable, with the ability to sync them up to whatever color/pattern you like.
On top of the lighting, the unit itself is beautiful and well built; with a thick tempered glass window and solid SECC steel exterior.
It's another example of stock photos not really demonstrating the aesthetic. Powered on with your parts installed, it's an incredible look.
But we also like the A1 Plus because of its great space (considering the dimensions), with:
2 x expansion slots
VGA length up to 320mm (impressive for ITX)
2 x 2.5″ drive bays (often just 1 in this form factor)
As with any build this small, you'll only be getting one GPU in here.
But the space for that single GPU is excellent, you can achieve a good amount of storage here too.
And you'll easily be able to cool it (not something we can always say with ITX cases) with the option for up to 4 x 120mm fans (including the 2 ARGB ones included).
This is excellent for the size, and other little details like the QI wireless charger on the top of the unit give this case such a premium, feature-rich feel.
You may be thinking the price for the A1 is a tad high.
Well, on top of the build quality and addressable RGB aesthetic/cooling, you're also getting a 650W PSU included.
While there are some complaints of the PSU quality around, we would say for a large majority of builds, the supply will cover what you're looking for in an ITX build.
It was, for instance, testing and working with a GTX 1080TI gaming build.
The price may seem high; but with all things added in, you're really getting some incredible value with the A1 Plus.
Not only is this the best InWin mITX case, but one of the best mITX cases available from any brand.
Best of the Rest – Alternative Picks
While the top 5 are our absolute favorite picks, we've included a few more quick-fire options that are still great for specific purposes (appreciating some readers will have some unique requirements ).
Best InWin Budget Mini ITX Case: InWin Chopin
As much as we love the InWin A1 Plus, if you're looking for a much simpler build (e.g. general use or media) then the Chopin is a great option.
With its inclusion of a 150W PSU, its an incredible budget unit. Just note you'll be relying on a build with onboard graphics (no GPU power availability).
Runner-Up Best Premium InWin Case: InWin 905
As great as the 925 is, the 905 is the best option for those after a premium case with a bit less of a price tag (or a great alternative if the 925 is out of stock).
With an incredible aesthetic, build quality, and capability in cooling/size, if this is as far as your budget can go for a high-end tower, know it's an amazing pick.
Smallest InWin Case: InWin B1
Those looking for something extra small will love the B1.
Similarly to the Chopin, it comes with a PSU suitable for very basic usage (think HTPC or a normal browsing PC).
While we wouldn't recommend it for anything complex, it's a great value offering for those limited builders.
Most Unique InWin Case: InWin D-Frame
Featured many times on What in Tech, the D-Frame is the highest of innovative PC case-building without sacrificing performance.
If you want something that stands out, the D-Frame is the best InWin case for it.
Best Budget InWin Micro ATX Case: InWin BL040
Finally is a pick for those who are after an mATX PC with a bit more of a traditional design (or after something that can be lain horizontally).
While we give a slight edge to the 301, we added the BL040 as it meets a different kind of aesthetic.
If this is more what you're after in a case, know it still performs great.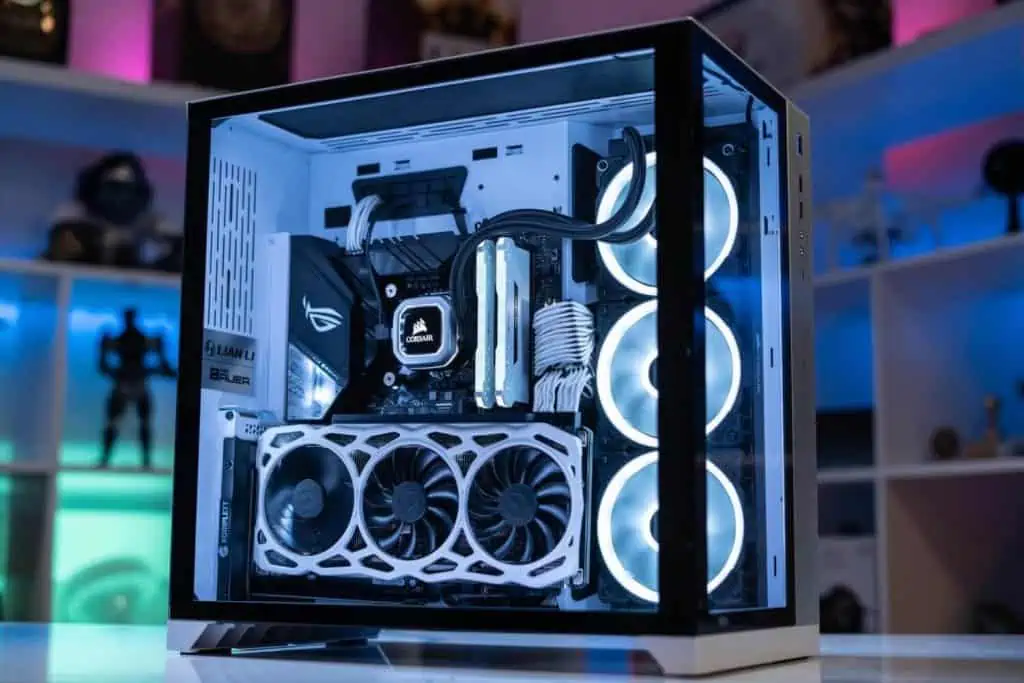 After hundreds of case reviews, here are the best
Hear that? It's the sound of silence.
Finally install every Steam game in your library!
For the sharpest image possible