The 5 Best NZXT Cases in 2022
There's nothing like a good looking PC case.
And NZXT is the master of balancing design with affordability.
One of the best PC case manufacturers around, they've built up a fantastic line of towers refined over many different versions.
But with those versions comes a lot of variety.
So we've built this feature to guide you through the best NZXT PC cases for gaming, streaming, production, and general use setups.
We've selected the top options for different sizes/budgets, and we'll explain the differences between NZXT case common models for those interested.
Overall Best NZXT Case: NZXT H510
This is one of the most popular PC cases on the market for a reason!
To start, we also consider this our best budget NZXT case pick.
It somehow manages to balance great build quality and internal features while maintaining a fantastic price-point.
The chassis exterior is built with a great SGCC steel material and a slick tempered glass window.
The finish, whether you choose: white, black, or a custom option, are all in matte. This gives the case a much more "premium" feel.
But it's not just pretty.
The H510 is a "compact" mid-tower, supporting:
7 expansion slots
VGA lengths up to 381mm (without front radiator installed, 320mm with)
2 x 2.5″ & 2 x 3. 5″ drive bays, with an option to expand to one more of each (likely not needed for a gaming tower)
Despite its small dimensions for an ATX case, the H510 still boasts an impressive internal layout.
You've got more than enough room in here for a multi-GPU gaming computer case.
But how about cooling such a setup?
Well, you'll have:
Up to 2 x 140mm & 2 x 120mm fans with 2 x Aer F120 case fans included, insane for the price
Up to 2 x 140mm & 1 x 120mm radiators (could be combined with 1 140mm fan on the top also)
This availability isn't super impressive for an ATX PC case.
But between the great cable management facilities and decent airflow design, it is still going to be more than enough for gaming rigs and still can be considered a capable PC case for overclocking.
If you are worried about getting the best NZXT computer case for cooling though, read our high-end pick further below.
NZXT H500 vs H510 vs H510i vs H510 Elite:
The H500 was the previous version of the flagship case.
The only real difference between H500 and H510 is that the latter has an included USB Type C port on the front.
Either way, the H500 is becoming discontinued so the H510 is usually cheaper – stick to it.
The H510i is the same H510 case with a pre-installed Smart Device 2 fan/RGB controller & 2 RGB strips.
It's you have the extra money, it makes a great RGB PC case and a nice basis for an illuminated build.
The H510 Elite is similar to the H510, but includes the Smart Device 2 controller, 2 vertical GPU expansion slots, and 2 NZXT AER RGB 2 case fans.
These case fans are some of the best RGB fans on the market and expensive to buy alone, so if you like the look of them it is a good deal.
However, the nicest aesthetic difference for the Elite is the beautiful tempered glass front window.
It really is a sharp, unique PC case and we were tempted to give it the top spot over the H510.
But ultimately, the differences between the models are mainly aesthetic.
So don't fret if you can only afford the H510. We gave it 1st place for a reason!
When you consider the price-tag value, the H510 is the best NZXT ATX case on the market.
If you don't have the budget for the high-end pick or H510 Elite, this is an amazing choice that will cover everything you need in a mid-range gaming/streaming/general use NZXT PC build.
2022 update: The NZXT H510 holds strong as our top NZXT chassis for 2 years running; the balance between price and quality is unmatched for the average build.
Best NZXT Mini ITX Case: NZXT H210
And then there are those looking for the best NZXT ITX case.
We do have a more expensive tiny option further below, but with a budget in mind, there's no beating the H210.
Despite the size, the H210 amazingly retains so many of the features and build quality that its larger brothers have.
You're getting the same beautiful, matte SGCC finish steel/tempered glass exterior.
This NZXT mITX case still offers:
2 x expansion slots (standard for mITX)
GPU Clearance up to 325mm
3 x 2.5″ & 1 x 3.5″ drive bays
Bearing in mind you'll only ever build a single-GPU on a Mini ITX motherboard, this case really does boast fantastic space.
In particular, fitting that amount of storage space is excellent for the form factor.
What's even more impressive though is the amount of cooling:
Up to 2 x 140mm & 2 x 120mm case fans with 2 Aer 120 fans included
Up to 3 x 120mm radiators (with the option to add a further 120mm fan on the top)
It's common for mini ITX PC cases to have 1-3 fans/ 1-2 radiators.
So the availability here is fantastic, the fact that you're also getting 2 free high-quality ones in a cheap NZXT PC case is the cherry on top.
Bear in mind that in such a small chassis, you're not going to get the same cable management/airflow as the other list picks.
But for a single GPU build, this case has more than enough, ideal as a portable computer case for gaming, or simply someone who likes a tiny tower.
If you're looking for the smallest form factor, you really can't get much better than this for the price.
This is easily one of the best budget ITX cases on the market (not just from NZXT!).
Best NZXT EATX Case / High-End Choice: NZXT H710
Our next choice is for those looking for an NZXT mid-tower case with a little more budget than the H510.
Despite the larger material dimensions, you're still getting the same great SGCC steel / tempered glass exterior expected from the H series.
This is also one of our favorite NZXT white case options, the coloring looks fantastic in this black and white aesthetic.
The H710 is the largest case on the list and the closest you'll get to an NZXT full tower in their range today. 
The case can impressively fit EATX motherboards up to 10.7 inches.
You'll have room for:
7 x expansion slots (with 2 extra vertical ones on the H510i model)
VGA length up to 413mm
7 x 2.5″ & 2 x 3.5″ drive bays (with room to expand with a further 2 x 3.5″ bays)
Tied alongside a high-end ATX setup or EATX motherboard, you're going to have amazing potential for a very powerful multi-GPU build here.
The storage is also particularly impressive.
With these drive bay allowances (tied with a large motherboard with NVMe storage options) this is a superb PC case for video editing, server or production usage.
The H710 is also easily the best NZXT case for airflow and cooling, with:
Up to 6 x 120mm + 1 x 140mm fans (with 3 AER 120 + 1 AER 140 case fans included)
Up to 7 x 120mm radiators (or larger size combinations in smaller quantities on the top/bottom)
Tied with a great space for cable management, and massive internal dimensions that will naturally give you more airflow. If you're looking for an NZXT case for watercooling or overclocking, this is the top pick.
With the 4 high-quality fans included, although this is the expensive case option, it still offers fantastic value.
NZXT H700 vs H710 vs H710i
Similar to the H500 series, the main difference between H700 and H710 is that the latter has a USB Type C port on the I/O panel.
But it's also the new refreshed model, so more readily available and likely cheaper than buying a H700 now, so stick to it even if you don't care about this port.
For the H710i, you're also getting the Smart Device V2 fan/RGB controller and 2 RGB strips for illumination.
The only non-aesthetic difference is the addition of 2 extra expansions slots for a vertical GPU mount (great for presentation).
These additions do look great and are a perfect basis for a beautiful RGB build (but if you can only afford H710, don't fret: you are essentially getting the same case feature-wise).
Simply put, the H710 is the best NZXT ATX case for gaming and high-end production builds if you have more of a budget.
Best NZXT Micro ATX Case: NZXT H400i
2021 Update: The H400 series is the last remaining Micro ATX case by NZXT, and unfortunately appears to be in lower stock levels this year.
If it's not in stock when you click through to the Amazon page, we'd recommend picking up the H510 and running an ATX build. Or, if you're more focused on compactness, pickup the H210 and go for ITX (alternatively, we have alternative great mATX options available in other features).
Next up is for those looking for the best NZXT mATX case.
The most impressive thing about this PC tower case is that it retains (and in some ways, exceeds) many of the same great qualities as the H510 despite its mini tower form factor.
To start, it has the same great SGCC steel/tempered glass build and matte finish.
The mini form factor also means it looks particularly great for an on-desk setup.
You're getting excellent internal capability for the size, with:
4 x expansion slots
3 x 2.5″ & 1 x 3.5″ drive bays
Graphics cards up to 411mm
This is an ideal NZXT gaming PC case for dual GPU (the most you'll get out of a Micro ATX motherboard, but more than enough for a powerful setup).
The cooling is excellent for the dimensions, with:
Up to 5 x 120mm fans with 3 x Aer 120 Case fans included
Up to 2 x 140mm & 1 x 120mm radiators (again, combinable with a top 140mm fan)
As far as Micro ATX cases go, there is still a decent amount of room in here for cable management and airflow.
Between this and the cooling capability, you've got one of the best Micro ATX cases for overclocking for a mid-range price tag.
Of course, you are paying a premium above the H510 for this.
But if you have the budget and want to stick to a smaller form factor, this is an amazing choice.
Smallest NZXT Case: NZXT H1
And last but by no means least is for NZXT builders looking for the smallest PC case they can find.
The NZXT H1 is a new ITX case that boasts what feels like wizardry to create a small console-sized PC case for gaming.
The features include:
A PCIe 3 riser card to vertically install a GPU
2 x expansion slots / GPU lengths up to 305mm 
Beautiful SGCC steel and tinted tempered glass exterior.
2 x 2.5″ bays (many larger ITX cases only have 1)
With this space, you'll still have room for most major GPUs on the market (but in a case this small be sure to check the full dimensions when buying GPU).
This is also a PC case with power supply included.
It's an integrated 650W 80+ Gold PSU with the chassis designed around accomodating it and is enough for a great ITX gaming build.
On top of that, you have a pre-installed AIO 140mm Liquid Cooler for your CPU.
This is designed to be the only cooling required in the tower.
With a dual-chamber case design, the GPU and CPU are getting their own independent airflow in the case.
Of course in a case this small, you're not going to get the cooling capability of a larger case.
But the fact that a case this small even exists for gaming is impressive in itself!
You're still going to have a good cooling solution providing you don't go hard on overclocking.
It's one of the most expensive PC cases of its form factor, but with all of these features, you can probably see why.
For a high-end ITX build you'd of course need a compatible PSU and cooler anyway so it's not like you're paying a tall premium for just the case, there is a lot of value in the price tag.
If you're building a portable gaming PC, focussed on style and have the budget, know that this is the best small NZXT case around.
Final Thoughts
Rest assured, the above are the best NZXT cases available today.
If you can't afford the expensive options, don't fret, we chose the H510 as our number one pick for a reason.
By all means, if you can fork out for the H1/H710 then great.
But the H510 will have everything an average gaming/production build will need.
Whatever the budget/choice, you're going to love building in an NZXT tower!
Hear that? It's the sound of silence.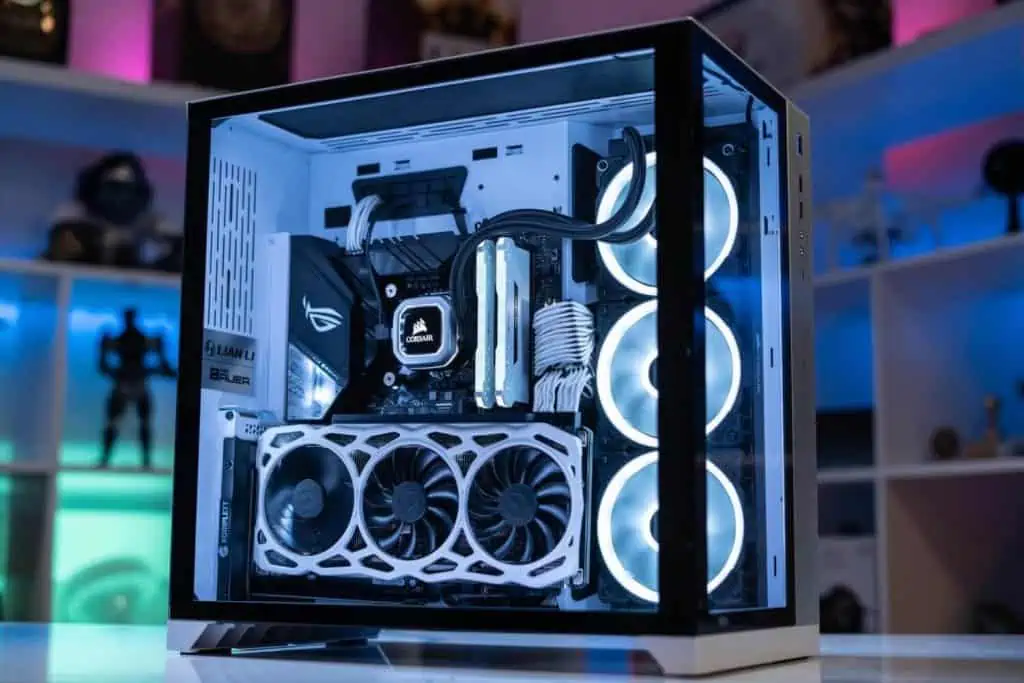 After hundreds of case reviews, here are the best
For serious production users
The largest towers worth buying