The 8 Best Cooler Master Cases of 2023
I updated this list in June after reviewing Cooler Master's latest releases in 2023. None of my top picks have changed this time around, but I did find some decent alternatives in certain categories that I've mentioned where relevant.
Cooler Master is one of the oldest names in the PC case manufacturer business for a reason.
This behemoth brand has created hundreds of towers in all shapes, sizes, and functions over the years.
Now in 2023, there is a whole bunch of other competition. But CM's best recent cases still manage to stand amongst the top options.
Our feature will guide you through the best Cooler Master cases available for your next PC build, tailored to different requirements and budgets.
Top Picks
Best of the Rest: Quick-Fire Picks
Best Budget Cooler Master Micro ATX Case: Q300L
Best Budget Cooler Master Mini ITX Case: Elite 130
Alternative Design Choice for ATX Builders: MasterBox TD500
Overall Best Cooler Master Case: MasterBox MB530P
What a truly great PC case this is.
The MB530P manages to strike an incredibly impressive balance between space, cooling, build quality, and price.
Starting with the build, this is a beautiful chassis and arguably one of the best looking Cooler Master cases, with:
3 thick tempered glass panels on the sides/front
Largely steel-based exterior (with some high-quality plastic elements)
3 pre-installed high-performance 120mm addressable RGB fans & controller
With the high glass visibility, the beautiful clean black finish of the exterior material, and the included RGB fans, this is easily the best RGB case by Cooler Master.
The case also boasts decent cable management facilities and room to hide your PSU to keep a clean aesthetic.
But it's not just pretty.
The MB530P is an ATX/mid tower case with great room for:
7 x expansion slots
2 x 3.5″ & 4 x 3.5″ storage bays
GPUs up to 410mm in length.
This case truly shines as a gaming machine, with the space for a powerful multi-GPU build and awesome cooling.
Speaking of cooling, you'll have the options for:
Up to 6 x 120mm fans (with 3 x ARGB + 1 x standard 120mm fans included)
Up to 1 x 360mm, 1 x 240mm & 1 x 120mm radiators.
You can of course have a hybrid between water and fan cooling here.
But given the high quality (and well designed) fans included, we'd recommend sticking mostly to them.
That being said, when you tie those pre-installed fans with the great build shape for ventilation in this unit, you have one of the best PC cases for air cooling in the ATX space.
Note: You will see there are some unfavorable customer reviews for the Amazon product listing; a majority of these are for a different model, the MB Pro 5 RGB, which we are not recommending here.
MB530P may seem a little on the expensive side.
But when you consider the 4 included fans (3 being ARGB, pricey to buy individually) and the incredible case quality you're getting, it has an amazing value.
Simply put, this is the best Cooler Master PC case available today.
We can't recommend it enough for gaming, streaming and other mainstream enthusiast builds.
2023 update: The MB530P remains my top overall pick for the best Cooler Master case, it manages to strike such a great balance between price, design, build quality, airflow and features that we expect most users will want.
Best Budget Cooler Master Case: MasterBox NR600
There's good news if the top pick is outside of your price range and you're looking for a cheap Cooler Master Case option.
The MasterBox NR range has been around for a while and for good reason.
A lot of this feature is focussed on the various NR ranges but for a usual builder looking for a cooler master ATX case, the NR600 is for you.
While being in a much cheaper price range, the case still retains a great build quality and aesthetic.
With a steel/plastic hybrid exterior, a beautiful tempered glass window on the side, and a mesh front, the case has a simple but chic design.
The material isn't quite the same quality as our top pick but is very good when compared to the other cases in the price range and the dark finish on the case looks great.
But perhaps the most impressive feature of the NR600 is the awesome space availability.
On the larger side of mid towers, there's room for:
7 x expansion slots
1 x 5.25″, 4 x 3.5″ & 5 x 2.5″ drive bays
Graphics cards up to 410mm in length
You'll note that while there's clearly room in here for any budget gaming build you'll be making, the real stand-out feature is the storage space.
Having up to 10 different drives is perhaps overkill for many users, but if you feel like you may need to expand your storage over time (for say, editing, or other production), this is a fantastic option.
Finally, for cooling, the NR600 has:
Up to 5 x 120mm fans with 2 pre-installed.
Up to 1 x 280mm, 1 x 240mm & 1 x 120mm radiators (240mm required 5.25″ drive bay removal).
While not reaching quite the same cooling capacity (or internal ventilation design) as the B530P, we don't expect you'll need as much for a budget gaming build.
This certainly has enough cooling capability to comfortably handle a single (or even dual) GPU machine.
While we love the 530P and think it's worth the extra if you have the budget, don't be disappointed if this is more in your price range.
The NR600 is a fantastic option and easily the best budget ATX case by Cooler Master available.
(If you're looking for the cheapest PC case we'd highly recommend by CM, check out our top mATX choice below).
Best High-End & E-ATX Cooler Master PC Case: Cosmos C700P
If you have the budget, Cooler Master has created a premium PC case matched by very few.
The Cosmos C700p is an absolute beast for pretty much all major enthusiast requirements right down to the fine details.
It's worth noting that the case is now in version 2, which fixes some initial problems the first version had (mainly PSU shroud sizing).
The build quality is fantastic, with a full high-quality steel exterior and tinted curved tempered glass side panel.
The exterior finish and large, curved glass panel really do give this case a look and feel that not many cases can replicate.
The top of the case is also lined with smooth RGB lighting.
The internals of the case are very customizable and there is a lot of freedom to install your parts in varying positions.
Stock photos don't do it justice, with a completed PC built exactly how you like, you'd be hard-pressed to find a better case to show off your build than the C700P.
But amazing aesthetics is only a tiny portion of what the C700P offers.
This Cooler Master chassis is a full tower / E-ATX case.
The size (alongside the build quality) make this an absolute monster, with space for:
8 x expansion slots
1 x 5.25″, 4 x 3.5″/2.5″ & 4 x 2.5″ drive bays with the option to extend up to 12 x 3.5″ drive bays
GPUs up to 490 in length (without 3.5″ drive bay cage).
Up to 9 x 140mm fans with 3 included
Up to 2 x 420mm, 1 x 240mm & 1 x 120mm radiators (arguably the best PC case for water cooling).
These size specs are seriously impressive.
Breaking this down for a gaming build, the VGA space and cooling capability are some of the best on the market.
For enthusiast gamers, the C700P is one of the best PC cases for overclocking and a multi-GPU build around.
This is also hands down one of the top towers for storage available and perhaps the best PC case for video editing, server, or production usage around.
We'd be here all day if we talked about every nice detail the case had (like how all 4 of its USB front panel ports are 3.0, with an additional 3.1 type C output).
Rest assured, if you have the budget, this isn't just the best Cooler Master PC money can buy, but one of the all-time best PC cases for gaming, video editing, and other high-end usage.
Best Cooler Master Micro ATX Case: MasterBox NR400
For builders looking at creating a mini-tower PC, we return to another variant of the NR series.
The NR400 isn't just the best Micro ATX case, but also the cheapest PC case by Cooler Master in our top 5 favorite case picks.
Despite its low price, it still retains a decent build quality with a steel/plastic mix exterior, tempered glass window, and mesh front.
The case also manages to offer great space for an mATX PC case, with:
4 x expansion slots
1 x 5.25″, 4 x 3.5″ & 4 x 2.5″ drive bays
VGA length clearance of up to 346mm
You'll have room in here for a dual-GPU build if you desire.
But the storge, in particular, is really impressive as far as Micro ATX towers go; because usually, you're compromising on storage availability a little more in this form factor.
And finally, for cooling, there's still decent room for:
Up to 4 x 120mm fans with 2 pre-installed.
Up to 1 x 240mm & 2 x 120mm radiators
While you'll never get quite the same potential in a mini-tower over a mid/full tower, there is still enough cooling in here for a powerful Micro ATX gaming build.
NR600 vs NR400 – > The NR400 is essentially the Micro ATX version of the NR400, with the same build quality, but slightly less component room and cooling capability.
Therefore if you're looking to build a beast of a gaming PC, the NR600 may be the better choice.
But rest assured, for single-GPU builds or people particularly fond of the compact size, the NR400 is one of the best Micro ATX PC cases on the market.
2023 update: I still rate the NR400, but Cooler Master has released another great mATX case, the TD300, which boasts similar great performance and features but at a much more modern aesthetic. Its price tag is also higher, so it's really up to you if you would like to pay a little more to get a more exciting design.
Best Cooler Master Mini-ITX Case: MasterBox NR200
Finally in our top 5 picks is those looking for the smallest PC case form factor possible.
The NR200 is a brand new offering by Cooler Master and we're confident it's going to take the ITX world by storm.
Firstly, the build quality is a beautiful SGCC steel exterior.
This is particularly nice for a small tower because its durability tied with the compact size makes it ideal for a portable PC case.
But the space inside this case despite its tight dimensions is the #1 winning factor.
With what feels like wizardry, the case has room for:
3 x expansion slots (nearly always 2 in a mITX case, so room for triple-slotted GPUs).
VGAs up to 330mm in length
1 x 3.5″, 2 x 2.5″ & 1 x 3.5″ / 2.5″ hybrid drive bays
Up to 6 x 120mm and 1 x 92mm fans with 1 x 120mm & 1 x 92mm fans included
Up to 1 x 280mm, 1 x 140mm & 1 x 92mm radiators
Yes, you read those specs right!
While these aren't all amazing space factors compared to some others on our list, anyone with mITX knowledge knows the space is very impressive for the form factor.
It's worth noting that some of the air/water cooling capability is only available with certain customizations (e.g. not installing a GPU vertically).
That being said, the fact you can install the same amount of fans that you would find in many ATX cases is truly an achievement.
Not only that, but Cooler Master has lived up to their name by building decent 5-sided ventilation around the case to cater to the high-fan airflow.
This is hands down the best mITX case for cooling on the market right now.
And with the other space availability, you'll get a better gaming machine than pretty much any other Micro ATX case will offer.
You can probably tell from with our review that this is less a question of whether this is the best cooler master mITX case, but more if there's any other worthy competitor in the form factor!
If you're looking a Mini ITX case for gaming, streaming, or other general use, rest assured – this is a great choice.
Best of the Rest: Quick-Fire Picks
If you're looking for the best Cooler Master PC cases, we highly recommend sticking to the top 5 picks above as they're the real stand-outs.
That being said, we wanted to include a few more options briefly for some other specific requirements
Alternative Design Choice for ATX Builders: MasterBox TD500
The TD500 is a beautiful new case from Cooler Master, and in a lot of ways it has similar specs on paper to our top ATX picks.
Unfortunately, the overall quality of the case is not quite up to par, and many users have also been reporting defected units.
If you particularly like the design and don't have a very demanding build however, it could still be an option for you.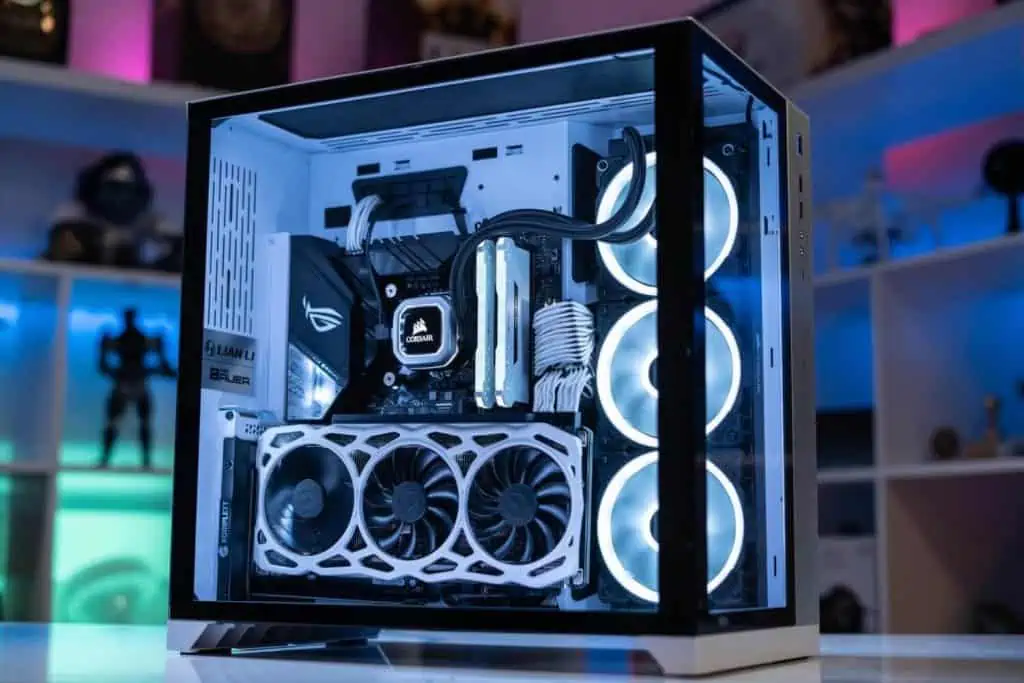 After hundreds of case reviews, here are the best
Hear that? It's the sound of silence.
For the smoothest gaming possible
For those after the full package