The 10 Best SilverStone Cases of 2023
I updated this feature in June to cover SilverStone's releases over 2023. A few of our picks have been changed, and I've added alternatives for some of the cases that occasionally run into stock issues.
SilverStone Technology is a name you'll know if you've been buying PC cases for the last couple of decades.
In a world of flashy towers with lots of bells and whistles, the SilverStone brand stands out by offering their more "mature", minimalist designs (while still included lots of great case specs).
This feature will take you through the best SilverStone PC cases for gaming, home theatre, production, and more; whatever your size/budget requirements.
Top Picks
Best of the Rest: Quick-Fire Picks
Overall Best SilverStone Case: SilverStone RL06
This is a popular case for a reason.
The RL06 is Silverstone's best balance between cost, build quality, and feature-set.
What you're getting for its price-point is really a fantastic value chassis that we think will meet your needs nicely if you're building a mid-range gaming or production PC.
Starting with the build, a good portion of the exterior is made of well-finished steel that looks as good as it feels.
All the RL06 series models are good but the ones we love the most are the GP variations.
These come with thick tempered glass windows running down the full length of the case.
This will make your build really stand out once complete and powered on.
Space-wise, this is an ATX case, with room for:
7 x expansion slots
Graphics cards up to 348mm (will cover nearly all mainstream cards)
3 x 2.5″ / 3.5″ & 2 x 2.5″ drive bays
The size and specs are great, with plenty of storage room should you be building something media/editing focussed.
But also just as much room for GPUs for a gaming focussed build.
The RL06 has great cooling in mind also, with capacity for:
6 x 120mm fans with 3 x high-quality LED fans included (in GP/PRO versions)
Or 2 x 240mm & 1 x 120mm radiators
Combined with a great internal design for ventilation and good cable management facilities, this is a great PC case for overclocking and cooling.
With its aesthetic, fan inclusion, features and build quality all under a fantastic price-point, I'm sure you can tell why we consider the RL06 the best SilverStone PC case available today.
2023 update: The RL06 still takes my top spot on this feature, but I've seen it occasionally run into stock issues over the last few months. Note that all 4 versions of the Amazon listing are mostly just aesthetic changes so even if the one we reviewed is out of stock, they're all viable options.
Runner-Up Best SilverStone Case: SilverStone GD09
Featured previously as the best horizontal PC case available today, the GD09 is a fantastic chassis.
We give this the runner-up accolade as the RL06 caters more for typical gaming/production builds in its form factor.
But if you like the aesthetic of the GD09 and don't need some insane capability for multi-GPUs or overclocking, or you're looking for the best HTPC case around, then you're in luck.
The exterior is made from beautiful thick steel with a faux aluminum finish (as you can probably tell even from the stock photos, it looks great).
Size-wise, you're getting:
7 expansion slots
GPUs up to 309mm (width restriction of 133mm)
1 x 5.25″, 2 x 3.5″ & 1 x 2.5″ drive bays
Up to 3 x 120mm fans (1 included) + 2 x 80mm fans
With its optical drive, fan availability, and overall style, SilverStone primarily has HTPC case builders in mind with this offering.
That doesn't mean you couldn't use it for a modest gaming PC if preferred; there is still plenty of cooling available here for a single GPU.
We really love the unique take GD09 has here on the console-shaped PC case.
Perfect for a media center, living room PC, or just someone who likes a more mature style, the GD09 is a fantastic ATX case.
2023 update: If the link below to the GD09 is out of stock, please also check here. For whatever reason, its stock is spread over 2 different listings on Amazon.
Overall Best Budget SilverStone Case: SilverStone FARA R1
As far as cheap SilverStone cases go, the FARA R1 is very impressive quality-wise considering its low price-point.
You're of course not getting the same build quality as the top picks, with a thinner steel material used for most of the exterior.
That said, the fact that it's based on steel at all is decent (with many all-plastic cases existing in its price range), and the finish still looks slick.
This budget ATX case has good room for gaming or cheap enthusiast builds too, with:
7 x expansion slots
GPUs up to 322mm length (potentially more with the front fan removed, but likely unnecessary).
1 x 3.5″ & 4 x 2.5″ drive bays
Air cooling: up to 6 x 120mm with 1 pre-installed 120mm fan (great for the price)
Water cooling: up to 1 x 280mm, 1 x 240mm & 1 x 120mm radiators
If you're going for a budget build, you'll be able to add 1 or 2 more fans to the pre-installed one and have enough for decent cooling.
And that's the beauty of the R1; it may not be the highest-quality case in the world.
But for its price, it has so much to get you going (with options to upgrade later more storage/fans, etc).
Simply put, if your wallet can't stretch to one of the top picks, this is still a fantastic offering and easily the best budget SilverStone PC case today.
Overall Best SilverStone Micro ATX Case: SilverStone PS15
For those builders looking for a smaller form factor, the PS15 is a great middle-ground answer at a very decent price.
With a full-steel exterior (bar the mesh front panel) and a tempered glass window, the case looks great when put next to other mATX towers in its budget.
The white version in particular is gorgeous; with the full interior painted white (not something you always see in white PC cases).
We also love how the glass window runs down the full length of the main side.
Many cases usually hide the bottom section for the PSU, but SilverStone subtly hides it in the back and give your flashier components more room to shine.
On the smaller side of an mATX case, the PS15 still packs a bunch for:
4 expansion slots
VGA card up to 314mm in length (good enough for most mainstream offerings)
1 x 2.5″ & 3 x 2.5″ drive bays
Up to 5 x 120mm fans (with 1 included, fantastic for the price)
Or up to 1 x 240mm & 1 x 120mm radiators
For the form factor, these are decent specs. You have enough storage and GPU room here for a build focussed on either gaming or production/media (or both!).
The cooling capability is also decent, and with the mesh design and some additional quality-of-life airflow features around the case, you'll be in a good place to cool in a form factor that often struggles.
Offering incredible value for its price, the PS15 is the best Silverstone mATX case on offer today.
Overall Best SilverStone Mini ITX Case: SilverStone SG13P
The SG13P is another example of how SilverStone weaves incredible chassis design into really affordable price tags.
In the smallest main form factor, the SG13P is tiny, and is a unique cube-shaped style.
While the case exterior is largely plastic, it still feels and looks great with a faux aluminum finish topping it off.
The multiple mesh panels around the case manage to look stylish, while of course offering much-needed ventilation often lacking in the form factor.
Size-wise, you'll have:
2 x expansion slots
GPUs up to 270mm long (129mm wide)
1 x 2.5″ /3.5″ & 1 x 2.5″ drive bays
1 x 140mm fan or radiator
The specs are nice for the dimensions, we particularly like how you can fit a 3.5″ drive in here (not always the case with mITX).
You will of course need to be careful of what components you buy, not just GPUS but your motherboard & PSU too to ensure they will fit.
The fan/water cooling capability is minimal, but that is to be expected with mITX.
The point of the SG13P is to make up for it with oversized vents (cheaper than buying fans!).
If you like the unique design and appreciate the incredible value offering the SG13P represents, then go for it. It's comfortably our pick for the best SilverStone mITX case.
Alternative Picks – Best of the Rest
While the above 5 options are our top choices, SilverStone has a lot of quality cases on offer, and we chose a couple of quick-fire picks we would still recommend if you have some specific requirements/taste.
Stylish ATX Case Alternative: SilverStone SETA A1
The A1 wasn't very far off being one of our top ATX picks; it's more a testament to how good the top 2 ATX cases are that it wasn't included.
Arguably the best-looking case SilverStone has created, if you're looking for something stylish that would still be a great basis for a powerful PC, the A1 is a great choice.
Best Premium ATX Alternative: SilverStone PM02
Another ATX case nearly taking one of the top spots, the PM02 is slightly more expensive than our top picks but comes with higher quality exterior material and 4 great 140mm fans included.
If the style appeals to you and its within your budget, know its a fantastic option for a gaming/production build.
Best Alternative Micro ATX Case: SilverStone PS14
Of all of our top picks, the battle between the PS14 and PS15 was the closest.
Very similar in spec and price, it really comes down to the aesthetic.
We prefer the PS15 for offering a more shrouded PSU, but if you prefer the PS14 design, then go for it – it's just as good feature-wise.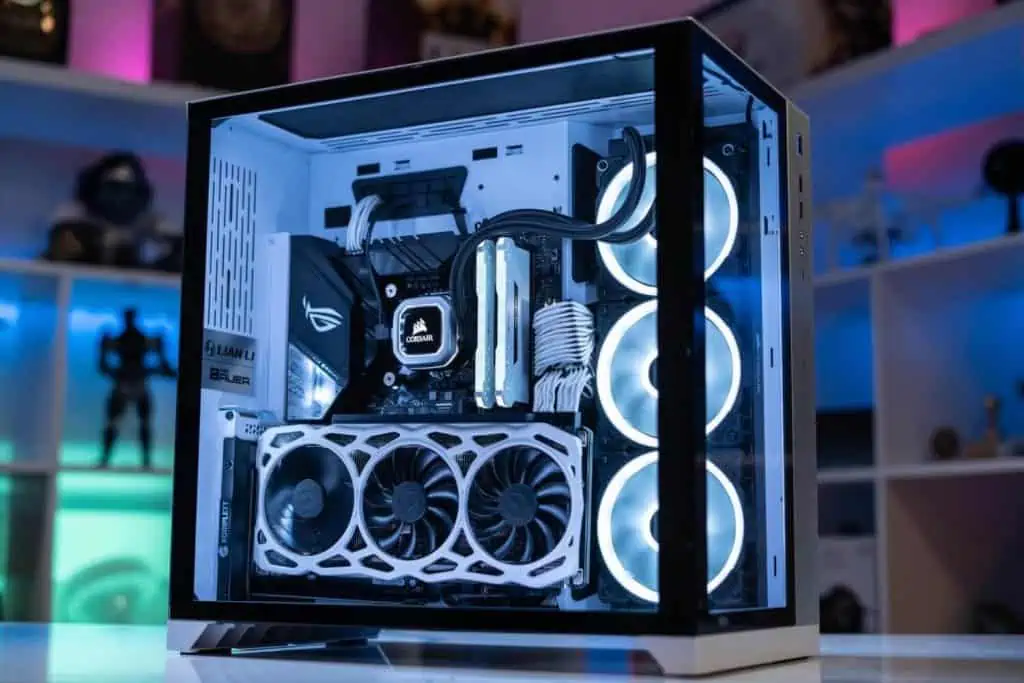 After hundreds of case reviews, here are the best
Hear that? It's the sound of silence.
For the smoothest gaming possible
For those after the full package