The 5 Best Console-Style PC Cases in 2021
In the world of PC cases, there's an overwhelming amount of good looking, unique cases out there.
But what about those after the classic console-esque aesthetic, akin to a PlayStation/Xbox?
Today's feature will guide you through the best console-sized PC cases for your next gaming build.
Overall Best Console-Style PC Case: Fractal Design Node 202
What a fantastic chassis this is.
If your budget doesn't stretch to our top premium pick further below, the Node 202 is the perfect choice for creating a console-style aesthetic.
The reason we rank the Node 202 at the overall top is due to the impressive balance between its tight, slim, Mini-ITX form factor, and intelligent, internal design that allows you to install a powerful mainstream GPU within its size limitations.
Its steel/plastic hybrid design looks very slick, with a high quality finish and sturdiness that makes the chassis feel particularly premium.
Inside, there is room for:
A separate GPU chamber that can accommodate a video card up to 310 x 147 mm
2 x 2.5″ drive bays
Room in the GPU chamber for 2 x 120mm fans (impressive for the shape/size, but bear in mind these will have to compete with the GPU dimensions)
The hardware you can install within the Node 202 is really impressive considering it's unique, slim form factor.
It doesn't just look the part, you have room in here for a serious console-style gaming PC build; with a majority of mainstream graphics cards being installable (check your choice before installing!).
While you're (of course) not going to get the same airflow as a larger "traditional" case (ATX, etc.) the ventilation design in the Node 202 is fantastic, with its separate GPU chamber that segregates cooling; not to mention the optional fan mounts if your build demands them.
Overall, while we love the premium NZXT H1 pick below (and think anyone reading should also consider that chassis), the Node 202 is the best console-sized PC case for gaming or general/media use available at an average budget and performs incredibly well for its form factor.
Runner-Up Best Console-Style PC Case: SilverStone ML08
Coming in very closely behind the Node 202 is a worthy alternative (if it suits your need more) in the ML08.
Its steel body and reinforced plastic shell looks as high quality as it feels, with this chassis easily doubling as one of the best portable PC case choices.
With room inside for:
An independent graphics card chamber for a dual-expansion slot card up to 330 x 121mm
Oversized vents designed to provide fan-less cooling setup for the tight layout
2 x 2.5″ drive bays
Some convenient install features, such as its tool-less drive bays/dual chamber design
The internal dimension in here are still very impressive for the case's external size, with the GPU slot still being large enough for most popular choices (remember to check!).
We rank this a tad below the Node 202 as its GPU width allowances are slightly less, and there is no optional case fans (though the case performs surprisingly well with its oversized vents).
The GPU length allowance is notably longer, but we expect the width to be the main consideration point for your installation as very few cards are over 310mm (having extended width is also nicer for airflow on most cards).
But all things considered, this is still an excellent option and easily one of the best console-sized cases available; don't hesitate if you prefer it over the Node 202.
Best Budget Console-Style PC Case: Thermaltake Core V1
This pick is a bit of a side-track from the more standard console-like PC cases we've featured in the rest of the list.
But we thought this pick still deserved a place if your idea of a console PC case is closer to a GameCube (or you're simply flexible if the budget is right).
The Core V1 is a really impressive case for the price and has been featured many times previously on What in Tech.
The build quality is really quite impressive considering its low cost; with an SPCC steel/tempered glass design, covered with extended ventilations (important in a small case).
Being largely considered as one of the best Mini-ITX cases for budget gaming builds, you have great room in here for:
2 expansion slots/GPU lengths up to 285mm
2 x 2.5″ & 2 x 3.5″ hidden drive bays
1 included 200mm fan + space for 2 x 80mm fans
As you can see, the length allowance on the GPU space is a tad lower than our other picks (but still good enough for many popular cards if you check pre-purchase).
The Core V1 makes up for this with its additional storage compartments and excellent cooling capability.
While we think the above picks better capture the essence of a console-style computer case, there is no chassis of those styles in the V1's price range. It really is an excellent alternative.
Best Console-Style PC Case for Cooling (Premium Pick): NZXT H1
2021 Update: As it stands right now, the NZXT H1 is temporarily out of stock due an issue with the GPU riser. We have left this recommendation on as NZXT have suggested the case will be re-stocked shortly (likely in a month or two) and we still think this is one of the best console PC cases available. If you check the links it may be available. If not, we suggest the closest alternative to the style of case the H1 goes for is the SilverStone LD03B which is an excellent console-like alternative.
If we had to pick just one case to crown as the best console-style tower available today, this would be it.
Due to its price tag, we've given the H1 the "premium choice" label.
But before you cry at the price, know you're getting a lot of bang for your buck beyond just a PC case with the H1.
On top of its incredible design/build quality (that we'll get to shortly), the case is worth its price-tag due to the included fully modular 650W PSU and AIO water-cooler.
The NZXT H1 is special as it has been designed with this PSU and water-cooler in mind.
This has been done to remove any unnecessary size gaps that the other cases demand to be compatible with a wider range of SFX PSUs/cooling.
Everything inside the unit is carefully designed and has its place (no waste) with room for:
A beautiful SGCC steel/tinted tempered glass design – this is easily the highest quality and best-looking console tower on the list and the closest thing you'll see to an Xbox PC case
A dual-chamber layout that gives fantastic ventilation to the allotted GPU space (up to 305mm x 128mm for your card).
2 x 2.5″ drive bays
It cannot be overstated how impressive the H1 is from both a design and performance perspective.
As good-looking as the unit is turned off, seeing your beautiful components light up through the tinted window (classily displaying them in the tight form factor) is a level of elegance you can't really find elsewhere.
And the fact that the ventilation/integrated water-cooler work so well to provide cooling is something extra special in this form factor.
This isn't just the best console-shaped PC case, but one of the best Mini-ITX cases available today.
Best Budget Console-Style Tower Alternative: SilverStone ML05
As much as we rave about the Core V1 as a budget pick above, we thought it sensible to include the cheapest console PC case option that matches the slimmer parameters.
The ML05 is the smaller brother of the ML08 and is the smallest PC case on the list with a tiny 7 litre volume.
With a similar, great build quality and design, as well as space for 2 x 80mm fans, 4 x 2.5″ drive bays and an optical disc drive, you can be forgiven thinking this is the ideal choice.
There is a big gap with the Ml05 though: it only has 1 expansion slot and is not designed for most independent/large GPUs.
Being more specialised as an HTPC case, you would need either a specialised GPU with 1 expansion slot, or integrated motherboard graphics for this to work for you.
We thought to include this as appreciated some budget PC builds looking for a console sized tower may be after integrated graphics if their focus was more on portability.
That being said, if you're looking for the best console-sized computer case for gaming, the options above will be far better suited.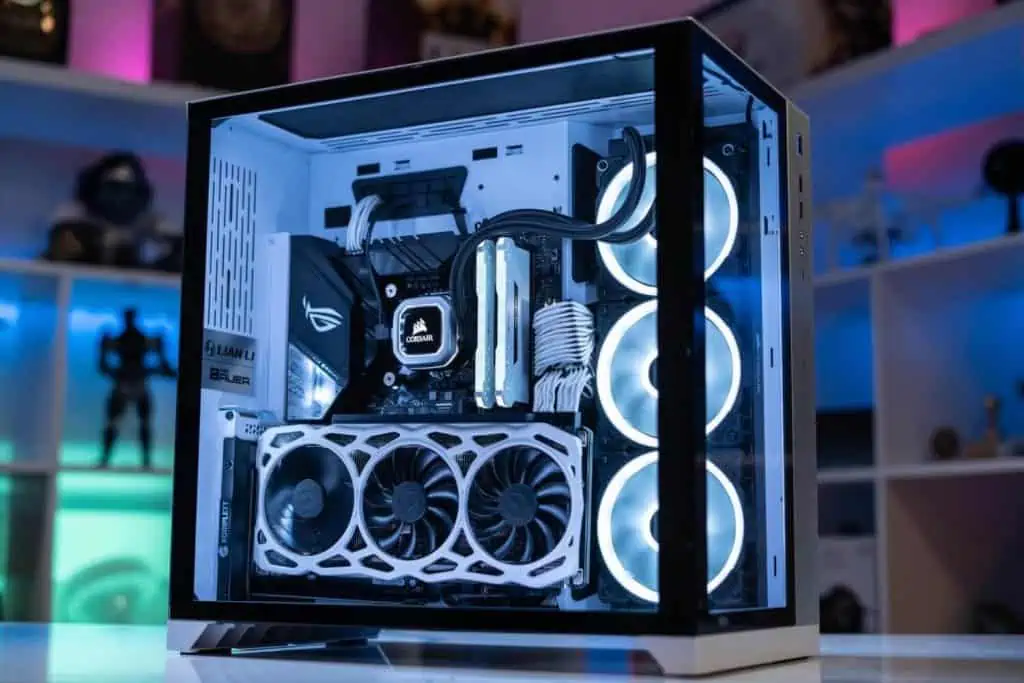 After hundreds of case reviews, here are the best
Hear that? It's the sound of silence.
Finally install every Steam game in your library!
For the sharpest image possible