The 5 Best PC Cases Without Windows in 2021
As popular as a clearer, tempered glass chassis is nowadays, what about those after a more minimalist PC case?
Whether it's for a cleaner style, noise reduction, or anything else; today's feature breaks down the best windowless PC cases available today for different budgets and sizes.
Top Picks
Best of the Rest: Quick-Fire Picks
Overall Best PC Case Without Window: Fractal Design Define R5
We really cannot speak highly enough of the Define R5.
Not only is this the best computer case without windows, but it's one of the greatest towers on the market today in any category (and our favorite case from Fractal Design, who are undoubtedly the best brand for windowless options).
The build quality of this case is top-tier. With a majority steel (or metal finish) exterior that gives the chassis an understated but stylish look (stock photos do not do it justice).
Fractal's towers are known for their sound-dampening abilities without notable compromise on performance. Building your setup in the R5 gives you a fantastic balance between silence and cooling, with this being the best windowless PC case for airflow, including room for:
Up to 9 140mm fans + 2 great Fractal Design Dynamic GP-14 fans included
Or up to 420mm top, 360mm side, 240mm bottom & 140mm rear radiators
This is a really impressive allotment for a windowless ATX case. The form factor often offers a lot less (not that you need to have all 9 fans to run a computer well, maxing out will help you if you're going for overclocking or a seriously powerful setup). The R5 has been known to actually outperform many of its open-air competitors for running an intensive setup.
We love the R5 for its hardware space availability too, with room for:
7 expansion slots
VGA cards up to 310mm in length (if you need to, removing the HDD case can up this to 440mm, but most mainstream cards will fit in the 310mm space).
8 x 3.5″ / 2.5″, 2 x 2.5″ & 2 x optical drive bays
Between the cooling and internal space, this is easily our top pick for the best windowless PC case for gaming; but beyond that, this is also a great chassis for anybody with high storage needs (think video editing, production work, or server builds).
What else is there to say? Between its fantastic build quality, cooling performance, sound dampening, and space for powerful hardware all rolled into a mid-range price, the R5 ticks all the boxes and is, without doubt, the overall best PC case without a side-panel window.
Best Budget PC Case Without Window: Corsair Carbide 200R
As much as we love the R5 for gaming and work builds alike, if you're looking for a cheap windowless PC case, the 200R is a great substitute for its price.
One of the best cheap cases by Corsair, this chassis has a steel exterior. Albeit a thin material with a basic finish, we still respect that Corsair has not gone for plastic in such a low-price PC case. It looks and feels decent compared to its budget counterparts.
This windowless chassis is a compact ATX case, with decent room for:
7 x expansion slots
Graphics cards up to 420mm in length
3 x 5.25″, 4 x 3.5″ & 4 x 2.5″ drive bays
Fan setup: Up to 8 x 120mm fans (2 included)
For its size and price, the 200R has an impressive allowance for fans and hardware.
You are, of course, not going to get the same level of cooling & sound dampening as the R5 (but again, with its low price in mind, it's a great offering).
We like also that even at this budget, Corsair hasn't avoided including 2 fans which will be enough to get your build up and running.
If your wallet is tight, know that we're confident in this being the best cheap PC case without a window on the market today.
Best Premium PC Case Without Window: Fractal Design Define 7 XL
As you may have expected, we're back to Fractal, who simply excel at providing the top windowless PC cases.
This next option is for their top range model that is perfect for anybody trying to build the most powerful silent PC setup they possibly can (there isn't a case on the market that could do this better).
The Define 7 XL is a huge E-ATX case, with incredible space for:
9 Expansion slots with a further 3 for vertical install options
359mm GPU clearance (or up to 549mm when removing some modular case parts)
Drive bays included: 8 x 2.5″ / 3.5″ (up to 18 available), 2 x 2.5″ (up to 5 available) & 2 x optical″
30mm routing space for cable management
9 x 120mm fans (with 3 x Dynamic X2 GP-14 included)
Or  2 x 480mm, 1 x 280mm & 1 x 140mm radiators
Yes, that's right, this case has pretty much everything you could need, even in a powerful high-end build.
With incredible storage space, this is one of the best server PC cases or something for a media/gaming library.
Speaking of gaming, between the excellent cooling capability of the 7XL, and its monumental space for hardware, you have the best windowless PC case for overclocking, multi-GPU setups, and much more.
What's more impressive is how this case can still retain very low decibel levels with such a large space for noisy hardware inside. It manages to achieve this through its high quality (beautiful) build, industrial sound dampening panels, great cable management facilities, and modularity for non-required components (e.g. HDD cages, removing unneeded case parts reduces rattling).
While the R5 will suit a majority of gamers and other builds well, if your goal is to create the most powerful build possible in a PC case without glass, this is your best option.
Small Form Factor Windowless PC Cases
While the top 3 picks are our favorites for your typical gaming or work-related build, we've added a couple of extra quick-fire picks for great cases in smaller form factors.
Best Micro ATX Case Without Window: Cooler Master N200
A ridiculously cheap offering for windowless Micro ATX case builds that still retains a great quality for gaming and production setups alike. The fact that it includes fans at its price is insane, we'd still be recommending it if it didn't
While you can look at the best Fractal mATX option if you have a higher budget, know the N200 has nearly everything the average mini-build needs.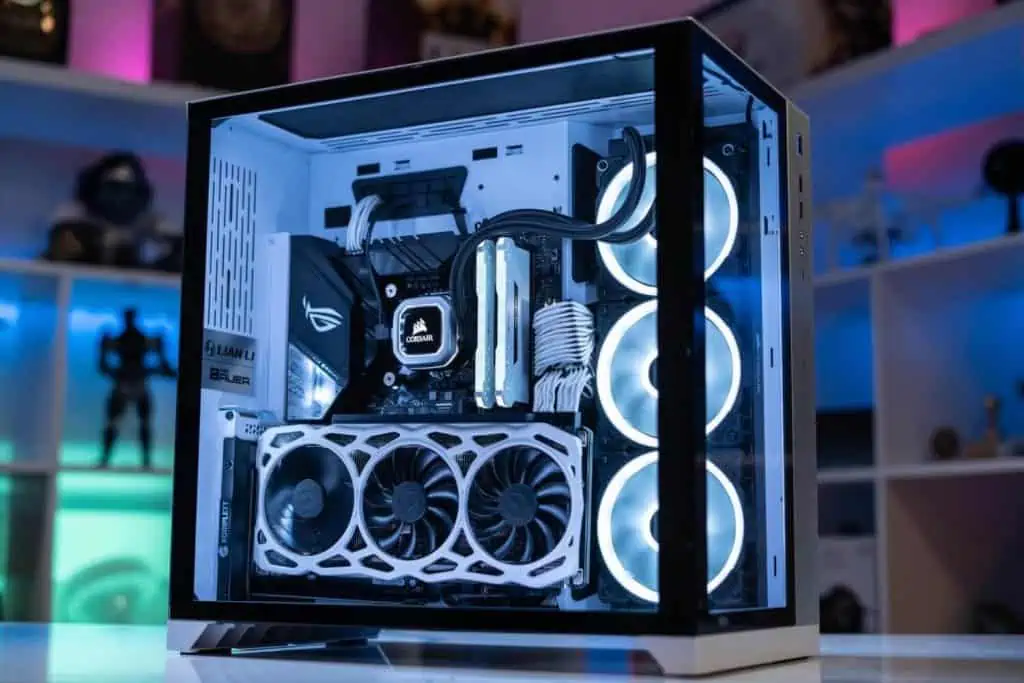 After hundreds of case reviews, here are the best
Hear that? It's the sound of silence.
Finally install every Steam game in your library!
For the sharpest image possible