The 10 Best Phanteks Cases in 2021
Phanteks have been in the PC case manufacturing business for a long time now, and it shows in their quality.
Their modern-day catalog is a great mix between new innovations and chassis that have been refined version after version.
They're one of the best choices for cases around which is why our latest feature focuses on the best Phanteks computer cases for gaming, production usage, streaming, and more.
Top Picks
Best of the Rest: Quick-Fire Picks
Overall Best Phanteks Case: Phanteks Eclipse P400
Forget Phanteks, this is one of the best PC cases from any manufacturer.
Raved about multiple times on What in Tech, the P400 is one of the most incredible balances between build quality, design, cooling/component availability, and (especially) price.
Starting with the build, you very rarely find a high-quality steel exterior in cases of this price range, accompanied by an equally slick tempered glass window down the full length of the side.
The case looks and feels incredibly slick, especially tied with its understated LED lighting.
Space-wise, you'll have everything you need for a mid-range ATX gaming PC case or something for production usage and a great case for a beginner to build in, with room for:
7 x expansion slots
Graphics cards up to 395mm
Space for 6 x 2.5/3.5″ (2 included) & 2 x 2.5″ (2 included) drive bays
These specs mean you'll have a good amount of space for a powerful GPU setup (even SLI/Crossfire should you desire) while not compromising on storage availability.
Now, what about cooling all of that?
Well the P400 also excels here; with:
Air cooling: 6 x 120mm fans 
Water cooling: 1 x 360mm front & 120mm rear radiators (can be combined with 2 x 120mm top fans)
On top of that capability, you're getting a great internal design for airflow, magnetic dust filters, and ridiculous value with 2 included 120mm fans (fantastic for the price).
There's a couple of picks below that excel in design and features if you have a larger pocket.
But if you're looking for the best balance between cost and performance (without sacrificing anything we'd worry about for a mid-range build) then this is by far the best Phanteks ATX case for you.
Best Budget Phanteks Case: Phanteks Eclipse 300A
We'll start by saying for only a tiny bit extra, you can pick up our top pick, the 400A.
We'd highly recommend that if you can, with the 400 being one of the best-value PC cases around.
That said, if you're looking for the cheapest Phanteks case you can find, then the 300A is an impressive budget offering.
Still largely built with a steel/tempered glass exterior (albeit lower quality), the look and feel of the case are decent for its very low cost.
The case still has a good internal capacity, with room for:
7 x expansion slots
VGA lengths up to 330mm
2 x 3.5″ & 1 x 2.5″ drive bays (extra 2.5″ bay can be purchased).
Air-cooling: Up to 4 x 120mm fans (with 1 included, great for the price).
There is certainly less VGA room in the 300A.
However, a majority of mainstream cards will still fit in the 330mm space available.
And with a budget build, you're likely looking at a single GPU anyway, which this case can comfortably host/cool.
The storage room is a fair bit less. But again, this shouldn't be a problem for a budget gaming PC case setup (perhaps stay away if you're after a tower for editing/production).
While the 300A technically has water cooling facilities, if you're sticking to this build quality/budget range, we'd stick to air cooling.
While this may sound like a bit of a negative review, we do think the 300A is a good offering and is easily the best cheap Phanteks case today.
We just know that if you can stretch that extra ~20% and purchase the 400A, it'll be worth it.
Best High-End Phanteks Case: Phanteks Enthoo 719
Now, as much as we love the 400A, our premium pick is a case we love even more (if your budget can stretch to it).
There is so much capability within the 719, for a general enthusiast build or something more…unique.
With an build made of high-quality steel, aluminum, and thick tempered glass, the Enthoo 719 is a beautiful PC case and is built to last.
The design is not done justice by stock photos.
With a slick LED light running down its front, and the side panel covering the full length of the case (no awkward PSU cover) you have high visibility for your parts; the 719 looks amazing powered on.
But perhaps what is even more impressive is the capability of the case.
The best Phanteks full tower offering around, you will have:
8 standard + 3 vertical expansion slots
Up to 503 graphics card length clearance
Up to 11 x 2.5″ and 12 x 3.5″ drives (3.5″s require bays, 4 included)
SSI-EEB / E-ATX Motherboard support
Air cooling: Up to 15 x 120mm fans
Water cooling: Up to 2 x 480mm, 2 x 360mm & 1 x 120mm radiators
Our jaws dropped when we first caught the specs of this magnificent machine.
Not only do you easily have space for a powerful multi-GPU build with all the storage you need for either gaming or production/editing.
But you also have the best Phanteks PC case for airflow and water cooling around.
With a simply incredible capability here, you can easily overclock even a very taxing inner build.
On top of that, this is also a capable dual-system PC case.
Perfect for streamers and other enthusiast production users, a dual system means you can host a secondary mini-ITX computer inside the case.
While you don't need to build 2 PCs in here to make the most of what it offers, this is a great additional feature.
There is simply so much going for the Enthoo 719. If you have the money, this is not only the best Phanteks PC case, but one of the best towers available anywhere today.
Best Phanteks Micro ATX Case: Phanteks Enthoo EVOLV MATX
For those after a smaller form factor, Phanteks have created a really compelling mATX version of their flagship Enthoo ATX case.
The EVOLV MATX has one of the best build qualities we've seen in a case of its form factor.
With an exterior mix of aluminum, steel, and tempered glass, the case feels very sturdy and the design is strikingly unique.
One of our favorite things about this chassis, however, is the space availability:
4 x expansion slots
2 x 2.5″ and 2 x 3.5″ drive bays
GPU Clearance up to 319mm
Air cooling: Up to 5 x 140mm fans (2 high-quality fans included)
Water cooling: Up to 1 x 360, 1 x 240 & 1 x 120mm radiators
For its tight dimensions, this is a really nice offering spec-wise.
With the cooling availability (combined with decent internal ventilation/cable management facilities), you'll have enough to comfortably cool a single or dual-GPU build.
And the storage capability will likely be plenty for anyone looking at this form factor.
Simply put, if you're looking for something a bit more compact, but still capable of a great gaming, streaming, or production PC; then this EVOLV offering is the best Phanteks MATX case available today for you.
Best Phanteks Mini ITX Case: Phanteks Enthoo EVOLV ITX
Now, how about those builds looking for the smallest PC case form factor possible?
Phanteks also has a great offering in this space with an even smaller version of its Enthoo EVOLV line.
The EVOLV ITX's exterior is made largely of steel and tempered glass; carrying a similar premium look/feel as its larger brothers at a cheaper price point.
The interior capability is very impressive for the form factor. Phanteks have clearly focussed on making a Mini ITX case for gaming/other enthusiast builds.
2 x expansion slots
GPU clearance of up to 330mm length
2 x 3.5″ & 1 x 2.5″ drive bays (hidden)
1 x included 200mm fan and space for 3 more 120mm ones
Or up to 2 x 240mm & 1 x 120mm radiators
Now of course, in a typical ATX case, these specs are poor.
But for an MITX tower? Wow!
Finding an mITX combination that gives enough length for most modern graphics cards, decent storage, and very good cooling availability is close to impossible.
But Phanteks manage it here. And what's more, they include a high-quality 200mm fan in a case that's already cheap for the quality you're getting.
Whether you're looking for portability, compactness, or just plain style, know that this is the best Phanteks mITX case available (and one of the best of the form factor from any brand).
Quick-Fire Picks – Best of the Rest
While we'd steer you towards our top 5 picks above for the best Phanteks towers in most cases, we appreciate some of you will have some specific requirements so we've included some more cases worth considering.
Best Alternative ATX Case: Phanteks Pro M
At a slightly higher price-point to the P400, the Pro M is a similarly great offering with a slightly more minimalist, aluminum-finish look and (arguably) a sleeker glass panel.
If you like the aesthetic and have a slightly higher budget to buy over the P400, it's a great choice.
Runner-Up Best ATX Case Alternative: Eclipse P400A
A popular, beautiful case, the P400A was designed with many of the similar philosophies as our top pick, with some beautiful design changes and the inclusion of 3 RGB fans.
The main reason this case missed out top picks is due to some quality-control issues the model has; if you're happy with that small risk during delivery it's still a great choice and we appreciate any case with a decent amount of fans included.
Best Premium Case Alternative: Phanteks Enthoo EVOLV ATX
The original EVOLV case is still a fantastic offering, the fact that it doesn't get the top spot is more a testament to how good the 719 is.
If you prefer the design/build of the EVOLV, rest assured; it's still an excellent case for the premium gamer/enthusiast builds.
Best Full Tower Alternative: Phanteks Enthoo Pro
The Enthoo Pro is a classic case and has been a fantastic chassis choice for over half a decade.
Large, sturdy, and at a higher price point than the P400, this is a good "middle-ground" pick between our top overall pick and premium choice or someone after even more airflow with its mesh front.
Best Budget EATX Case: Eclipse P350X
Usually, we would push you towards something a little pricier for an EATX build, as these tend to demand better build-quality and feature-set.
That said, if your heart is set on it but your wallet is tight, the P350X is a respectable entry case to the world of E-ATX.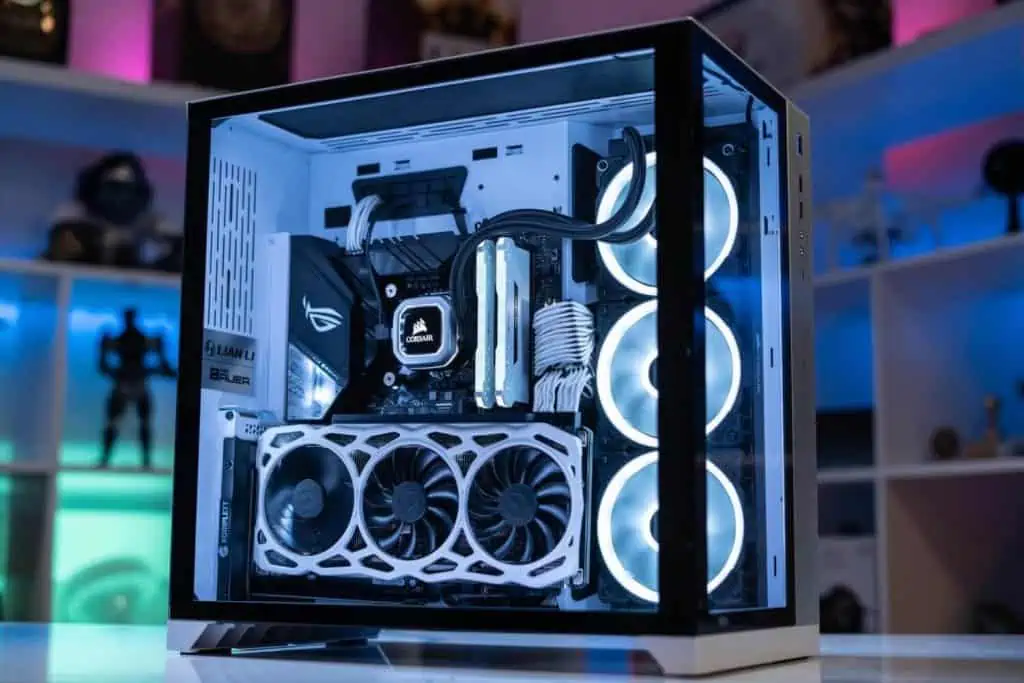 After hundreds of case reviews, here are the best
Hear that? It's the sound of silence.
Finally install every Steam game in your library!
For the sharpest image possible