The 5 Best Blue PC Cases of 2022
Don't want to be just another black and white PC builder?
If a pink or red chassis isn't your style, there are some fantastic blue towers available.
Note however not all the cases of this color are worth going for; some we'd look to actively avoid.
This is why we've put together this feature to guide you through the best blue computer cases for gaming, streaming & production builds (video editing, etc).
Overall Best Blue Case: Fractal Design Focus G
This top pick was a fairly easy choice!
One of the best PC case manufacturers on the market, the Focus G is one of Fractal Design's case staples.
This blue mid-tower case has an excellent build quality for its price.
This includes a largely steel exterior, mesh front for increased airflow accompanied by 2 x high-quality Silent LL Series 120mm case fans with white LEDs.
These fans, alongside the awesome "petrol blue" coloring of the main chassis, give this an awesome design straight out of the box.
(And if you know Fractal, you'll know that the fans will live up to the "silent" in their name).
Alongside the aesthetic, this blue ATX case has great internal space for:
7 Expansion slots
VGA lengths up to 380mm
2 x 2.5″ / 3.5″, 1 s x 2.5″ & 2 x 5.25″ drive bays
The VGA length capability and slots make this a great mid-range PC case for gaming.
The inclusion of 2 x 5.25″ drive bays is impressive in this day and age if you have use for them.
If not, there are many cheap brackets that can convert them into additional 2.5″ / 3.5″ drive bays if you're looking for a high storage case for video editing or production work.
As far as cooling goes, you've got some good options here, with:
Up to 6 x 120mm fans (2 included)
Up to 1 x 280mm, 1 x 240mm & 1 x 120mm radiators
Combined with the mesh front plate, decent cable management, and good design for airflow, the Focus G is one of the best PC cases for cooling in its price range.
After reading all these features, you can probably see why we rate the Focus G so highly.
Whether you're looking for a blue gaming PC case or one for production/personal use, this chassis hits an excellent sweet spot between features and value for money.
2022 update: The focus G remains our top blue chassis pick for 2 years-running; no other case has entered the market with a largely blue exterior and overall great quality.
Runner-Up Best Blue Case: Silverstone Primera PM01
While not boasting the same blue exterior as the Focus G, the PM01 still looks great if you're happy with a blue chassis based on LEDs.
Silverstone is another fantastic case manufacturer featured previously on What in Tech.
This white and blue PC case boasts a unique look.
With 3 x pre-installed blue LED case fans alongside multiple blue LED strips illuminating various sections.
All of these are nicely controllable from a slick LED button on the front I/O panel.
Another ATX case slightly larger than our top pick, you've got great space for:
7 x expansion slots
Max graphics card lengths of 419mm
4 x 2.5″ / 3.5″ & 5 x 2.5″ drive bays
That storage space is fantastic for the size!
We think the Focus G has enough of it for most builds but if you have a very intense storage demand (perhaps looking for a 4k video editing PC case or server) this would be an amazing option.
The increased size also lends itself nicely to cooling too, with:
Up to 7 x 120mm / 6 x 140mm fans with 3 x 140mm ones included
Up to 2 x 360mm & 1 x 140mm radiators
Between these options, you've got more than enough for a great overclocking PC case.
We ranked the Focus G above the PM01 because the price of the latter was about 20% higher at the time of review
Additionally, we also think someone looking at a blue PC tower specifically may appreciate having the largely blue exterior with options to add further blue LED case fans too.
But if you love the PM01 design, or need the slightly elevated features it has, then rest assured, it's easily one of the best blue tower cases available.
Best Cheap Blue PC Case: DeepCool TX Tesseract SW
You may not have heard of DeepCool, but they've created an awesome budget blue PC case in the Tesseract SW.
With its exterior still impressively hosting some steel components (though mostly plastic) the build quality is good for the price.
With 2 x 120mm blue LED case fans pre-installed, in addition to the blue front lining against the mesh, the chassis looks great powered on.
A small ATX case, the SW still manages room for:
7 x expansion slots
310mm GPU max length
3 x 2.5″, 4 x 3.5″ & 2 x 5.25″ drive bays
The GPU space is definitely less than the other choices, though you'll still be able to get a powerful card (or 2) in here.
Although you definitely could go for an ATX motherboard, if you're building a cheap setup in a case this size, we'd recommend building a Micro ATX PC instead (these boards are usually better for budget builds, especially in compact cases).
You can still get 6 x 120mm fans in the SW which is great for the size.
You're not going to get the same airflow, cooling, or cable management as you would in our top picks, and we wouldn't suggest this as a case for water cooling.
But with its fan capability, it's certainly still capable of providing decent cooling for a budget gaming computer.
We would certainly recommend the top picks above the SW.
But if it's the furthest your budget can go, know we've happily included it for a reason. It's easily the best budget blue PC case on the market.
Best High-End Case: InWin D-Frame (Signature Motorcycle Steel)
Our premium pick is one of the most unique PC cases on the market, perfect for enthusiast builders.
With an incredible design, the D-frame manages to tick so many boxes from aesthetic to quality to feature capability.
To start, this is an aluminum PC case (the best PC case material for premium builds) with this metal used for its base and piping.
Over the top is a thick tempered glass window that beautifully displays a completed build (stock photos don't do it justice).
It's an open-frame PC case to maximize airflow/presentation (and making it a surprisingly portable PC case for carrying).
But the real wonder of the D-frame is that it's not just pretty, offering:
8 x expansion slots
GPUs up to 330m in length with vertical mounting options
3 x 3.5″, 2 x 2.5″ & 1 x 5.25″ drive bays
Space for 4 x 120mm case fans
Subtle cable management options despite the large visible exposure
This may not sound like much for an ATX tower.
But for its dimensions, it's fantastic and more than enough for a gaming PC with overclocking potential.
The same goes for the case fan availability. Bear in mind that while 4 x 120mm seems low, an open-frame PC case will give you lots more natural airflow than a standard chassis.
If you're looking for one of the best-looking cases on the market for a truly unique presentation, this case is a wonderful option.
Best Blue EATX Case: Thermaltake View 71 Tempered Glass Edition
The View 71 is easily the best blue full tower case available today.
It may be much more subtle in its blue lighting than other cases on the list.
But combined with a few additional blue LED case fans and RGB parts, this will easily end up being one of the best-looking cases for an EATX setup.
This is largely down to its excellent build quality, starting with a high-quality SPCC steel exterior.
Covering that exterior are 4 beautiful, thick tempered-glass windows shrouding the front, top, left & right sides of the case.
These windows are tinted, which may sound counterintuitive for a build focussed on lighting, but LED case fans/hardware always looks better through a slight tint.
If you're buying an E-ATX case, the focus also needs to be on what feature availability you're getting for a high-end build (whether gaming or production).
The View 71 is fantastic in this regard, with:
8 + 2 (vertical mount) expansion slots
VGA lengths up to 410mm (without HDD rack)
4 x 2.5″ / 3.5″ HDD rack and hidden bay for up to 3 x 3.5″ or 3.5″ drives
Alongside an EATX motherboard, you have incredible space in here for a very powerful multi-GPU gaming/streaming PC or a rig perfect for video editing with the amount of storage you can achieve.
Now, how about cooling all of that?
Well, the View 71 provides the most cooling options out of any blue PC case, with:
Up to 6 x 140mm & 2 x 120mm case fans with 2 x excellent quality blue ring LED fans included
3 x 420mm, 1 x 240mm & 1 x 140mm radiators
As you can see, there's an eye-popping amount of cooling capability.
Combined with a great internal airflow design and fantastic capable management facilities to maximize the cooling further.
This is easily one of the best PC cases for overclocking and liquid cooling, 
If you have the budget, are building a high-end gaming PC (or production setup) and the InWin D-Frame doesn't meet your space requirement, this is hands down the best blue PC case on the market for large builds.
More Blue Computer Case Options?
We'd highly recommend the above picks for a blue PC case.
But if none of them suit you, we've included a couple of additional options:
Blue build based on a PC case with LED fans
Purchase a case that can show off a lot of internal light
Install blue LED case fans inside the tower
If you want to take it further, you can also buy an RGB motherboard that will give you onboard lighting and utility to add further blue strips
Spray paint a PC case blue
If you're willing to do a little DIY, you can paint a case yourself using a white pc case as a base (we provide an overview of how to do this here).
Best Blue Micro ATX Case or Mini ITX Case?
We always try to include recommendations for builders looking at smaller form factors.
As far as blue computer cases in a mid-range price range go though, there simply aren't any we would recommend.
If your heart is set on these sizes, we would suggest following our steps just above on getting a clear pc case with blue LED fans.
Our top budget pick (the Tesseract SW) is also on the small side for its ATX form factor and wouldn't be bad for a budget micro ATX gaming PC.
For a blue ITX case, there is also a smaller version of our top-end pick, the D-frame mini.
Hear that? It's the sound of silence.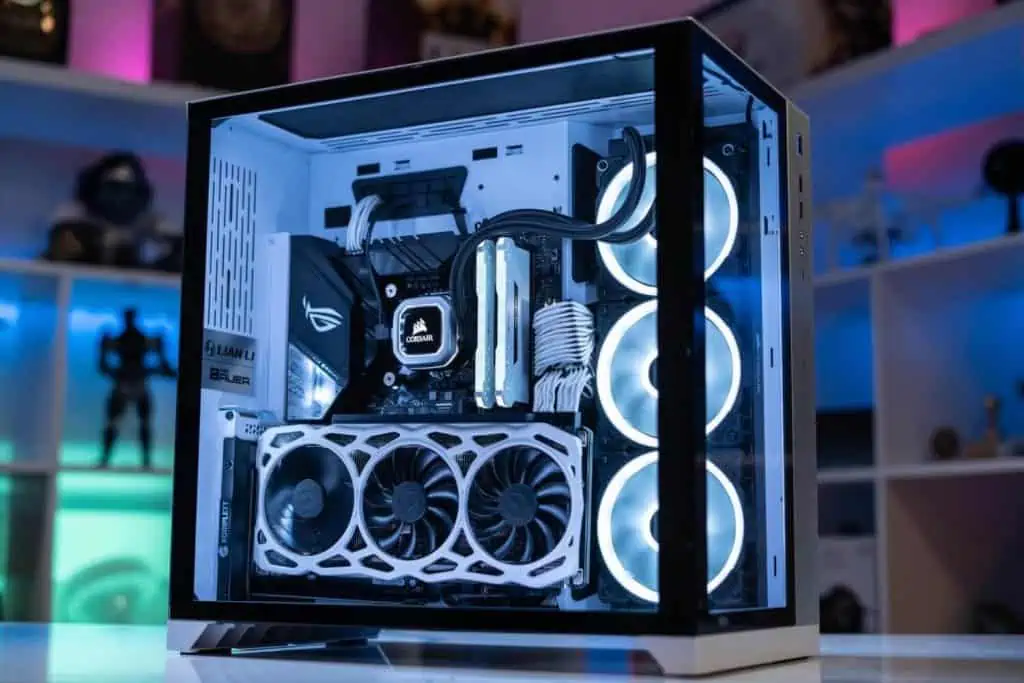 After hundreds of case reviews, here are the best
For serious production users
The largest towers worth buying